Minnesota Vikings vs. Chicago Bears Pick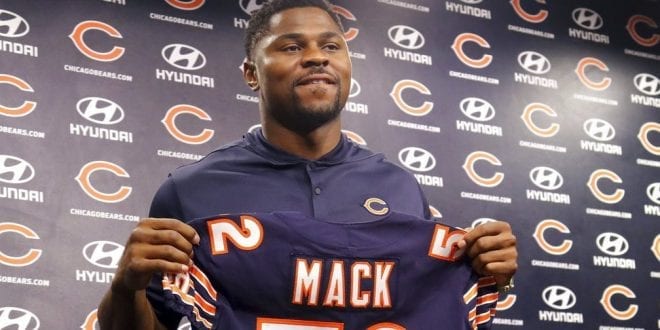 Minnesota Vikings (5-3-1 SU, 5-3-1 ATS) vs. Chicago Bears (6-3 SU, 6-3 ATS)
NFL Week 11
Date/Time: Sunday, November 18, 2018 at 8:20PM EST
Where: Soldier Field, Chicago, Illinois
TV: NBC
By: Loot Levinson, Expert Football Handicapper, Predictem.com
Point Spread: MIN +2.5/CHI +2.5
Over/Under Total: 45.5
The Minnesota Vikings come to Soldier Field for a big week 11 battle against the Chicago Bears for supremacy in the black n' blue division—the NFC North. The Bears hold a slight lead over the Vikings, but both teams are surging, as the Vikings have won 4 of their last five after just winning one of their first four with the Bears on a three-game win-streak. The Vikings are coming off the bye, which followed a 24-9 smashing of the Lions. And on Sunday, the Bears handled Detroit with a 34-22 win at home. This is their second straight game at home. I like the Vikings to cover the spread on Sunday. Let's break this one down, as there is a lot to consider in a game like this.
Chicago's Time to Show and Prove
One doesn't want to nit-pick too much when a team that has been laboring for years finally rights the ship. The Bears have traveled a lot of ground and might even be ahead of schedule in terms of becoming contenders through nine games. And by beating Detroit, they scored a nice division win. But with their wins coming against Detroit, Seattle, Arizona, the Jets, and Buffalo, they still have something to prove. And with a peaking Minnesota appearing to be their main divisional rival this season, this is the kind of game where we can get a good read on where they truly stand. They'll either be 7-3 with a bullet or 6-4 with people a lot less excited than they are now.
Still, a lot of things are coming together for the Bears under first-year head coach Matt Nagy. And when a team that has been groping so long for success to no avail finally gets on a roll, it makes it tough for opponents who might be expecting the old version. This is the first matchup this season of these division teams and let's just say the Vikes better prepare for a different ball of wax than what they saw last season.
Minnesota Coming into Form
Luckily, this important divisional game for the Vikings coincides with them getting their act together and having an extra week to plan and get some bodies refreshed. The Chicago offense may have found another gear or two this season with Trubisky flourishing, but that looks to get tougher this week. The "D" has been getting better and another week isn't going to make it any easier on the Bears. The run-defense is really making life hard on opponents and we might not see the run-attack of Jordan Howard, Tarik Cohen, and Trubisky blossom this week. The pass-defense of Minnesota has been whipped into shape by Mike Zimmer and in their last two games, they allowed 120 yards to Drew Brees and 199 to Matthew Stafford.
While it took some time to come to fruition with a slow start to the season, the Minnesota offense is starting to look good and it could get even better. Kirk Cousins looks like he's going to pay off this season, as he is getting a lot of his key guys. If there's a week spot on the rising Chicago "D" it would be against the pass. And Cousins has weapons-galore in that category, with Adam Thielen, Stefon Diggs (questionable), Kyle Rudolph, and others. Thielen almost has 80 catches already and that's going to be a lot to contain even for a peaking home Bears' defense, even more so if Diggs comes back after missing time. With RB Dalvin Cook getting back into the swing of things, along with the added depth of guys like Latavius Murray, the run-attack gives this offense some dangerous balance and potency. Again, the Bears have been doing well in this area, but it gets tougher this week.
The Vikings are starting to see some of their moves pay off. Just as it might be hard to derail a Bears team that has an abundance of high morale, it's not going to be easy to get the Vikings off this good inertia. After winning just one of their first four games (1-2-1), the Vikings' players and coaching staff had to work overtime to be regarded again as contender just past the midway point of the season. Some pieces are back and they warrant a hard look from here on out.
What Made the Bears Contenders?
A lot of factors have contributed to make the Bears a factor once again. Change at the top in terms of coaching deserves a lot of credit. We see a talented "D" carrying their momentum from last season to become one of the tougher units in the conference. A naysayer could say that it has come against compliant opposition. Even if Minnesota has seen their run-game get a boost, they may see more resistance in that area than they've seen all season. That goes ditto for Cousins, who will be facing a rollicking Chicago pass-rush, as they had six sacks on Sunday, with Khalil Mack getting two. The pass-defense of the Bears is good and they made a lot of plays on Sunday, with three turnovers. Still, look for Cousins, his line, and his ample weaponry to move the ball in that regard.
The big difference for the Bears this season is their offense. It won't be easy this week, but Trubisky has put forth some dominating performances this season, as his game has taken a big step forward. He has nice targets like Trey Burton at tight end and WR Taylor Gabriel. On Sunday, he pulled a few more guys into the fray with Allen Robinson returning to have a huge game, along with rookie Anthony Miller. Both scored TDs and were well over 100 yards. The big question for the purposes of covering this spread is how will it translate against a Minnesota defense that is rested and has gotten its act together.
Take the Points on the Road Underdog
This is not at all intended to impugn the Bears who are certainly a rising commodity in the league. And being at home could throw a different light on this. The thinking here, however, is that the rested Vikes are still a cut above. Chicago is making gains on both sides of the ball, but still lags behind their opponent at least slightly in both areas. I see a competitive game, but if being given points on the Vikes in this spot, I'll take 'em.
Loot's Pick to Cover the Point Spread: I'm betting on the Minnesota Vikings plus 2.5 points.