2019 NFL MVP Odds and Prediction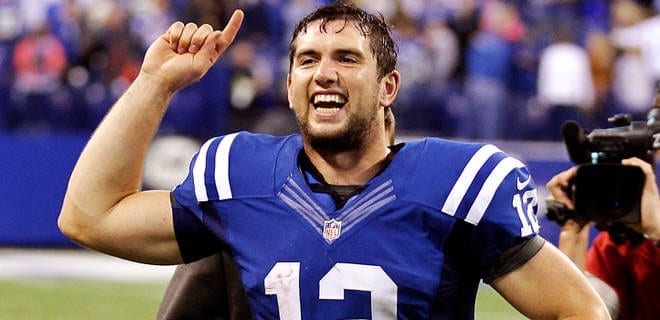 Odds and Picks to Win NFL MVP
In one of the more-interesting and potentially-profitable player prop bets, we try to figure out who will win next season's MVP award. We like this bet for a variety of reasons. It's always a nice perk when a bet gives you a ton of action. In this bet, you will have a stake in every player you bet for the whole season. It also allows you to capitalize on of any interesting analysis you might have. We only have to go back to last season to see how those willing to take a chance can be rewarded handsomely. Sure, we all know now what Chiefs' quarterback Patrick Mahomes is all about, but at the beginning of last season, it wasn't clear at all. Those who plunked down a bet on Mahomes fell into a nice chunk of change when he fact won the Most Valuable Player Award.
It also helps to take a good look at what goes into winning the MVP. In 6 straight seasons and 11 out of the last 12, a quarterback has won this honor. The most visible position on the field, it's just an award that seems to cater to this position. As a result, the best quarterbacks are always at the top of the odds-board. Since 1980, there have been eleven non-quarterbacks who won the award, so it's not impossible. It just takes a lot more from a non-quarterback. And all but two of those times were positions other than running backs, with one receiver and one linebacker winning the award.
As we look at the numbers, running backs as a whole don't put up numbers like they used to. And it takes a statistically-gigantic season for a back to win the MVP. It's not even clear if running backs will be given the chance to put up numbers like they did years ago. More or less, we're looking at quarterbacks here. It's the safe pick. And while having a team go really far in the playoffs isn't a prerequisite, winners of these awards are usually on good teams. After all, if a team doesn't do particularly well, how valuable could a player have been? So when looking at a player to win this award, the viability of his team being a high-quality one needs to be considered.
That doesn't mean you shouldn't venture a little farther down the list in search of a good candidate. Last year showed us this, as people were generally down on the Chiefs' chances to be good last season. Some may recall when Rams' quarterback Kurt Warner came out of nowhere at huge odds to win this award. There is enough there to justify a more-lofty choice.
Here are the odds to win this season's NFL Most Valuable Player Award. At the end of that long list, we will list our top picks, some interesting dark horses, and a few big long-shots that could be worth a tickle at long odds. Take a look!
Odds Courtesy of BetAnySports.com
Patrick Mahomes +450
Andrew Luck +650
Aaron Rodgers +900
Drew Brees +1000
Baker Mayfield +1300
Tom Brady +1400
Carson Wentz +2000
Russell Wilson +2000
Philip Rivers +2500
Matt Ryan +3000
Deshaun Watson +3300
Jimmy Garoppolo +3300
Aaron Donald +4000
Cam Newton +4000
Jared Goff +4000
Alvin Kamara +5000
Ben Roethlisberger +5000
Christian McCaffrey +5000
Dak Prescott +5000
Ezekiel Elliott +5000
Khalil Mack +5000
Le'Veon Bell +5000
Saquon Barkley +5000
Todd Gurley +5000
Lamar Jackson +6500
Nick Foles +7500
Sam Darnold +7500
David Johnson +8000
Joey Bosa +8000
Josh Allen (BUF) +8000
Julio Jones +8000
Kirk Cousins +8000
Michael Thomas +8000
Odell Beckham Jr +8000
Kyler Murray +9000
Antonio Brown +10000
Jameis Winston +10000
JJ Watt +10000
Juju Smith-Schuster +10000
Matthew Stafford +10000
Melvin Gordon +10000
Mitchell Trubisky +10000
Tyreek Hill +10000
A.J. Green +12500
Adam Thielen +12500
Amari Cooper +12500
Dalvin Cook +12500
DeAndre Hopkins +12500
Derek Carr +12500
Devonta Freeman +12500
James Conner +12500
Keenan Allen +12500
Kerryon Johnson +12500
Marcus Mariota +12500
Mike Evans +12500
Nick Chubb +12500
Phillip Lindsay +12500
Adrian Peterson +15000
Brandin Cooks +15000
Cooper Kupp +15000
Davante Adams +15000
Derrick Henry +15000
Dwayne Haskins +15000
Emmanuel Sanders +15000
Jarvis Landry +15000
Joe Flacco +15000
Joe Mixon +15000
Josh Rosen +15000
Leonard Fournette +15000
Mark Ingram +15000
Marlon Mack +15000
Nick Bosa +15000
Sony Michel +15000
T.Y. Hilton +15000
Tarik Cohen +15000
Von Miller +15000
Allen Robinson +20000
Alshon Jeffrey +20000
Andy Dalton +20000
Corey Davis +20000
Daniel Jones +20000
Demaryius Thomas +20000
Desean Jackson +20000
Drew Lock +20000
Eli Manning +20000
Josh Jacobs +20000
Kenny Golladay +20000
LeSean McCoy +20000
Marvin Jones +20000
Stefon Diggs +20000
Tevin Coleman +20000
Courtland Sutton +25000
John Brown +25000
Julian Edelman +25000
Mike Williams +25000
Travis Kelce +25000
Zach Ertz +25000
Top Picks to Win the NFL MVP
Patrick Mahomes (+450): Peyton Manning is the only player to repeat as MVP since the mid-nineties when Brett Favre did it. Mahomes got long odds last year and won the MVP with a fantastic season. But if the Chiefs play really well this season, as they should, and Mahomes stays healthy, he should have the numbers to justify being a top candidate.
Andrew Luck (+650): He has a little sentimentality, having overcome such bad injuries. If the Colts and Luck put it together this season, which is a distinct possibility, he could be hard to deny. With almost 4600 yards and 40 TDs in 2018, a successful run for Indy could mean Luck is the man this season.
Drew Brees (+1000): The Saints should have a heck of a season. And Brees would be 41 by Super Bowl time. Sometimes, an old guy gets a little extra mojo from the voters, many of whom are also past 40. He's a pretty dependable choice and always delivers and could be a top frontrunner if the Saints thrive.
Baker Mayfield (+1300): There is also some sentimentality involved here, as resurrecting a Browns team that was flat on its back a short time ago would go a long way with voters. His rookie campaign was tremendous and he has more around him now with which to work. The Browns going far would make him a very compelling choice at 13-to-1.
Tom Brady (+1400): A winner of this award in 2007, 2010, and 2017, this season could set up well for him making another run at this award. In a league so strong, another big New England run would likely paint Brady in such a triumphant light that he becomes a difficult guy to not vote for this season.
Top Dark Horse Picks
Carson Wentz (+2000): With some additions made across the offense, Wentz has the right stuff around him to make a run at this honor. Granted, he needs to stay healthy and helping that is one of the best lines in football. With an improved run-game, a stacked pass-catching corps, and a Philly team that could make noise this year, Wentz could be a big part of this conversation.
Philip Rivers (+2500): When looking at players with odds in this range, you want to see a high-ceiling. With everything around Rivers getting better, maybe the combination of a strong team performance and some swelled-up numbers can have him in this discussion come the end of the season.
Deshaun Watson (+3300): Quarterbacks in their third year can sometimes have a little surge. I don't love that line he plays behind, but a lot things line up for some big numbers. He's on a pretty good team that got on a huge roll last season and could see some things happen. He has weapons and with a little better form, he could be a high-value candidate at 33-1.
Best Longshot Picks
Kyler Murray (+9000): First, let's stress the term "long shot." At 90/1, any bet is going to be fraught with issues and this one has its share of them. First of all, the Cardinals are likely to stink. Secondly, the tools with which this rookie has to work appears to be the thinnest in the conference, if not all of football. But unlike some picks at these odds, we just don't know yet. He was the top pick and the Cardinals' new head coach is a pass-heavy guy, so who knows?
Derek Carr (+12500): It's 125-1, so bear with us for a moment. The Raiders would have to overachieve by a ton to make this one doable. But they added a ton of aerial weaponry, featuring Antonio Brown. No running back would appear to put up much yards. With only a fraction of this season's tools, he put up over 4000 yards passing last year. However unlikely it may be, I see some value at these odds.