Sportsbooks Taking Bets On Super Bowl 54 Conference Winner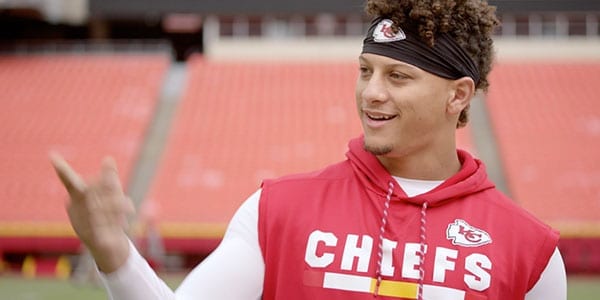 Betting on the Super Bowl before the regular season even begins? What? Well, yes, this is a thing now. It's a pretty simplified bet, as you merely pick the AFC or the NFC. As of press-time, the AFC is a 1.5-point favorite. Obviously, the books feel pretty strongly that the AFC is the superior conference, or at least more-liable to produce a Bowl winner in 2019-20.
Now is a good time to lock in what might be a favorable point-spread. It can be justified on both sides. Maybe you think one of the NFC contenders romps this year, in which case getting a point-and-a-half come Super Bowl time will seem like a gift. And what if the Chiefs, Patriots, or another AFC team becomes a dominant force this season? You probably won't be getting them at -1.5 when betting that team in the big game.
Let's take a look at the point-spread and money-line for Super Bowl LIV on the 20th of February in 2020:
Super Bowl LIV - Hard Rock Stadium - Miami Gardens, FL - February 2, 2020
NFC Super Bowl Team +1½ -110 +105
AFC Super Bowl Team -1½ -110 -125
Just to be clear, it doesn't matter which teams end up in the Super Bowl for the purposes of this bet. In this wager, you're betting on a team from the AFC or the NFC—whichever team ends up representing that conference. It might seem like a blind-bet of sorts, but let's look at some different factors that could make this a heady play. Let's start with the top contenders from each conference. In this one, we're going to take our opinions out of it and just discuss the five teams from each conference that are most-favored by the book, odds courtesy of 5Dimes, a top sportsbook for reduced juice and overall.
NFC Contenders
Los Angeles Rams: They came up just short last season, falling in the Super Bowl after a somewhat-controversial conference title win over the Saints. The offense could be better if Cooper Kupp delivers this season. Even if Eric Weddle and Clay Matthews don't add a ton, a defense with developing chemistry should be even better. It's hard to argue with coach Sean McVay's results through two seasons and it could culminate in a championship this season.
New Orleans Saints: Rightfully considered one of the best teams in the league, if the Saints put it together to make it to the dance, rest assured they'd be a capable NFC representative. Their offense could have as much pop if not more if a few stars line up. Their front-seven on defense was solid last season and measures were taken to make them a more-complete team and shore up that secondary. Brees' effectiveness is not endless and they're trying to win now. Whoever got through the AFC would have their hands full with the Saints in the Super Bowl.
Philadelphia Eagles: A lot of guys on this sideline have already shown they have what it takes to achieve Super Bowl glory. There are some moving pieces in this equation, but if Wentz stays on the field and new additions like Jordan Howard, JJ Arcega-Whiteside, and maybe DeSean Jackson step up, this offense could be better than the one that won Super Bowl hardware. The defense needs to bounce back, but it's not a team to sneeze at and if they put it together enough to get through this conference, they would make for a formidable conference representative.
Chicago Bears: Things might not come off as expected with the Bears and their road to the Super Bowl is indeed a difficult one. It's still a team with a really high ceiling. A huge chunk of their defense is now made up of Pro Bowl-caliber talent and they have depth. It could be more than just a stout unit, but a special one. They have valuable weapons at Trubisky's disposal like Tarik Cohen and some interesting youngsters. It remains to be seen if they have the offense to thwart some of the more-hyped teams in this conference.
Green Bay Packers: While recent form might not suggest a surefire contender, the ceiling is pretty high. Let's say that the positive inertia on defense continues and they form a really stout unit in 2019. Maybe Aaron Rodgers stays healthy and reclaims his spot among the elite quarterbacks in the league. If some guys stay healthy and they continue to show improvement in the run-game, they represent an interesting X-factor coming out of the NFC.
AFC Contenders
New England Patriots: It seems to have become increasingly fashionable in recent years to forecast a Patriots' fall-from-grace. And that sentiment has yielded precisely nothing for those banking on a New England demise. They won the Super Bowl last season and the whole hangover concept is a lot more-negotiable for a team this accustomed to the spotlight. And if New England were to once again rise to the top of the AFC, one could bank on an urgent team that has what it takes to do this.
Kansas City Chiefs: A real up-and-comer with a QB in Patrick Mahomes who won the MVP in his first season as a starter. One can understand some of the trepidation, as they've lost the rushing champion and one of the game's finest receivers in less than a year. But even if Hill doesn't return this season, they still have a lot of firepower on offense, while flaunting an improved defense that looks to have upgraded across the whole unit. If they have a big season and get to the Bowl, laying only 1.5 points might seem like a bonanza.
Los Angeles Chargers: They're one of those teams with an awful lot of pieces in place where if everything goes right, the result could be scary. They have a wealth of abundant difference-makers on both sides of the ball, winning 12 games last season with a lot of pieces still developing their chops. They could have the most-packed roster of any team in football. Longtime Chargers' fans know a ton can and usually does go wrong with this team. Still, if they came close to maxing out their potential this season and got through this conference, you could bank on seeing a pretty strong Super Bowl team.
Indianapolis Colts: They are becoming a pretty complete team, albeit one that is reliant on a quarterback who seems prone to injuries. But for the purposes of this bet, we're only worried about them if they in fact get to the Super Bowl. If they do, you're likely to see a team with a balanced offense, along with a "D" that really came into its own. A healthy Luck working behind a great line could be hard to stop this season.
Cleveland Browns: There is a chance that everything comes together and if it does, it's a scary proposition. They are strong across nearly all areas on paper. They have difference-makers on both sides of the ball. They're very young at some key positions and improvements could be drastic. It could also fall flat, but we're looking at a best-case scenario with the Browns and that's not a team that would be in poor standing with whoever comes out of the NFC.
Points to Consider:
Location of Game: The game will be played in Miami, where the Dolphins play. Home is home and away is away, meaning this is a road game for every team barring what would be an earth-shattering result if the 'Fins managed to make it. Still, it is an AFC venue with a handful of contenders playing here during the regular season. A few NFC teams will be playing in Miami, with the Eagles and Redskins appearing here in 2019. But with teams like the Patriots, Chargers, Ravens, Jets, and others playing here this season, there's a greater chance that an AFC team will have seen this field already by the time the Bowl rolls around.
How Much Power of Conference Means: On one hand, having more teams that you can picture winning the Super Bowl would lead you to think a conference is stronger. But if the best teams from each conference meet, what difference does it make? The team with better competition could be more battle-tested and proven, but could also be more worn-down from braving such a hard path to Miami. With such power at the top of the NFC with the Rams and Saints, the chances seem less-likely for a fluky team to sneak in there. One could perhaps picture a lesser-regarded AFC sneaking in. But my feeling is that you can count on both conference teams being very strong.
Is the NFC Actually the Cream of the Crop? The rationale makes sense. The Rams and Saints might be the top two teams in the whole NFL in a lot of people's minds. Tom Brady is old and the Chiefs' formula for success may have been disrupted just enough. And if a team managed to beat the Saints and Rams out of the NFC, they'd have to be a heck of a team. But the same applies with the AFC. Overall, I think trying to quantify conference superiority in the preseason might not even mean that much when it comes to what the Super Bowl will actually look like.
Depth of the AFC: While the NFC might be stronger at the very top, the AFC has a deeper pool of teams that could be of championship-caliber if most goes right. The Pats, Chiefs, Chargers, Colts, and even Browns are all very dangerous at the high-end of their potential. But what if Batimore takes off? What if everything lines up for teams like the Texans or Steelers? I think those teams are more viable Super Bowl teams than the NFC's second tier of contenders—teams like the Vikings, Cowboys, and the Falcons. If a team a little more off-the-grid were to really take the league by storm this season, the chances seem a little better that they come out of the AFC.
Verdict: I'm taking the NFC and the 1.5 points. If you're going to gamble on this in the preseason with so much undefined, why not try to get points on what might end up being a favorite? I can see the line-of-thinking for making the AFC a favorite, as the Chiefs, Pats, or another conference team could be one of those dominant 15-1 or 14-2 teams that just storms through the playoffs. That just seems almost too obvious. At the very least, whoever gets through the NFC will be really strong, with a decent chance that a real monster develops.