MyBookie Sportsbook: Will The Browns Win A Playoff Game?
After going 1-31 the previous two seasons, last season's big improvement and a slew of offseason moves have made the Browns one of the fast-rising teams in the NFL. A 7-8-1 season was a huge improvement, especially as Cleveland finished 2018 by winning 5 of their last seven games. Some high-octane player acquisitions since then have a lot of people high on Cleveland. After not quite making it in 2018, a lot of bettors expect big things this season and are putting their money where their month is. Let's look at the odds for the Browns to not just MAKE the playoffs in 2019 but get a WIN!
Odds are taken from MyBookie Sportsbook. We will update this article with odds from other online bookmakers as the off season progresses. Always compare betting site prices!
Will the Browns Win A Playoff Game?
No is -700  ($700 wins $100)
Yes is +400 ($100 wins $400)
Making the Case to bet YES: Obvious Improvement Last Season
 Winning seven games would not be considered great for most teams. When you have one combined win spread over your past two seasons, a 7-win season is a bonanza. With a 5-2 finish to last season, the Browns have clearly changed course and one could expect that to continue this season. And let's not forget, they managed all this with a lot of holes—a defense that was ranked 30th in the league in a season where their head coach got the ax. With some added stability and firepower, look for the momentum to carry over to this coming season.
New Pieces:
Odell Beckham, Jr.: At 26, the Browns get one of the best receivers in football and a player who gives second-year quarterback Baker Mayfield a great target. Along with former LSU teammate Jarvis Landry, the Browns now have two number-one type receivers. The addition of Beckham, Jr. makes Landry that much better and he still caught 81 balls last season. Along with TE David Njoku and a nice complimentary cast, the Browns now flaunt a top-notch aerial attack. Betting on Beckham is hot right now and many sportsbooks are opening more markets.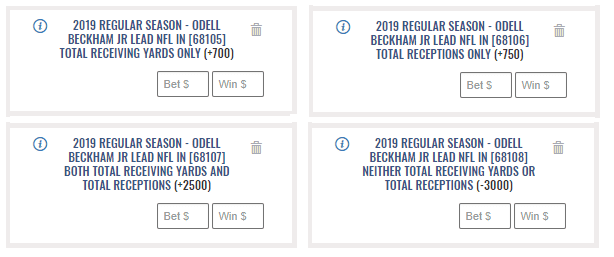 Sheldon Richardson: The upgrade of the Cleveland defensive line begins with the signing of defensive tackle Richardson, 28. A big improvement upon his predecessor, Richardson has seen his production slip slightly in the past few seasons, but is still a valued interior lineman who should help Cleveland rise from 28th in rushing defense.
Kareem Hunt: Among all the additions, some may have forgotten the signing of Hunt, the 2017 rushing champion. After Nick Chubb set a Cleveland rookie rushing record last season, the Browns now feature two difference-making backs to support blossoming quarterback Mayfield. How the touches will be divided remains to be seen, but one could imagine Chubb and Hunt making for a formidable 1-2 punch.
Olivier Vernon: Getting an edge-rusher like Vernon to go along with Myles Garrett, the Browns should wreak some havoc on opposing quarterbacks. Injuries are an ongoing issue, but when he's in there, he's a massive presence and a difference-maker along the front. He would appear to fit in nicely with Cleveland's defense and should hit the ground running.
Demetrius Harris: On some other teams, the strapping tight end would have gotten more looks, but he was stuck behind Travis Kelce in Kansas City. Now behind Njoku in Cleveland, he might struggle for touches, but is still a nice option and another viable weapon for Mayfield to wield.
Rising Young Talent: In addition to the pieces they acquired, the Browns already had some rising young stars. Former top pick Baker Mayfield is forming into a difference-maker at quarterback and should be even better in his second season. Nick Chubb showed some lively legs in his rookie season and looks forward to his sophomore campaign. On the other side of the ball, you have rising standouts like Myles Garrett and Denzel Ward. It's not just them, as their whole roster features guys young enough to improve. We expect some cream to find its way to the top.
Weaknesses: Reasons To Bet "No"
Personnel Losses: Unquestionably, the Browns came out ahead overall in terms of player turnover. They did suffer some losses, with a useful piece along the O-line now gone in Kevin Zeitler, who they gave up as part of the Vernon trade. And while they strengthened their defensive line, they lost some juice in the back-seven with the departures of playmaking safety Jabrill Peppers and last season's leading tackler LB Jamie Collins. And while it might not hurt, losing QB Tyrod Taylor might leave them thin in the event anything happens to Mayfield.
Youth: At the end of the day, there is always a bigger range of possibilities when dealing with the abundance of youth. A look at a list of the key guys leading the Browns' charge reveals a plethora of youngsters. And the careers of promising young players isn't always a constant upward trajectory. Guys can take little steps back, youngsters might not see their star continue to rise with all the team-changes, and additions that look great on paper could fall flat. There just aren't many NFL teams depending on so many guys under 25 years of age.
Leadership: It very well could end up working out, but it's a little weird when a team goes 1-31 and then wins 5 of 7 to finish the season and the guy in charge is just gone. And it often seems like owner Jimmy Haslam is winging it. Now at the helm is Freddie Kitchens, who was only the running backs coach for the Cardinals in 2017. He certainly saw his handiwork rub off well on this offense last season, but is unproven at this level and we'll see how he handles all these moving pieces with the expectations very high.
Lack of Defensive Focus: The Cleveland defense has a lot of questions. There were some nice additions, more or less reserved to one area along the front. They even lost some pieces in the back-seven and weren't really great in any given area last season, other than securing turnovers. They weren't rigid at all and other than some projected growth from some youngsters or maybe a score or two in the draft, a lot remains unaddressed.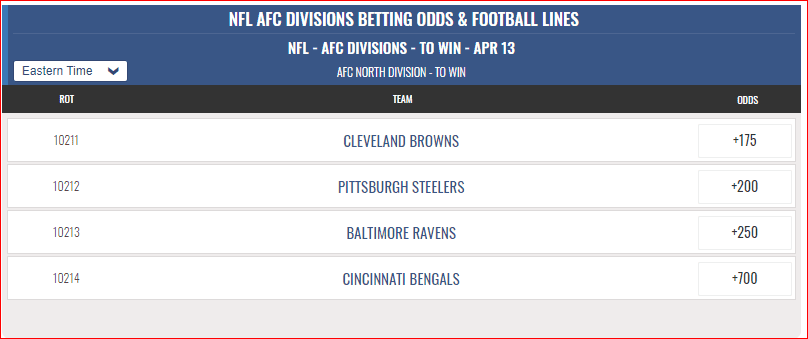 Browns favored to win the AFC North at +175
Schedule: At the end of the day, this is a game of numbers, as the Browns will need to put together a double-digit win-total to get into the postseason before they can think about a postseason dub. Sure, that can vary a bit, but that's basically the equation—looking for a 10-6 season. Their division might not be the best, but the AFC North is among the more-competitive with the Steelers and Ravens looming large.
The schedule was easier last season and six of their seven wins came against the Bengals, Jets, Falcons, Panthers, and Broncos, with the Ravens the only quality team they beat. They get a dose of the AFC East this season, with the Bills and Dolphins at home and the Pats and Jets on the road. They tangle with the NFC West, as well, with the Seahawks and Rams at home and the 49ers and Cardinals on the road. They also host the Titans and visit the Broncos. One could find ten wins in there without much trouble. But a few slip-ups from a team not quite ready for primetime would put the playoffs a bit out-of-reach. Let's say they go 3-3 in the division. I see them beating the Bills, Dolphins, and Titans at home, with road wins over the Jets, 49ers, Cardinals, and Broncos on the road. That's ten wins and good enough to make noise early in the playoffs.
2019 Cleveland Browns Bets
Browns season wins 9.5
Over +150
Under 9.5 -200
My Take: Over.
AFC Championship Odds: +700
My Take: Eh.
To WIN the Super Bowl : +1400 (picks on all teams)
My Take: Low value
Will Browns win a playoff game?
Yes +400
No -700
My Take: +400 is good value for a 10 win team and I expect them to be there.
Will Beckham win MVP +2000?
My Take: MVP is a qurterback award.