New Orleans Saints vs. Arizona Cardinals Betting Odds, Trends, Predictions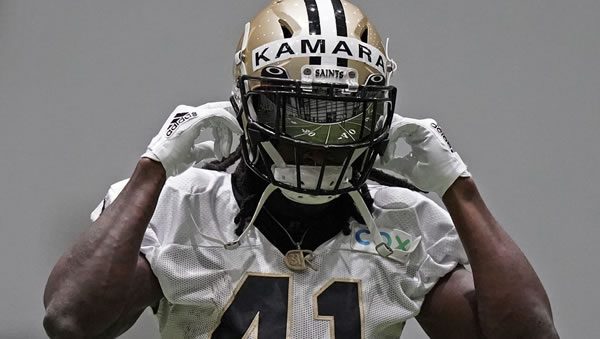 New Orleans Saints (2-4 SU, 2-4 ATS) vs. Arizona Cardinals (2-4 SU, 3-3 ATS)
Week 7 NFL
Date/Time: Thursday Night Football, October 20, 2022 at 8:15PM EDT
Where: State Farm Stadium, Glendale, Arizona
TV: Prime Video
Point Spread: NO +1.5/ARI -1.5 (Bovada – 50% bonus! Rebates on ALL your wagers; win or lose! FAST Bitcoin payouts! TONS of NFL prop bets! What more could you ask for?)
Over/Under Total: 45
The New Orleans Saints come to Glendale for a week 7 NFC showdown with the Arizona Cardinals on Thursday Night Football. We're looking at a pair of teams that wanted things to start better than they have, both at 2-4. Arizona saw more offensive issues surface on Sunday in an ugly 19-9 loss to the Seattle Seahawks. Maybe getting back home will help, where they meet a Saints team that also came up short on Sunday, losing 30-26 to the Bengals to fall to 2-4. They now take to the road and try to get their season back on the right track. Who can come out on top on Thursday at State Farm Stadium?
Is the Arizona Offense Broken?
While one doesn't want to get overly taken with short windows in the NFL, we seem to have a decent sample size of the Arizona offense really not delivering. Other than a decent Week 2 showing against the Raiders, they have struggled mightily. It seemed to crescendo last week against a Seattle defense that has been duck soup in a lot of other spots. To manage 3 points of total scoring in that spot with the urgency they were feeling was a real low-point for this team. To be working hard the last several seasons and make the progress they've made and for it to amount to that was a really pitiful visual for this squad. They can't run the ball. Kyler Murray is out of sorts, and a cast of good weapons is being wasted in this dysfunctional offense.
On paper, it would appear that the return of WR DeAndre Hopkins, who is set to return this week, will give this group a boost. Not having him is a decent excuse for the way things have gone. Not a lot of offenses are the same without their number-one receiver. The attention Hopkins gets should help the other ball-catchers and open up the run a little bit. But still, how quickly will Hopkins returning resonate in a meaningful way? Will it be this week, coming off the short week in a Thursday night game? Or will he need to be worked into the fold? And they have been without Hopkins before, and never has it gotten this bad. You have to wonder if this offense just hit a wall, and the recipe has completely soured. If that's the case, how much does Hopkins coming back even matter?
10* CONF CHAMP TOTAL - 7-3 (70%) NFL PLAYOFFS
AAA Sports has hit BOTH their Wildcard Round and Divisional Round TOTAL OF THE YEAR, meaning you simply CAN NOT afford to miss out on their CONFERENCE CHAMPIONSHIP TOTALS WINNER! Now an ABSOLUTELY ELECTRIC 7-3 (70%) in the NFL Playoffs, this is TRULY the BIG PLAY that you've been waiting to just UNLOAD on!
Can the Saints Take Advantage?
It's not like things are going great for the Saints after giving up a lead to the Bengals on Sunday and losing their fourth in five games. Most concerning is a supposed good defense not doing its share of the heavy lifting, despite the Saints being able to create some havoc on offense in certain spots. Against this sliding Cardinals' offense could be another spot for the offense to kick into gear. We've seen a boost from Alvin Kamara in the last few weeks. Andy Dalton has shown himself to be a useful backup in this system, with Jameis Winston looking to soon resume action behind center. Taysom Hill can surface suddenly with big plays in this offense. Having Michael Thomas in the fold with rookie Chris Olave, both of who have been hurt also helps. They should be a little healthier moving forward, though Thomas is doubtful, and Olave still questionable after a concussion. Injuries have really hurt this side of the ball and continue to do so. It's not a great offense, with dicey QB play, inconsistent receiver production, constant injuries, and a line that hasn't always delivered, but it's still an offense that generally does pretty good with what it has.
Saints' Defense: What Happened?
One could surmise that this is a spot where the Saints' defense can find its fangs again. The season started off well, as New Orleans furthered what it had been doing last season on "D." Then, in the last three weeks, we see Minnesota, Seattle, and Cincinnati getting to this "D" in a big way. We're seeing diminishing returns against the pass and the run the last several weeks. It's not like they don't have good excuses, with injuries having exacted a toll, the least of which not being CB Marshon Lattimore, who won't be ready by Thursday. With the spark we've seen on offense, the Saints would love to see this side of the ball reclaim their form. Against a massively-struggling Arizona, the defense might be a spot where that can happen. But even more, concerning for the Saints and their backers is their late-game form on a few occasions. We see the offense putting the team in a spot to win, with the defense's late-game collpases upending the whole operation on more than one occasion. Still, let's remember this has occurred recently against better running offenses than what Arizona represents heading into week 7.
Get Jay's Lions vs. Cowboys Week 7 betting predictions
Take the Points!
Arizona looked like absolute garbage last week against a really bad Seattle Seahawks defense. Their offensive line was putrid. I do believe they'll play better at home in Week 7 with Hopkins returning, but won't be able to handle the Saints.
Loot's Prediction to Cover the Point Spread: I'm betting the New Orleans Saints +1.5 points. You can make the Saints a +20.5 underdog by inserting them into a massive 19 point NFL teaser found at Wagerweb Sportsbook.