New York Giants vs. Minnesota Vikings Point Spread Pick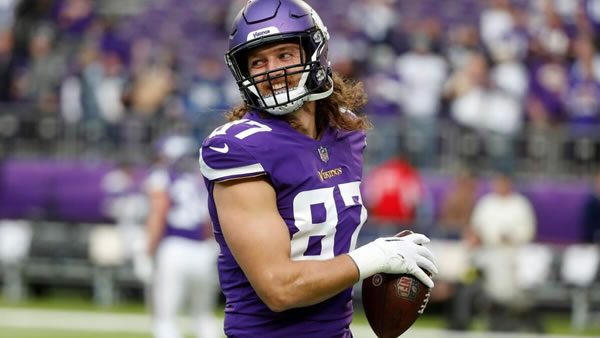 New York Giants (8-5-1 SU, 10-4 ATS) vs. Minnesota Vikings (11-3 SU, 6-7-1 ATS)
Week 16 NFL
Date/Time: Saturday, December 24, 2022 at 1PM EST
Where: U.S. Bank Stadium, Minneapolis, Minnesota
TV: Fox
Point Spread: NYG +3.5/MIN -3.5 (Bovada – They're the best sportsbook on the web! It's where we bet!)
Over/Under Total: 47.5
The New York Giants come to Minneapolis for a big week 16 NFC showdown with the Minnesota Vikings on Saturday. The stakes are high, as each team jockeys for playoff position. The Giants came up on the sunny side of a 20-12 road win over a Commanders team that had been playing pretty well on Sunday. It ended a 4-game winless streak and now has the Giants back on the right track for a wild card spot. The Vikings had an even more eventful week 15, falling behind 33-0 to the Colts on Saturday before launching a massive historic comeback to snatch a win from the jaws of defeat in overtime, 39-36. With some dicey recent performances making people question how good the Vikings are, that win means a lot. Who can continue the good play this week in Minneapolis?
Huge Wins Last Week
I think it's fair to say that despite these teams having played well this season and it being week 16 already, neither is really fancied as a real contender. I think last week almost forces at least a minor reevaluation. With the Vikings having suffered a recent massive beating to Dallas and a bad loss to Detroit the previous week, with only a narrow win over the Jets to be happy about in recent memory, it was looking gloomy. Getting their clocks cleaned by the likes of Indy had people thinking bad things about the Vikings. Now while their defense is still a major sticking point, showing the kind of heart required to overcome a 33-0 deficit and win in OT gives the Vikings a different dimension we might not have previously known.
For the Giants, last week's matchup on the road against a Washington team with four straight wins seemed dangerous, as the Giants entered with four straight winless performances. Their 6-1 start was a distant memory, and those who said they had an easy schedule and would come back down to earth felt vindicated. It was easy to forecast more of the same against the Commanders on Sunday Night Football, but we saw the defense respond with a solid showing for a change, while the offense flexed its weapons—a deep run-game and an aerial package that while having no stars, has a lot of useful pieces. I'd expect Sunday night's win to give them a boost mentally.
10* CONF CHAMP TOTAL - 7-3 (70%) NFL PLAYOFFS
AAA Sports has hit BOTH their Wildcard Round and Divisional Round TOTAL OF THE YEAR, meaning you simply CAN NOT afford to miss out on their CONFERENCE CHAMPIONSHIP TOTALS WINNER! Now an ABSOLUTELY ELECTRIC 7-3 (70%) in the NFL Playoffs, this is TRULY the BIG PLAY that you've been waiting to just UNLOAD on!
Matchup Issues for the Giants
While it was draining on Saturday, the Vikes have to be feeling good back at home where they had they had that huge win last week. There is some margin for error with the 11-win Vikings. But they're not a solid established contender that can afford to cruise to the finish line, and last week attests to that not being their mindset. With two other ten-win teams in the NFC, with the Eagles far on top, they'd like to stay in the slot they're currently occupying. I just wouldn't count on any apathy setting in, as they're still a team looking for things to really start clicking. In other words, the Giants are really going to need to come in here and take it from the Vikings.
When we see Minnesota turn on their high-octane offense with all their weaponry, it really makes the Giants offense look pathetic in comparison. The work of Saquon Barkley and Daniel Jones has been a big part of getting them to this point, a position not a lot of experts thought was realistic for the Giants this season. But with the Minnesota defense being the major weakness of the Vikings, especially aerially, that's not an area where the Giants are very dependable, with their lead receivers being guys that would struggle to get snaps on Minnesota's offense.
Get Loot's Det/Car Week 16 betting analysis and point spread winner >>>
A strong showing against Washington on Sunday and another one against the same team a few weeks ago notwithstanding, it hasn't been hard for the better offenses the Giants are playing to do massive damage. Now you take that defense and put them on the road against the likes of Dalvin Cook, Justin Jefferson, and the variety of other pieces that can exact a toll, and it just paints a bad picture for the Giants. I think the Vikings will start to embrace more of a free-wheeling style, knowing that they can't peck and poke their way to success with a defense like what we've been seeing.
It would be one thing if the Giants had a defense that matched up decently with the Vikings. Not only do they not, but it's a negative outlook this week across most areas. That makes it hard to employ the kind of run-heavy approach the Giants like to use. They have to bank on a shoddy defense, somehow keeping the Vikings in check because if not, they're going to have to throw the ball, come out of character, and it's just not an optimal situation. Whereas we saw the Giants holding their own against the better offenses they faced earlier in the season, the competition got tougher, and over the last month-plus, the resistance has seriously waned.
Lay the Number
Last week showed that the Giants still mean business, taking out a hot team with a lot to play for on the road. I'm not sure being back on the road this week helps, nor does the shorter time to prepare, even if the Vikes left more on the field, perhaps. I think a home Vikings defense might be less-exploitable this week and at least were able to tighten it up on Saturday late to help stage the grand Minnesota comeback. The greater firepower on the Minnesota offense will shine through when it's all said and done. I'll take the Vikings this week.
Loot's Prediction to Cover the Point Spread: I'm betting on the Minnesota Vikings minus 3.5 points. Bet your Week 16 NFL predictions for FREE by scoring a 100% real cash bonus up to $500 at the web's oldest and most trusted bookie1 —-> Everygame Sportsbook! You must enter bonus code PREDICTEM on their Special Offers page before making your first bet to get credited with this bonus!