New York Jets vs. Cleveland Browns Week 2 Betting Predictions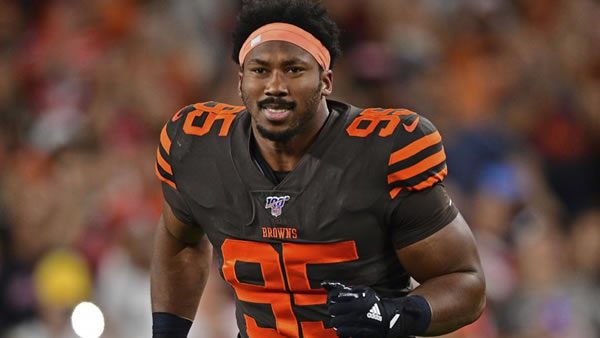 New York Jets (0-1 SU, 0-1 ATS) vs. Cleveland Browns (1-0 SU, 1-0 ATS)
Week 2 NFL
Date/Time: Sunday, September 18, 2022 at 1PM EDT
Where: FirstEnergy Stadium, Cleveland, Ohio
TV: CBS
Point Spread: NYJ +6.5/CLE -6.5 (Bovada – Live bet ALL the NFL games on the same page at the best live wagering platform on the planet!)
Over/Under Total: 40.5
The New York Jets come to FirstEnergy on Sunday for an AFC showdown with the Cleveland Browns. The Jets weren't able to get off to a fast start on Sunday, falling to the Ravens, 24-9, with a late Jets TD, only partly masking what was a truly rough week one. They are on the road this week but maybe get a more-cooperative opponent in the Browns. Cleveland, however, surprised some people in week one and, despite a roster that doesn't inspire conference, performed capably on the road against the Panthers on Sunday, coming on late to win, 26-24, in an upset.
Before Shoveling Dirt on Cleveland
With Watson suspended, the prospects of soldiering ahead with Jacoby Brissett might seem daunting. He's a professional backup and capable in an understated way. He's not much of a passer but can be a decent game-manager that keeps a team on point until whoever the starter is returns. He has an OK line to work with a backfield that a lot of people seemed to forget about, with productive Nick Chubb and Kareem Hunt. They were instrumental on Sunday, with Chubb running for 141 yards, with Hunt both running for and catching a TD. Brissett didn't throw any picks and managed to avoid the Panthers' pass-rush for the most part in what was a big win over Carolina and their former QB Baker Mayfield.
We also saw the Browns come up big on Sunday from a clutch standpoint. After taking a commanding lead, the Panthers began to surge in what looked like a telltale shift in momentum. But just as the offense looked to be going into the deep freeze for the balance of the day, the Browns came up with one more drive to clinch the win. They still have tools on defense, with Myles Garrett registering two sacks. Grant Delpit got a pick, as maybe they now get a belated contribution from their former high draft pick. With some real talent on defense and a big run game, maybe the Browns can surpass their expectations while also keeping in mind that a win over Carolina does not necessarily suggest a revival. But they get another doable spot here and look to get out to a fast start.
Issues for the Jets
On one hand, Jets' QB Joe Flacco threw for over 300 yards, but it took nearly 60 attempts to do so, with the Jets playing from behind. He threw just one TD in garbage time, along with a pick and a gaggle of poor throws in spots that could have turned the game around some. The word is that former top pick Zach Wilson will need more time before he is able to return. They also have Mike White, who performed well as a backup last season in the event that Flacco suffers. But with this offensive line and some inconsistent guys at the skill positions, it doesn't really all come down to the quarterback anyway.
For the purposes of this matchup, the Jets are dealing with a major deficit in the trenches. With difference-makers lining both lines of scrimmage for the Browns, they have a decided edge in this area. Brissett has his issues, and the aerial game he works with enters 2022 with a lot of question marks. But that line is a major weapon for a QB like Brissett when he wants to lean on his run game. Whoever is behind center for the Jets enjoys no such luxuries. And against this Cleveland "D" and namely their pass-rush, it's a rough game for whichever QB is behind center for the Jets.
More Week 2 Picks: Indianapolis vs. Jacksonville Analysis & Free Pick
But Not So Fast…
Week two can be tricky for bettors who made overly concrete evaluations in week one. That could really be the case with a Jets team starting an old retread like Joe Flacco, with all due respect to a Super Bowl champion. But this is not what they drew up, so let's not be so hard on the Jets while also keeping in mind that they could certainly continue right on being subpar this season. The potential of their offense is not likely to be brought out by Flacco, and a defense getting no support from the other side of the ball isn't likely to show its teeth either. But let's also make sure not to lock in the perception of what we're seeing because a new QB in there could throw a new light on things.
Even in a hail of misery on Sunday where the Jets managed a lousy field goal until very late, you could see vestiges of something that could deliver. In an offense without a real star, there is, in fact, some depth that could trouble an incomplete defense like Cleveland's. Breece Hill showed some teeth at RB and, with Michael Carter, makes a decent 1-2 punch. No one is going to get excited about guys like Elijah Moore, Corey Davis, and Braxton Berrios, but these guys can produce. And rookie first-rounder Garrett Wilson served notice with four receptions. Along with a pass-rush that wasn't completely dormant, along with a pick from DJ Reed, the Jets gave at least offered a little taste of what they hope is a defense that makes more plays this season.
Take the Home Favorite
Again, the Jets could look better, and not many teams in recent years have looked that great against the Ravens in week one for whatever reason. I just think at home; the Browns are poised to get off to a nice start, relying on some team strengths to see them through this week. The strength on the O-line should allow the Browns to unleash the productivity of Chubb and Hunt once again, with Brissett doing just enough good and avoiding the bad to get over the hump on Sunday. I'll take Cleveland in this one.
Loot's Prediction to Cover the Point Spread: I'm betting on the Cleveland Browns minus 6.5 points. Rough weekend last week? Instead of re-depositing at your book and receiving a crappy reload bonus (or nothing), you should consider grabbing a 125% real cash bonus up to $400 by using bonus code PREDICTEM at GTBets Sportsbook! They'll also give you a FREE half point everytime you bet your favorite college and pro football teams, as well as your favorite college and NBA basketball teams!