NFL Picks: Atlanta Falcons vs. Houston Texans 10/6/19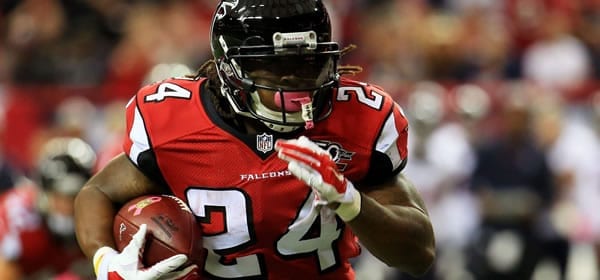 Atlanta Falcons (1-3 SU, 1-3 ATS) vs. Houston Texans (2-2 SU, 2-2 ATS)
NFL Football Week 5
Date/Time: Sunday - October 6th - 1:00pm EST
Where: NRG Stadium - Houston, Texas
TV: FOX
Point Spread: ATL +5/HOU -5 (Bookmaker)
Over/Under Total: 49
ATLANTA FALCONS AND HOUSTON TEXANS PREVIEW:
The Atlanta Falcons have their third straight AFC opponent when they head to Houston to take on the Texans. Both teams are coming off disappointing losses in week four. Atlanta was upset at home against the Tennessee Titans while the Texans were also beat and upset at home against the Carolina Panthers. This game will be extremely interesting, seeing as how both teams have started 2019 in disappointing fashion. In my opinion, a loss by the Falcons would be much more detrimental, but both teams are reeling at this point and need to get on the right side of things.
The Texans come into this game at 2-2 overall and sit in a four-way tie in the AFC South since the entire division share the same record. Atlanta is hurting…they are 1-3 and sit dead last in the NFC South. The worst part for the Falcons is that Tampa is still building while Carolina and New Orleans have back up QBs playing…this game is HUGE for Atlanta and not only their season, but the future of head coach, Dan Quinn. The spread has Houston as a five-point favorite at home over Atlanta.
HOW THE PUBLIC IS BETTING ATLANTA AND HOUSTON:
Every week it appears the Atlanta Falcons get less and less love from the public and for good reason. This team has been a mess. As of midday on Wednesday, 59% of the action in Vegas liked the Texans at home minus the points over the Falcons. Only 41% of the public likes Atlanta to go on the road and get the cover and/or the straight-up win. Both teams straight up records match their ATS records in 2019…Houston 2-2 Atlanta 1-3.
More Picks: Colts at Chiefs Pick ATS >>>
WHY THE HOUSTON TEXANS WILL COVER THE SPREAD ON SUNDAY:
I am a life long Atlanta Falcons fan. My first game was 1986 against Walter Payton and the Chicago Bear when I was nine years old. NEVER, and I mean NEVER, has a Falcons team underachieved this badly in my time as a fan. Yes, we have had some bad years, and yes, we blew a guaranteed Super Bowl win for bad play calling, but this team has been absolutely a disappointment. With the exception of Keanu Neal, there have not been any huge injuries….this team right now just sucks. After four games, an offense that includes Julio Jones, Calvin Ridley, Matt Ryan, Devonta Freeman, and a decent O-Line is averaging right at 17 points a game…really? Not only has the offense played well below their expectations, but the defense has also decided to step up just one half a game and not be able to get off the field when needed. I feel like a broken record week after week talking about this team. Hell, it SOUNDS like a broken record week after week listening to Dan Quinn give his cliché coach speak each Tuesday at his press conference. This team needs to step up and step up quick, or this season will be over…as well as Dan Quinn's tenure as the Falcons head coach.
I hate to say it, but I do not have faith in Atlanta this Sunday. If they could not stop Marcus Mariota, who had issues all year avoiding pressure and throwing TD passes, what will Deshaun Watson do come Sunday?!?! I am telling you, this Falcons team is lost. I have a terrible feeling there will be a coaching change come December #MikeMcCarthy? Houston is going to run Atlanta out of NRG Stadium this weekend. Not only will the Falcons below-average defense have issues, but Matt Ryan is probably going to get sacked a good four or five times. I do think the Atlanta offense finds ways to score more than the 10 points they got last week, but I also think Houston will have their way with the Falcons defense. I see Houston in a 33-24 type game putting themselves atop the AFC South and sending Atlanta home with even more questions than answers.
MVP OF THE GAME:
Deshaun Watson will have his way all day Sunday. I see Watson passing for about 250 yards and two scores while rushing for another 90-100 yards and a score in the win. Atlanta is in trouble this Sunday….BIG TIME TROUBLE. And Watson will be the main reason.
Bob's Pick to Cover the Point Spread: TAKE THE HOUSTON TEXANS OVER THE ATLANTA FALCONS ON SUNDAY. HOUSTON WILL COVER THE POINTS AND AS AN ADDED BONUS TAKE OVER THE POSTED TOTAL POINTS!
Kentucky will Cover if:
The Wildcats can exert superiority on the glass. Kentucky is an excellent rebounding team when it needs to be, and Kansas' lack of a true inside presence makes the Jayhawks vulnerable to a bevy of second chances at the offensive end. If Kentucky can work the ball inside and repeatedly pound the Azubuike-less Jayhawks, Kansas will have a hard time keeping up with the Wildcats and their potent offense.
Dan's Pick to Cover the Spread:
These teams seem to be heading in different directions at this point in the year. At the start of the season, Kansas would have been an easy pick over a Kentucky squad that seemed utterly lost. However, the Wildcats have since found themselves and developed into the kind of team that people expect from John Calipari. Meanwhile, the Jayhawks have headed in the opposite direction as their injuries have made life much more difficult than it has been for Bill Self's crew in some time.
Throw in that Kentucky is 11-0 at Rupp Arena this year and Kansas hasn't been anything special away from Lawrence, and there doesn't seem to be much of a reason to gamble on the Jayhawks going into Lexington and coming out with a result. Kentucky is the better team at this point and should come away victoriously.
Play: Take Kentucky -6.5