NFL Week 4 Picks: Dolphins vs. Bills Betting Advice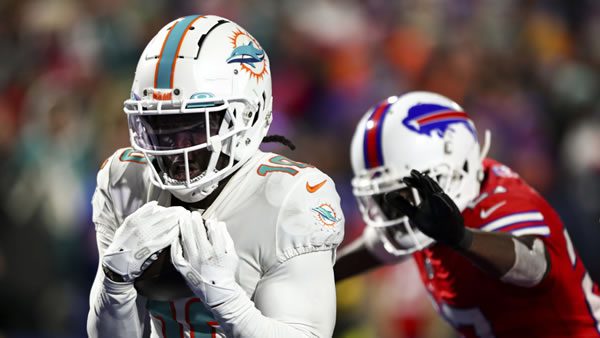 Miami Dolphins (3-0 SU, 3-0 ATS) vs. Buffalo Bills (2-1 SU, 2-1 ATS)
Week 4 NFL
Date/Time: Sunday, October 1, 2023 at 1PM EDT
Where: Highmark Stadium, Orchard Park, New York
TV: CBS
Point Spread: MIA +3/BUF -3 (Bankroll hurting? Grab one of numerous 100% sportsbook bonuses!)
Money Line: Miami +130, Buffalo -160
Over/Under Total: 53.5
The Miami Dolphins take on the Buffalo Bills in AFC East action from Highmark Stadium on Sunday. Both teams had a successful week three, especially the Dolphins, with their record-making 70-20 smashing of the Denver Broncos on Sunday in a hard-to-forget win. They've won all three of their games and covered all of them, as well, with last week being one of the easiest covers you could ever hope for. Buffalo was impressive in their own right, scoring a big 37-3 win on the road against the Commanders on Sunday. Needless to say, each team should expect more resistance in this divisional battle. Let's break this one down!
Back to Reality
With these teams winning by a combined 107-3 last week, look for this divisional meeting to normalize things a bit. Last season saw two close games between these divisional teams, with both games decided by a total of five points. There is a bit of psychology involved when a team is coming off a mind-blowing 70-point output. People might give the Dolphins a big boost in their minds. And while the early going this season, and especially last week, shows them in fine form and maybe confirms what a dangerous contender they are, one needs to temper the reaction created by such an eye-popping result. After all, Denver is simply horrific, and not one move they've made recently has worked, so therefore, being emphatic against a derailed franchise like that isn't a reliable metric for a great team.
If anything, a lot of what we saw last week with the Dolphins offense should cease this week, namely seeing two separate backs put up Tecmo Bowl numbers, with Tua Tagovailoa still having room to go over 300 with 4 TD throws. One could even say that the Bills going on the road to thriving against a good Washington defense and smashing them by 34 counts just as much in the big picture as flogging a helpless Broncos team by fifty. It's just that once the smoke fully clears from Sunday's fireworks extravaganzas, what we're looking at is what should be a competitive divisional game between two conference contenders.
The Danger of Miami's Offense
At the same time, Sunday did illustrate something we've been seeing develop on this Dolphins' offense, which is a litany of routes to success. And this was without WR Jaylen Waddle, who could be due to return this week, giving Tua another viable option as if he needed more. Tyreek Hill is in fine form, flying around the field, and still the fastest guy out there. Getting RB Devon Achane going, with Raheem Mostert already doing his thing, gives them a massive 1-2 punch at running back. And Achane running for 200 yards and two TDs while catching another 2 TD passes has to be one of the most-emphatic "here I am" league moments we've ever seen.
This could be a game where some of the issues Buffalo is supposed to be having will be tested. As the Bills continue to try to make that real big push toward a Super Bowl appearance, we've heard about a diminishing defense, the erosion of Josh Allen, and other things that impugn the Bills and their prospects. But since that weird week one loss to the Jets, the defense has looked just fine, allowing an early-game TD to the Raiders a few weeks ago and not letting an opponent in the end zone now for 7+ quarters. Guys like Leonard Floyd are really getting after opposing quarterbacks, and with seven picks already on the young season, we're seeing a Buffalo defense at least starting to get back to its disruptive and stifling ways.
Can Miami's Defense Follow Suit?
Sometimes, offensive juggernauts like Miami's get some slack when it comes to their defense, as it becomes less of a factor in the face of offensive displays like what we saw last week, where their offensive firepower drowns out everything else. But at the higher reaches of conference play, a more complete team profile is needed. You could say Miami's offense has edged ahead of Buffalo's in terms of firepower, versatility, and sheer danger-potential. And while Miami has some real talent on the defensive side of the ball with several potential All-Pro players, I'm not so sure their edges on offense aren't surpassed by Buffalo's superiority and dependability on the other side of the ball.
Does This Set Up Badly for Miami?
For longtime observers of football or just sports in general, we have become conditioned to expect some falloff when a player or team does something crazy. Whether it's a baseball player hitting three homers, a golfer shooting a 59, or a football team throwing 70 points on the scoreboard, what follows is usually a letdown, or at least so it seems. Making that more viable this week is the dichotomy of spots the Dolphins find themselves in this week, as opposed to last. This week, they're not going to have a down-and-out Denver team baking on the visitor's sideline at Hard Rock. They're on the road in a hard place to play, taking on a team that isn't allowing much and that has big plans of their own.
Lay the Number on the Small Home Favorite
You certainly don't want to be caught sleeping on a Miami team that might just be ready to take off and take over the AFC East. Scoring 70 points just doesn't happen through happenstance, and it should serve as another sign that this is an ultra-dangerous offense that is a threat to beat anyone. I just think the combination of Josh Allen's aerial prowess and how he's starting to get into a groove will trouble this Miami "D" in a big way this week, with the Bills' home defense putting a major crimp in the Dolphins' offensive machine. I'll take Buffalo in this one.
Loot's Prediction to Cover the Point Spread: I'm betting on the Buffalo Bills minus 3 points.