NFL Week 7 Picks: Cleveland at Cincinnati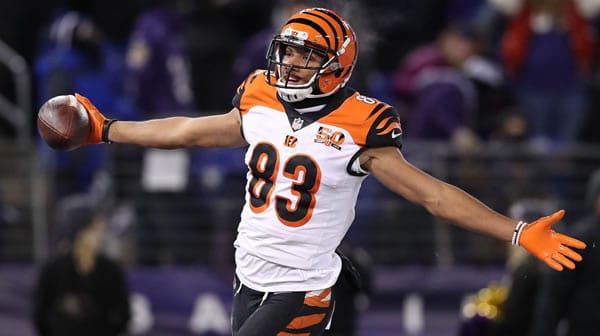 Cleveland Browns (4-1 SU, 3-3 ATS) vs. Cincinnati Bengals (1-4-1 SU, 2-5 ATS)
Week 7 NFL
Date/Time: Sunday, October 25, 2020 at 1PM EDT
Where: Paul Brown Stadium, Cincinnati, Ohio
TV: CBS
Point Spread: CLE -3.5/CIN +3.5 (BetNow - Deposit $500 to $1000 and they'll match you with a 100% REAL CASH bonus! Biggest bonus offer from a legit book ever!)
Over/Under Total: 51.5
The Cleveland Browns come to Paul Brown Stadium for a Week 7 AFC North showdown with the Cincinnati Bengals. Neither team had a good time of it on Sunday. It was a humbling week for the Browns, coming off an ugly 38-7 loss to the Steelers. For a team that was cruising along nicely, it's now time to regroup, but the Bengals aren't the doormat of the recent past, showing a lot of pluck but just not getting the results yet. On Sunday, they blew a big lead on the road against the Colts, coming out on the wrong end of a 31-27 defeat. Who can notch the win and cover this week?
What Game One Tells Us
It seems early in the season for a second divisional matchup, but the Bengals and Browns already tangled in a week two game in Cleveland that the Browns edged 35-30. The Browns were in control, with the Bengals making a run late. Perhaps because they were down by so much, the Bengals took to the air a lot, with Burrow chucking it up 61 times. He did throw three TDs and no picks but did cough up a fumble. Cleveland QB Baker Mayfield was less-prolific and also threw a pick, but Cleveland was able to run the ball exceedingly well. However, the main contributor Nick Chubb is no longer available. All told, it was a well-matched game.
Coming Down to Earth for Cleveland?
Kudos to the Browns for winning four in a row for the best sign we've seen of them getting it together in the last few years. Sunday presented some hard truths, however. And Cleveland now looks for their next opportunity to shine in an elevated context. Beating Cincinnati, Washington, Dallas, and Indy is nice. But when pitted against the two top dogs in their own division this season in Baltimore and Pittsburgh, they were beaten by the combined score of 76-13. The mistakes of Mayfield came shining through, and a lot of the good things we saw from their defense, namely a vast pass-rush and run-stop, wasn't visible on Sunday.
It's worth noting the disparity in just a week's time with the Browns. Coming off four wins and feeling good, they entered this week with hope. After an early Mayfield pick-six, one could start to see the writing on the wall. Mayfield, nursing sore ribs, couldn't get any protection up-front and got the hook. And the Browns flailed their way through 60 minutes, and it's quite a different feeling than it was last week. They now get their second road game in as many weeks and third in four weeks. Is this a week to expect a high-energy Browns squad?
More Picks: Get Loot's Week 7 Lions at Falcons Prediction >>>
The Good and Bad with the Bengals?
They are competitive, and their 3-3 mark against the spread at least suggests some competence, despite a rough 1-4-1 overall record. QB Joe Burrow can really move this offense, but consistency has been elusive, and mistakes have been plenty. But things sure looked good on Sunday when they took a 24-3 lead over the Colts, with Burrow connecting nicely with Tee Higgins and AJ Green having his first big game in the Burrow era. But we've seen it happen a few times this season where Burrow is doing well, then something happens, and the opponent retakes momentum, and the offense goes right into the toilet. And we saw that on Sunday. Still, being able to at least show a high-flying offense in flashes is an improvement over what we've seen in recent seasons.
But now, on top of a run defense that completely failed against the Browns in week two, we now have a Cincy secondary in peril after allowing a free-for-all on Sunday by Rivers and the Colts. There was a stunning lack of resistance as Rivers overcame the big deficit and then took over. A defense that was getting stops just evaporated in thin air. And when betting on what might be an improved Bengals team, we need to remember that some of those things will surface that allowed them to get Burrow with the number-one pick in the first place.
Key Factors at Play
For all their issues, Cincinnati is fairly healthy. Joe Mixon (questionable) was a little banged up on Sunday but was soon back in there making nice runs. But Cleveland is a little dinged up, as their secondary took some knocks against Pittsburgh. Mayfield (questionable) is nursing sore ribs, and it was hard to tell if that's why he left the game or if it was partially because he was stinking it up so much. It's just odd that this time last week, they were on the crest of four straight wins, and now Kevin Stefanski is having to say Mayfield is his starter. And now they take on a team they only beat by five on their field, when they were a little healthier.
Take the Underdog
Let's get the bad part out of the way—Cincinnati, with their rookie QB and erratically-inconsistent defense, is a threat to undermine themselves at any given time. There are certain liabilities on this team that can throw any analysis into a tizzy. And Cleveland has at least been somewhat bankable in this context against a less-than-elite team such as the Bengals. Nevertheless, I don't think all of Cleveland's issues go away in a week, and even against a dicey proposition like the Bengals, laying points on the Browns as a road-favorite seems even more-dicey. I'll take the Bengals and the points.
Loot's Prediction to Cover the Point Spread: I'm betting on the Cincinnati Bengals plus points. Bet on this game and ALL your sports bets at reduced odds -105! Wagering on games at reduced vig essentially saves you $5 per every $100 you wager. This adds up to HUGE savings over the long haul. Thousands of dollars that you could be using to make more bets! Find this great money saving offer at BetAnySports!