NY Giants vs. NY Jets Prediction ATS 11/9/19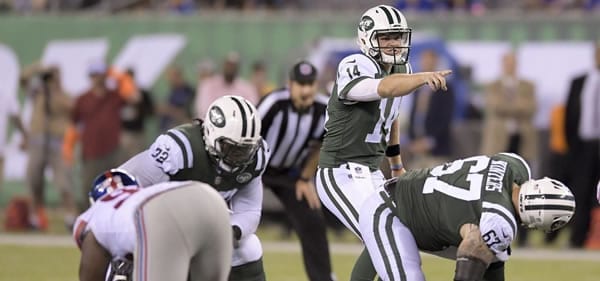 New York Giants (2-6 SU, 3-5 ATS) vs. New York Jets (1-7 SU, 2-6 ATS)
NFL Week 10
Date/Time: Sunday, November 10, 2019 at 1PM EST
Where: MetLife Stadium, East Rutherford, New Jersey
TV: Fox
Point Spread: NYG -2.5/NYJ +2.5 (Intertops - 50% Bonus at Webs Oldest Bookie)
Over/Under Total: 43
The New York Giants take on the New York Jets at MetLife Stadium on Sunday in week ten action. These teams haven't played since 2015, when the Jets won an overtime 23-20 battle. It's a unique matchup, with both teams playing in their home stadium, meaning there really is no road team in this game. The Giants are coming off the short week, falling to the Cowboys in this very building on MNF, 37-18. The Jets had an even worse time of it last week, hitting a new low on the season with a 26-18 road-loss to the previously-winless Dolphins. After two straight road-games, they at least look forward to coming back home, taking on an opponent where they can perhaps compete.
Accepting Reality with the Jets
It goes beyond a mere 1-7 record. Their grief has to be pronounced heading into the second half of the season and believe it or not, it can get worse. Teams in this position generally don't see things get a whole lot better. The disconnect runs deep and after a promising 24-22 win over the Cowboys and getting Sam Darnold back, things have gone off the rails and even a 2-win Giants team could potentially pounce.
With 6 touchdowns and 9 picks, Darnold isn't much of an asset behind center in his second season. The high-profile acquisition of Le'Veon Bell has been underwhelming and while he's on pace to gain 800 yards on the ground and another 500 aerially, it's not what they expected. With a gimpy knee, his status for this game isn't entirely certain and they can ill afford to lose weapons at this point. Jamison Crowder, another first-year Jet, leads the team in receiving yards, but with just over 400 yards and a single score, he's not what you want to see with a number-one receiver. And the supporting cast of TE Ryan Griffin, WR Robby Anderson, RB Ty Montgomery, and WR Demaryius Thomas has been lukewarm at best. Maybe against a floundering Giants' defense they can find better success.
More Picks: Loot's Bills vs. Browns Prediction >>>
Can the Giants' Engines Fire Up?
We saw glimpses on MNF, before the Dallas defense tightened up. They actually have some firepower on offense and when Saquon Barkley revs up, it will be even better. Other than a long catch-and-run on MNF, he was quiet and hasn't really hit top gear since returning from injury. QB Daniel Jones is having the normal ups and downs that come with being a rookie QB thrown into the lion's pit. The receiver package is depleted with OBJ gone and Sterling Shepard still sidelined. But Golden Tate is starting to heat up and Jones is connecting well with him. Evan Engram is a legit weapon, but made a few mistakes on MNF. Something happens when they hit the red zone, way too often having to settle for field goal attempts. You'd like to see them go for the gusto more often.
Compelling Matchup Issues
Again, the Jets' offense is in knots, unable to get much going. Even against Miami, they were ineffectual, struggling to make something happen. Being at home will help, as will playing a Giants' defense that gives up a lot, with only three teams having allowed more points. Other than an occasional pass-rush with Markus Golden, the rising form of DT Dexter Lawrence, and LB Alec Ogletree, there's not a ton to like here. The Giants' secondary is hurting, as teams are picking on rookie corner DeAndre Baker, who hasn't been up-to-snuff. Granted, the Jets haven't been running the ball well, nor have they been making it happen aerially. But with the Giants unable to stop much of anything, Darnold and others could have productive games this Sunday.
A lot of the same applies to the Giants, however. They actually have more spark in their aerial and ground game. And it's unclear what the Jets will be able to do about it. But as the Giants have more reliable weaponry on offense, the same can be said about the Jets' defense. It didn't look like it last Sunday, with the Jets yielding a big game to Miami's Ryan Fitzpatrick. But they've been really good against the run this season. Whether that will resonate against Saquon Barkley remains to be seen. But that shoddy secondary will certainly be tested, even against a rookie like Jones, who will have a chance to connect well with his weapons. The Jets are having a lot of trouble manufacturing a pass-rush and the secondary hasn't been a playmaking one so far this season.
Looking for Fire
When dealing with a midseason matchup among losing teams, it's important to look at urgency. When looking at the Jets late in that game against Miami, there was a general lack of fire. The players seemed to be going through the motions. Coach Adam Gase botched the late-game clock management and it was a really bad look. You don't want to judge teams off their worst moments and one could even expect the Jets to be looking to make amends for that here at home. But even with the Giants collapsing in the fourth quarter against Dallas, you could tell this means a lot to them. They're angry when things don't go their way and guys are in there playing with pride and at least they're trying hard to get the most of what they have.
Take the Favorite
With the Giants, nothing can be for certain. They could get their butts kicked by the Jets and no one would have the right to be all that surprised. They're coming off the short week after a punishing loss and who knows what to really expect? I just see Barkley being due for a big game and I think this is a good spot. With little to choose from between the two teams, I see that as being a blaring factor that can start to build the winning case for the Giants in this one.
Loot's Pick to Cover the Point Spread: I'm betting on the New York Giants minus 2.5 points. These teams have a lot of losses. Losses mean teams are not doing things right. When two teams with lots of losses meet, things can be unpredictable. This is a great game to tease! Find NFL teasers where you can move the line by as many as 19 points at BetAnySports!