[et_pb_dcsbcm_divi_breadcrumbs_module homebreadcrumbtext="Home" hide_currentbreadcrumb="off" _builder_version="3.8″ fontsbreadcrumbs_font="Lato||||||||" fontsbreadcrumbs_text_color="#000000″ fontsbreadcrumbs_font_size="15px" fontsbreadcrumbs_line_height="16px" fontsseperator_font="||||||||" fontsbreadcrumblinks_font="||||||||" fontsbreadcrumblinks_text_color="#2567cf" custom_margin="25px|||" custom_margin_phone="30px|||" custom_margin_last_edited="off|desktop" custom_css_main_element="font-family: Helvetica Regular;" disabled="on" global_module="3641″ saved_tabs="all"][/et_pb_dcsbcm_divi_breadcrumbs_module]
Panthers Season Win Total: 3 Reasons to Bet Under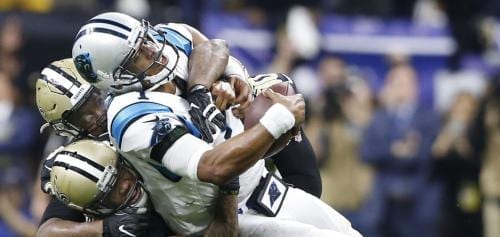 The Panthers entered 2017 trying to recover from their 2016 Super Bowl hangover season. They had managed only 6 wins in 2016, after their 2015 Super Bowl loss. All Pro signal caller Cam Newton was recovering from shoulder surgery, but the Panthers started hot, and bettors that wagered on over 8.5 wins were cashing tickets in week 14. Ron Rivera's squad went on to win 11 and tied for first in the league's best division but fell to the Saints in the first round of the playoffs.
The Panthers have been up down the last 4 years, winning 7 then 15 then 6 then 11 over that stretch. The Panthers have never had back to back winning seasons. It's difficult to tell who the real Panthers are so the Bookmaker's set the 2018 over/under win total at 8.5. Bettors have leaned toward the over, but the play should be under at even money.
The 2017 Panthers Were Frauds
Bill Parcells, as far back as the Patriots coach, would famously say "You are what your record says you are". With that in mind, last year's Panthers were an 11 win team, and one of only 10 teams that got to double digit wins. But the stats say the Panthers performed at a 7 or 8 win level. They had a record of 7-1 in one score games, meaning a couple of bad bounces and this is not a double-digit win team. Carolina's offense was 19th in yards per play, and their defense was 19th in yards per play against. Their yards per play on both sides of the ball were basically the same as the '16 squad that won only 6 times. These are stats of a 7 or 8 win team. The Panthers were not top 10 in any key statistical category, offensive or defensive. Some win regression should occur this year for the Panthers, bringing them back to their statistical level.

The Offense Has No Identity.
The Super Bowl Panthers of 2015 were a power running team led by Newton and Jonathan Stewart. They led the league in rushing attempts. This opened up the secondary, and Newton was able to throw for 35 touchdowns and finishing 9th in yards per attempt. Since that year, the Panthers have tried to develop a quick strike offense to improve Newton's longevity. Newton has dealt with shoulder issues, so it is understandable that Panther brass wants to protect him, but Cam's greatest strength and what separates him from other QBs is that he has the size of a linebacker and runs like John Riggins. His greatest weakness is accuracy – his completion percent has been below 60 in each of the last 4 years. At this point of his career, he will not develop into a conventional quarterback, but the team keeps trying.
8 More Season Win Over/Under Picks
Recent roster moves and draft picks confirm this effort. Kelvin Benjamin was traded to the Bills in the middle of the '17 season. Christian McCaffrey was a top 10 pick last year, but he is a slot receiver lining up at running back and averaged only 3.7 yards per carry in his rookie campaign. D.J. Moore was this years first rounder projecting to be a slot receiver that struggles making contested catches. Curtis Samuel was last year's second round and is still learning the WR position. Free agent Torrey Smith was added as a speed guy to run "go" routes, but that is the extent of his talents. Carolina did sign former Bronco C.J. Anderson to handle early down duties and this is a slight upgrade from the aging Stewart. A big hole must be filled with the departure of LG Andrew Norwell and no one on the roster has Norwell's talent. This will further cripple the power running game and put pressure on Cam's passing skills. New O-coordinator Norv Turner has stated his plan is a quick strike passing game, rather than playing to the strengths of his QB. This is not the equation to win games.
The Defense Will Not Be As Good in 2018
Carolina's once vaunted defense limped home in 2017. They allowed 382 yards per contest after their week 11 bye – games that included the Jets and Rogers-less Packers. The passing defense was the achilles heel of the D, giving up 281 yards per game down the stretch. The pass rush only got home 12 times during this stretch despite being blitz heavy.
Eric Washington was promoted from D-line coach to coordinate the defense after Steve Wilks was hired as Arizona's head coach. Head Coach Sean McDermott is a Cover 3 guy, so Washington is expected to maintain that as the base D. All Pro Luke Kuechly and Thomas Davis are the heart of this unit but Davis will miss the first 4 contests of 2018 serving a suspension. LB Shaq Thompson was drafted in the 2015 first round to take over in the middle but hasn't played well enough to be on the field. Dontari Poe signed to play DT next to Kawaan Short after Star Lotulelei moved on to Buffalo. This should be a wash for the line. Titan castoff Da'Norris Searcy, and rookies Donte Jackson and Rashaan Gaulden will compete for spots in the secondary after the loss of free safety Kurt. This stacks up as a downgrade. Mario Addison will continue to be the headliner of the pass rush after 11 sacks last year, and 38 year old Julius Peppers will try to repeat his 11 sack performance. The Panthers defensive weaknesses were exposed last year and have not been fixed. Look for teams to continue to have success against the Panthers D in 2018.
The play on the 2018 Panthers is the under. The team is wildly inconsistent and cannot be expected to repeat last year's success. Pick: Panthers Under 8.5 Wins