[et_pb_dcsbcm_divi_breadcrumbs_module hide_homebreadcrumb="off" homebreadcrumbtext="Home" separator="sep-raquo" hide_currentbreadcrumb="off" homebreadcrumborientation="left" _builder_version="3.8″ fontsbreadcrumbs_font="Lato||||||||" fontsbreadcrumbs_text_color="#000000″ fontsbreadcrumbs_font_size="15px" fontsbreadcrumbs_line_height="16px" fontsseperator_font="||||||||" fontsbreadcrumblinks_font="||||||||" fontsbreadcrumblinks_text_color="#2567cf" custom_margin="25px|||" custom_margin_phone="30px|||" custom_margin_last_edited="off|desktop" custom_css_main_element="font-family: Helvetica Regular;" global_module="3641″ saved_tabs="all"][/et_pb_dcsbcm_divi_breadcrumbs_module]
NFL Pick: Pittsburgh Steelers vs. Baltimore Ravens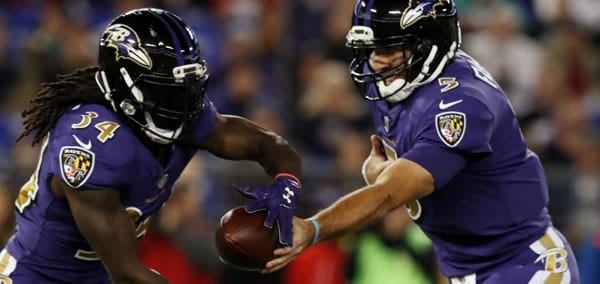 Pittsburgh Steelers (4-2-1 SU, 4-3 ATS) vs. Baltimore Ravens (4-4 SU, 4-4 ATS)
When: November 4, 2018, 1:00 PM EST
Where: M&T Bank Stadium, Baltimore, Maryland
TV: CBS
By: Rick Wise
Point Spread: PIT +3/BAL -3
Over/Under: 47
Takeaways From Week 8
The Steelers moved to 4-2-1 and first place in the AFC North after a commanding 33-18 victory over the Baker Mayfield-led Cleveland Browns Sunday in a game they dominated on both sides of the ball.
Pittsburgh played maybe their best game of the season Sunday but it wasn't flawless. There are still some things on the defensive end that need to be shored up if they're going to avenge their Week 4 loss to the Ravens this coming Sunday. Namely, at the cornerback position. Coty Sensabaugh played the entire game for an apparently benched Artie Burns and he provided the weakest coverage in the secondary all afternoon. The play that underscored that glaring deficiency was a 1-yard touchdown pass from Mayfield to Antonio Callaway in the third quarter in which Sensabaugh interfered with Callaway so thoroughly that the two looked like dance partners. Sensabaugh drew the flag but still couldn't break up the pass.
With each passing week, James Conner is erasing more and more memory of Le'Veon Bell from the minds of the Steelers faithful. After rushing for 146 yards and 2 touchdowns and adding another 66 yards on 5 catches against Cleveland, Bell's holdout status lost that much more weight. Conner has now posted 922 yards and 9 touchdowns from scrimmage in 7 games.
Meanwhile, the Ravens dropped to 4-4 and 3rd place in the AFC North following a 36-21 loss to the Carolina Panthers that left many questioning whether Baltimore is still worthy of the NFL's top defensive ranking.
TIRED OF YOUR CREDIT CARD NOT WORKING AT SPORTSBOOKS? IT WILL AT BOVADA + GET A 50% CASH BONUS!
The Ravens have owned the league's fiercest defense for much of the season, at least on paper. Apparently, Cam Newton never got the memo. He did his thing, same as always, connecting on 21-of-29 for 219 yards and 2 touchdowns passing and added another 52 yards and a touchdown on the ground. Baltimore's vaunted pass rush failed to crack a mediocre Carolina offensive line, recording zero sacks and hitting Newton just 4 times. If this is the NFL's best defense, they were on vacation Sunday.
There weren't many positives to come out of the loss but the Ravens did run the ball well, totaling 101 yards on the ground and finishing with an excellent 5.8 yards per attempt average. Alex Collins led all running backs with 49 yards and a touchdown on 11 carries and a solid 4.9 yards per carry average.
The Historicals
This is one of the NFL's most heated rivalries as the path to the division title has frequently gone through one of these two cities in recent times. They've met four times in the playoffs and the Steelers lead the series 27-22 dating back to 1996. The Ravens have a slight edge as of late, winning 6 of the last 10 matchups.
Injury Concerns
For Pittsburgh, listed as questionable for Sunday's game are T Marcus Gilbert (knee), CB Coty Sensabaugh (foot), QB Ben Roethlisberger (index finger).
For Baltimore, listed as questionable for Sunday are G James Hurst (back), G Alex Lewis (neck), CB Marlon Humphrey (thigh).
When the Steelers have the Ball
Even after last week's porous affair, the Baltimore Ravens are still in possession of the league's number one defense. Not that it matters much, though, because when these two lock horns stats are kind of immaterial. It's always knock-down, drag out vicious and Big Ben is likely to be dodging human projectiles all afternoon come Sunday. That said, the Steelers offense has finally become its top 10-ranked self again. They're passing the ball much more than they're running it, 65.46% versus 34.54%. We'll see which Ravens D shows up Sunday, but at least Pittsburgh has a viable alternative to the pass with Conner carrying the ball so well lately.
When the Ravens have the Ball
The Ravens offense struggled last week against the Panthers. Joe Flacco finished 22-of-39 for 192 yards, 1 touchdown and 1 interception and although his receivers didn't do him any favors with a whole series of untimely drops, Sunday is a must-win if Baltimore has any shot at winning the AFC North. Flacco will need to be much better but he'll have his hands full with a stout Steelers front four and their 11th-ranked total defense. If he can stay upright, Pittsburgh's 26th-ranked pass defense is where Flacco could win this game.
Betting Trends
Pittsburgh is 4-1 ATS in its last 5 games
Pittsburgh is 4-1 SU in its last 5 games
The total has gone OVER in 7 of Pittsburgh's last 9 games
Pittsburgh is 6-3 ATS in its last 9 games on the road
Pittsburgh is 8-0-1 SU in its last 9 games on the road
The total has gone UNDER in 19 of Pittsburgh's last 25 games on the road
Pittsburgh is 1-6-1 ATS in its last 8 games when playing Baltimore
The total has gone UNDER in 5 of Pittsburgh's last 7 games when playing Baltimore
Pittsburgh is 1-4 SU in its last 5 games when playing on the road against Baltimore
The total has gone UNDER in 4 of Pittsburgh's last 5 games when playing on the road against Baltimore
The total has gone UNDER in 5 of Baltimore's last 6 games
Baltimore is 6-2 SU in its last 8 games at home
Baltimore is 5-1 ATS in its last 6 games when playing Pittsburgh
The total has gone UNDER in 5 of Baltimore's last 7 games when playing Pittsburgh
Baltimore is 4-1 SU in its last 5 games when playing at home against Pittsburgh
The total has gone UNDER in 4 of Baltimore's last 5 games when playing at home against Pittsburgh


Rick Wise's NFL Pick: Pittsburgh +3
<h4 class="widgettitle">NFL Picks</h4><!-- [et_pb_line_break_holder] -->
<!-- [et_pb_line_break_holder] --><div class="widget-footer"><a href="https://www.predictem.com/nfl/">See all the NFL picks.</a></div><!-- [et_pb_line_break_holder] --><hr><!-- [et_pb_line_break_holder] --><style><!-- [et_pb_line_break_holder] -->ul.postsbycategory {list-style-type: none; margin:0; padding: 0; margin-left: -3px}<!-- [et_pb_line_break_holder] -->.postsbycategory li {padding: 5px 0px; display:block; clear: both; border-bottom: 1px solid #ccc;line-height:16px!important; min-height: 50px;}<!-- [et_pb_line_break_holder] -->.postsbycategory li a{color: #000; font-size: 14px!important;}<!-- [et_pb_line_break_holder] -->.postsbycategory img {width: 85px!important; height: 40px;<!-- [et_pb_line_break_holder] -->float:left; <!-- [et_pb_line_break_holder] -->padding:0px;<!-- [et_pb_line_break_holder] -->margin: 0px; margin-right: 8px;<!-- [et_pb_line_break_holder] -->border: 1px solid #EEE;<!-- [et_pb_line_break_holder] -->}<!-- [et_pb_line_break_holder] --> .widget-footer a {color: #666;}<!-- [et_pb_line_break_holder] --> .widget-footer a:hover {padding-top: 2px;}<!-- [et_pb_line_break_holder] --></style>
<div style="width:340px; margin: 0 auto;"><!-- [et_pb_line_break_holder] --> <a class="twitter-timeline" data-width="340" data-height="500" data-link-color="#008156" href="https://twitter.com/PredictemPicks?ref_src=twsrc%5Etfw">Tweets by PredictemPicks</a> <script async src="https://platform.twitter.com/widgets.js" charset="utf-8"></script><!-- [et_pb_line_break_holder] --></div>