San Francisco 49ers vs. Kansas City Chiefs Pick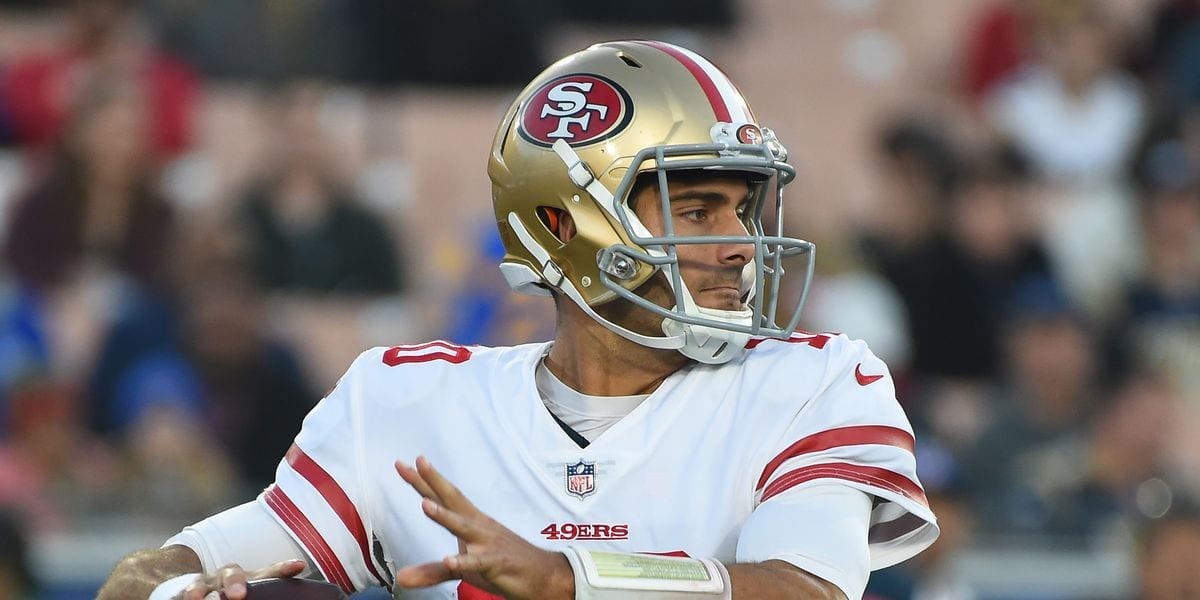 San Francisco 49ers (1-1 SU, 0-2 ATS) vs. Kansas City Chiefs (2-0 SU, 2-0 ATS)
NFL Week 3
Date/Time: Sunday, September 23, 2018 at 1PM EDT
Where: Arrowhead Stadium, Kansas City, Missouri
TV: Fox
By: Loot Levinson, Expert Football Handicapper, Predictem.com
Point Spread: SF +6.5/KC -6.5
Over/Under Total: 56
The San Francisco 49ers come to Arrowhead for a week three matchup with the Kansas City Chiefs. The 49ers won last week, holding off Detroit at home for a 30-27 win, which followed a tough opening week loss at Minnesota. The Chiefs have been superb, winning two tough road games to open the season, including a 42-37 win at Pittsburgh on Sunday. Any thoughts that the Chiefs would be diminished this season have been quelled with two top-notch showings from young QB Patrick Mahomes.
A two-game window is not enough in which to base any concrete judgments, but to start the season with a pair of AFC contenders in the Chargers and Steelers on the road and see your young untested QB deliver 70% completions with ten touchdowns and no picks is a positive development if there ever was one. OK, so they've been giving up a ton of points. So what? They still look cut-out to hold their own and then some in those kinds of track meets.

The season has opened a little unevenly for a Niners team that rode Jimmy Garoppolo's arm to a strong 2017 finish. Then again, a one-score loss at the Vikings and beating the Lions isn't so bad for a team that hasn't much to celebrate recently. After taking a 30-13 lead in the final quarter on Sunday, those who took the 49ers ATS were certainly bemused as the Lions put up two late touchdowns. A win is a win, but the non-cover was a letdown for those looking at things a bit more in a betting sense.
How Good is KC?
There isn't much value on the commonly-accepted beliefs when it comes to betting NFL. Sure, sometimes teams are as good as the hype indicates and they keep right on covering, but more often, people tend to run with the story, not fully-acknowledging that each week in this league presents a new set of challenges. Kansas City has opened the season with two wins on the road against good teams. The kid quarterback is on fire, making better use of a vast playmaking crew than his predecessor did. And in that regard, they are stocked to the gills—with defending rushing champ Kareem Hunt, monstrous TE Travis Kelce, and a burner receiver in Tyreek Hill, with other stuff too.
Chiefs getting over 70% of the action at -6.5 vs. SF.

— Predictem (@PredictemPicks) September 21, 2018
It's not like you can call them out on the basis of playing weak teams. So in this results-based NFL world, what else is there to really talk about? While the Chiefs could very well go on to big things, a two-week window alone does not make a season. A lot of teams that never went anywhere had a good two-week window at some point and just because the Chiefs did it to open the season doesn't mean they're awesome. And let's face it—we've seen some holes already on the defensive side of the ball. Their secondary looks borderline-slapstick with all the departures and those are the kinds of problems that don't just go away on their own.
San Francisco—Getting Expectations in-Check
Last season certainly ended in a bang for the 49ers. For a team to open the season 0-9 and somehow end up the year as a "team on the rise" is remarkable. But perhaps the renaissance was overstated, with that spurt coming either against suffering teams or playoff teams that had taken their feet off the gas for various reasons. Yes, they are a team that is coming around, but there is work to be done and those expecting dominance on any level will be waiting for a while.
Week two offered a mixed bag. Detroit doesn't seem to be very good and for a team that was suffering so badly and down 30-13 to suddenly go on a big spurt and put what looked like a sure win into jeopardy wasn't great. Talk about a backdoor cover. So those betting on San Fran, even in what seem like advantageous matchups, could be snake-bitten by this bunch. I mean, let's face it, San Fran was the right pick if only they could have closen right.
Garoppolo was more-efficient in week two, throwing a pair of TDs with no picks and no turnovers on offense. They got some needed production from the backfield with Matt Breida running in a long one en route to a 138-yard showing and Alfred Morris showing some lively legs, as well. Aerially, it's not the most-stocked crew with Goodwin still iffy, but Pierre Garcon is still a reliable presence, rookie Dante Pettis is a big X-factor, while TE George Kittle continues to rise. That line, however, continues to suffer in protecting Garoppolo and that looms as an issue each week.
Take the Points on the Road Underdog
This is admittedly a strange time to go against the Chiefs, following two road wins over better teams and now at Arrowhead for their season home-opener. I see some good things happening with the Frisco offense in this game, with Garoppolo able to put up some numbers. Stopping Mahomes and Company might not be easy or even terribly realistic. I just see the Niners scoring enough, hanging in there, and emerging with the cover in week three. I'm taking San Fran.
Loot's Pick to Cover the Point Spread: I'm betting on the San Francisco 49ers plus 6.5 points.
<div class="clickable CTA" style="margin: 0 auto; background: #fff; border-radius: 10px; text-align: center; padding: 10px 20px 20px 20px;"><!-- [et_pb_line_break_holder] --> <img src="https://www.predictem.com/wp-content/uploads/2018/06/5Dimes-logo.png" alt="5Dimes" width="200" /><!-- [et_pb_line_break_holder] --> <p style="margin-top: 5px; font-size: 22px; line-height: 30px;"><!-- [et_pb_line_break_holder] --> -105 Reduce Pricing<!-- [et_pb_line_break_holder] --> </p><!-- [et_pb_line_break_holder] --> <hr class="cta-divider"><!-- [et_pb_line_break_holder] --> <p style="padding-bottom: 20px; font-size: 15px; line-height: 20px"><!-- [et_pb_line_break_holder] --> Pay less per bet &<br>get largest betting menu<!-- [et_pb_line_break_holder] --> </p><!-- [et_pb_line_break_holder] --> <button class="et_pb_button" style="color: #fff; cursor: pointer; width: 90%;" href="#"><!-- [et_pb_line_break_holder] --> Bet Here<!-- [et_pb_line_break_holder] --> </button><!-- [et_pb_line_break_holder] --></div>
<aside><!-- [et_pb_line_break_holder] --><div class="widget105"><!-- [et_pb_line_break_holder] --><h4 class="cash">Biggest Sportsbook Bonuses</h4><!-- [et_pb_line_break_holder] --><div class="widgetlist"><!-- [et_pb_line_break_holder] --><div class="col1"><!-- [et_pb_line_break_holder] --> <a href="https://www.predictem.com/out/Bovada"><img src="https://www.predictem.com/wp-content/uploads/2018/04/bovada.png" width="150" alt="Bovada" /></a><!-- [et_pb_line_break_holder] --></div><!-- [et_pb_line_break_holder] --><div class="col2"><!-- [et_pb_line_break_holder] --><span class="list"><b>50% Cash</b></span><br><!-- [et_pb_line_break_holder] --><span class="list">5x Rollover</span><!-- [et_pb_line_break_holder] --> </div><!-- [et_pb_line_break_holder] --> <div class="col3"><!-- [et_pb_line_break_holder] --><a href="https://www.predictem.com/betting-sites/bovada/"><button class="btn-widget">Review</button></a><!-- [et_pb_line_break_holder] --></div><!-- [et_pb_line_break_holder] --></div><!-- [et_pb_line_break_holder] --><div class="widgetlist"><!-- [et_pb_line_break_holder] --><div class="col1"><!-- [et_pb_line_break_holder] --> <a href="https://www.predictem.com/out/Intertops"><img src="https://www.predictem.com/wp-content/uploads/2018/04/intertops.png" width="150" alt="Intertops" /></a><!-- [et_pb_line_break_holder] --></div><!-- [et_pb_line_break_holder] --><div class="col2"><!-- [et_pb_line_break_holder] --><span class="list"><b>50% Cash</b></span><br><!-- [et_pb_line_break_holder] --><span class="list">4x Rollover</span><!-- [et_pb_line_break_holder] --> </div><!-- [et_pb_line_break_holder] --><div class="col3"><!-- [et_pb_line_break_holder] --><a href="https://www.predictem.com/betting-sites/intertops/"><button class="btn-widget">Review</button></a><!-- [et_pb_line_break_holder] --></div><!-- [et_pb_line_break_holder] --></div><!-- [et_pb_line_break_holder] --><div class="widgetlist"><!-- [et_pb_line_break_holder] --><div class="col1"><!-- [et_pb_line_break_holder] --> <a href="https://www.predictem.com/out/Gtbets"><img src="https://www.predictem.com/wp-content/uploads/2018/05/gt-bets.png" width="150" alt="GtBets" /></a><!-- [et_pb_line_break_holder] --></div><!-- [et_pb_line_break_holder] --><div class="col2"><!-- [et_pb_line_break_holder] --><span class="list"><b>150% Cash</b></span><br><!-- [et_pb_line_break_holder] --><span class="list">4x Rollover</span><!-- [et_pb_line_break_holder] --> </div><!-- [et_pb_line_break_holder] --> <div class="col3"><!-- [et_pb_line_break_holder] --> <a href="https://www.predictem.com/betting-sites/gtbets/"><button class="btn-widget">Review</button></a><!-- [et_pb_line_break_holder] --></div><!-- [et_pb_line_break_holder] --></div><!-- [et_pb_line_break_holder] --><div class="widget-footer"><a href="https://www.predictem.com/best-sportsbooks/bonuses/">See all sportsbook bonuses</a></div><!-- [et_pb_line_break_holder] --> </div></aside>