[et_pb_dcsbcm_divi_breadcrumbs_module hide_homebreadcrumb="off" homebreadcrumbtext="Home" separator="sep-raquo" hide_currentbreadcrumb="off" homebreadcrumborientation="left" _builder_version="3.8″ fontsbreadcrumbs_font="Lato||||||||" fontsbreadcrumbs_text_color="#000000″ fontsbreadcrumbs_font_size="15px" fontsbreadcrumbs_line_height="16px" fontsseperator_font="||||||||" fontsbreadcrumblinks_font="||||||||" fontsbreadcrumblinks_text_color="#2567cf" custom_margin="25px|||" custom_margin_phone="30px|||" custom_margin_last_edited="off|desktop" custom_css_main_element="font-family: Helvetica Regular;" disabled="on" global_module="3641″ saved_tabs="all"][/et_pb_dcsbcm_divi_breadcrumbs_module]
NFL Pick : 49ers vs. Buccaneers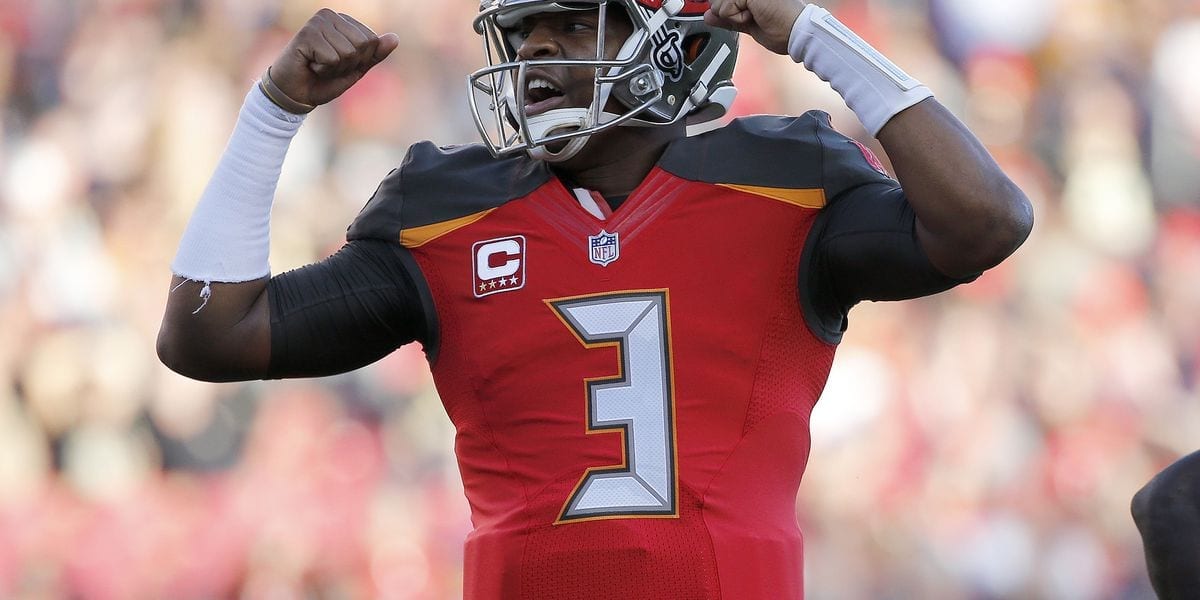 San Francisco 49ers (2-8 SU, 3-7 ATS) vs. Tampa Bay Buccaneers (3-7 SU, 3-6-1 ATS)
NFL Week 12
Date/Time: Sunday, November 25, 2018 at 1PM EST
Where: Raymond James Stadium, Tampa, Florida
TV: Fox
By: Loot Levinson, Expert Football Handicapper, Predictem.com
Point Spread: SF +3.5/TB -3.5
Over/Under Total: 55
The San Francisco 49ers come to Raymond James Stadium for a week 12 matchup with the Tampa Bay Buccaneers. Neither team is flying high. The Buccaneers lost to the Giants last week, 38-35, in a game that wasn't even that close, with the Bucs piling on some points late. At the end of the day, it was their 7th loss in 8 games—quite a comedown after a 2-0 start to the season. The two-win Niners are coming off the bye-week, but don't have much to crow about with 7 losses in their last 8 games, following an ugly 27-23 loss to the Giants before the break. It certainly doesn't paint either team in a good light, as each is coming off losses to a Giants team that isn't that great. I like the 49ers to cover the spread on the road this weekend.
Tampa: A Strong Passing Game in Disarray
There is a paradox in the Tampa aerial-offense, as they constantly shift between Ryan Fitzpatrick and Jameis Winston. Last week in the loss to the Giants, Fitzpatrick was behind center, but after three picks, Winston was put in and threw 2 touchdowns, but also a pick. It might surprise some that Tampa puts up more yards aerially than any other team in the league. They put up a lot of points. But the mistakes are plenty, with Winston and Fitzpatrick having combined for 23 picks through just ten games—an alarming figure.
Redskins vs Cowboys – NFL FREE PICK
Granted, the Bucs don't have much of a running-game. Peyton Barber is the main workhorse and leaves a lot to be desired in that role. The line isn't that great either, not opening up holes enough and letting the opposing pass-rush thrive more often than not. But when a team is this bad, it's good that they can do one thing well and despite the errors, they can move the ball aerially, with Mike Evans, DeSean Jackson, OJ Howard, Chris Godwin, and Adam Humphries all making big plays this season. The San Fran defense is a rising unit with a lot of interesting youngsters and some playmaking ability, as well, but hardly reliable enough to thwart the aerial antics of the Bucs. After Sunday's showing, one would have to presume Winston will get the start this week, but it's definitely the most-liquid QB situation in the league. And let's face it—the volatility probably hasn't helped.
Tampa's Defensive Liabilities
Just as Tampa can rely on airing it out to move the chains; the Niners have been pretty good running the ball this season. It doesn't make them a good offense perhaps, but with Matt Breida and Alfred Morris, they average a respectable 4.7 yards a carry. Tampa has the last-ranked defense in the league, but is actually pretty average against the run. That didn't show last week with the Giants' Saquon Barkley lighting them up for 142 yards and two touchdowns. Against Frisco the week before, Barkley only managed 67 yards. And with Nick Mullens behind center for the 49ers, we're not sure how well the 49ers aerial offense will fare, but the Bucs struggle mightily in that area.
Suffice to say there are defensive liabilities on both teams, hence their poor won-loss record at a combined 5-15. The 49ers might have a better defense or at least one with more hope. With Tampa having thrown 23 picks, their defense has managed one lousy interception all season, underlying how they are just out there taking up space for the most part. Their only real viable pass-rusher Jason Pierre-Paul is now banged-up. It's just a defense devoid of any real difference-makers. Granted, this is a spot where they could look better, with SF hardly being a juggernaut until we notice that even struggling offenses have thrived against this bunch this season.
Which Team is More Demoralized?
Neither team is doing well and probably a bit down in the dumps. San Francisco could be in a better frame-of-mind. Victory has come more recently for them than the Buccaneers, as they won a few weeks ago, beating Oakland by 31 points. And they do have the ready-made excuse of losing their starting QB, in addition to a lot of other pieces. The injury-bug has bitten them perhaps more than any other team. And within the framework of failure, they still have things to work out on both sides of the ball. There are good youngsters on offense and defense who are going to be part of the long-term solution moving forward. They will retain their head coach, as well.
Reduced Juice Sportsbooks Rated By Value
With the Buccaneers, these are the last kicks of a dying animal. Dirk Koetter hasn't really worked out. Jameis Winston hasn't gotten any better. The defense has very little foundation upon which to build for the future. A few of their receivers will be part of the building blocks for next season, but almost everyone else is expendable and most of them won't be part of the solution. There is less for them to fight for, in a sense. There's a certain amount of professional pride that carries through regardless at this level, but which team would you rather be on?
With the 49ers, you at least have the injury excuse. You have a good young back in Matt Breida. There's some talent at receiver in Marquise Goodwin (questionable) and if Dante Pettis ever materializes. George Kittle is becoming one of the more-impactful tight ends in the business. There are some other interesting pieces on offense. On "D," youngsters like Solomon Thomas, Jaquiski Tartt (questionable), Rueben Foster (questionable), and others offer a lot of promise. Then we look at Tampa and other than a nice receiver package and a good tight end in OJ Howard, what is there?
Take the Points on the Road Underdog
It might not be a lot of points and San Francisco isn't good, but who wants to lay points on the Bucs right now? And when you have two teams like this where they appear similar from a W-L standpoint, you look for things that stick out. San Francisco's defense can make plays and Tampa's offense makes more mistakes than anyone in the league. And a lot of their offensive production has come after opponents had already built up a huge lead on them. The porous nature of San Fran's defense looms as a concern, but they've been more-rigid overall the last several weeks. And I see some of their playmaking come to the surface this week en route to a cover in Tampa. I'm taking the 49ers.
Loot's Pick to Cover the Point Spread: I'm betting on the San Francisco 49ers plus 3.5 points.
<h4 class="widgettitle">NFL Picks</h4><!-- [et_pb_line_break_holder] -->
<div style="width:340px; margin: 0 auto;"><!-- [et_pb_line_break_holder] --> <a class="twitter-timeline" data-width="340" data-height="500" data-link-color="#008156" href="https://twitter.com/PredictemPicks?ref_src=twsrc%5Etfw">Tweets by PredictemPicks</a> <script async src="https://platform.twitter.com/widgets.js" charset="utf-8"></script><!-- [et_pb_line_break_holder] --></div>