San Francisco 49ers vs. Tennessee Titans Prediction ATS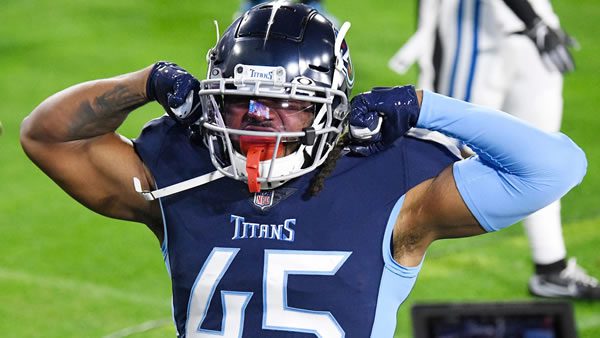 San Francisco 49ers (8-6 SU, 7-7 ATS) vs. Tennessee Titans (9-5 SU, 8-6 ATS)
Week 16 NFL
Date/Time: Thursday Night Football, December 23, 2021 at 8:20PM EST
Where: Nissan Stadium, Nashville, Tennessee
TV: NFL NET
Point Spread: SF -3.5/TEN +3.5 (Best Sportsbooks – Why redeposit at your bookie and get nothing when you could be grabbing one of MULTIPLE 100% real cash bonuses? Take advantage of FREE LOOT!)
Over/Under Total: 44.5
The San Francisco 49ers take on the Tennessee Titans in Nashville on Thursday Night Football. It's now crunch-time for these two teams, as they both vie for playoff slots. For the Niners, a 31-13 win over the Falcons on Sunday moved them to 8-6, and despite an undue amount of issues, they are in the thick of it at 8-6. The Titans are a notch better-off at 9-5, but an ugly 19-13 loss to the Steelers on Sunday showed a team that isn't exactly in fine late-season form. Who can get the job done on Thursday Night Football?
Big Test for the 49ers
San Francisco has done an amazing job in being in this spot at 8-6. The injuries have been constant. But between good coaching, the depth they've built up by having dealt with injuries before, and the heightened contributions of the dependable star players they have who remain, they are still in the thick of it. It's just that this week, things could get a little tougher for a 49ers team that has also caught some breaks on the opponent front. They've beaten some good teams this season, but it's been a while since they faced a good team that was having a good day. With three losses in their last four games, however, I'd look for Tennessee head coach Mike Vrabel and his squad to be fired up to perform well on the short week.
This is a tough road test for the Niners, coming out to Nashville against a team they seldom play. It has been a sour patch for the Titans, and with losses to the Texans, Patriots, and the Steelers in their last four games, it's not like they're losing to only the elite teams in the league. Having kept it together for a number of weeks without having Derrick Henry, his absence is starting to resonate. It's still a team that reserves the right to snap back into shape this week. And if they do, this won't be easy for San Francisco.
Main Obstacle for the Titans
Life without Henry is starting to carry with it some harsh realities. And while they can still fashion a decent-enough run game with D'Onta Foreman, Dontrell Hilliard, and Jeremy McNichols, their offense is without a real consistent difference-maker. AJ Brown is out. They're now without Julio Jones again. And it's reflected in the play of QB Ryan Tannehill, who is reverting to his old form in the face of having no real weapons, especially aerially. We see a once-vital offense now struggling to gain a foothold, with long stretches going by without anything exciting happening.
Matchup Issues for the 49ers
Aerially, Jimmy Garoppolo might be in decent shape, working against a Tennessee secondary that can be exploitable, even if they do make a lot of plays at times. It's just that the San Francisco offense is going through some identity changes in light of having to make adjustments in light of all their injuries. We see Deebo Samuel taking less of a lead as a wide receiver, with most of his touchdowns lately coming as a runner. We saw Jeff Wilson have a good game last week with over 100 yards and a TD, with Eli Mitchell yet another injury casualty on offense.
If the Niners are working in the backfield with a depreciated Mitchell or Wilson, who is probably the fourth choice in this ground game, it could be tough. Against Tennessee, this might not resonate as it has in other weeks, where they were able to make it work. And it really hasn't been working that great in all games. They've done some good red-zone work with Samuel and Garoppolo running the ball, but it's not a part of their offensive approach that is going to fire every week, and this has the looks of one those weeks on the road against this Tennessee run-defense.
Get Keith Allen's Colts vs. Cards Odds & Pick ATS >>>
Boiling it Down
With George Kittle, Samuel, Garoppolo, some still-serviceable help in the run game, and guys like Brandon Aiyuk, the San Fran skill-position corps is still intact, despite injuries being a common theme across most areas of the team. While the Niners are dealing with issues along their offensive line, as well as on the other side of the ball, this part of their team isn't in such bad shape. On the other sideline is an offense without Henry and their top two receivers heading into the season. It's an offense trying to make it work with a ton of backups. It's a big fall-off from Derrick Henry and AJ Brown to D'Onta Foreman and Nick Westbrook-Rakhine. And in a game like this against a resourceful team like the 49ers, that kind of offensive firepower differential might register in a bad way for the Titans.
Lay the Points on the Road Favorite
Tennessee is at home, with some defensive advantages that could register in a big way. They could potentially stifle the San Francisco run-game, and if the 49ers are reduced to a passing offense, the Titans' secondary could make some big plays. But on the short week, momentum might count for something, and while the 49ers have found a road to success amidst all their woes, the Titans are struggling to do the same. And maybe they can hang in there and get Henry back at some point, but in the meanwhile, beating teams like San Francisco might be a tad out of range. I'll take the 49ers in this one.
Loot's Prediction to Cover the Point Spread: I'm betting on the San Francisco 49ers minus 3.5 points. Question: When you bet on games, are you laying -110 odds or more? Are you aware that there's a chaper option where you can risk less and win more? Price matters! Please take a few minutes to better your chances of winning long term by making the switch to reduced juice -105 odds at BetAnySports Sportsbook! We've advertised them for over 10 years with ZERO complaints!