Seattle Seahawks vs. Tampa Bay Buccaneers Week 10 Pick ATS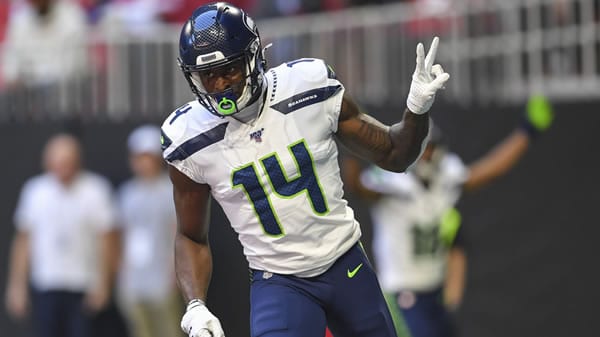 Seattle Seahawks (6-3 SU, 6-3 ATS) vs. Tampa Bay Buccaneers (4-5 SU, 2-6-1 ATS)
Week 10 NFL
Date/Time: Sunday, November 13, 2022 at 9:30PM EST
Where: Allianz Arena, Munich, Germany
TV: NFL Net
Point Spread: SEA +2.5/TB -2.5 (Bovada – Grab a 50% bonus, get rebates on ALL your bets; win or lose! Enjoy the best live betting platform on the web and get crypto payouts within 30 minutes here!)
Over/Under Total: 44
The Seattle Seahawks take on the Tampa Bay Buccaneers in an NFC battle in the unlikely location of Munich, Germany. We have two teams here who appear headed in the opposite directions. We have a team many neglected in Seattle sitting atop the NFC West, coming off a 31-21 win over Arizona, and now sitting pretty at 6-3. On the other hand is a Tampa Bay team many considered a contender sitting at 4-5. A narrow 16-13 win over the Rams on a late TD by Brady kept their season from completely going off the rails on Sunday. A win here could give them new life at .500. Who will cover the spread in Munich on Sunday?
Will Tampa Ever Turn the Corner?
Last week's win on the strength of a late TD drive shows there is still life on this sideline. It's been a total disaster for the most part but they still have time to turn it around. They are still in first place in an NFC South that is really cooperating with the Bucs' slow start. But despite things still not being that horrible overall, things look far from right. Last-minute comeback notwithstanding, we're not seeing Brady really shining this season, failing to bring out much from a great 1-2 wide receiver punch in Mike Evans and Chris Godwin. Leonard Fournette disappears some weeks and the line has taken a clear step back, not good with a QB showing signs of age.
Don't Undersell Seattle
With a division that is sagging around them with the Rams, Cardinals, and Niners underperforming, along with non-division wins against the Broncos and the Lions, one could say maybe the Seahawks have had it easy through the first half of the season. Still, that could be missing the point and the overall spirit of what they've accomplished through nine games—taking a discarded quarterback, two lines that appeared totally deficient, and a roster that looked to be in tatters and overcoming it. Along with that have come some tough injuries they've been forced to overcome. With Geno Smith really taking the bull by the horns, along with the run-game blossoming now with Kenneth Walker, III., the offense is still in good shape with two top receivers with tow in DK Metcalf and Tyler Lockett.
Sure, the Seattle defense is exploitable and while we've seen teams like the Falcons, Lions and Saints really take it to this bunch, they are better than what their individual parts suggest. Below average against the pass and even worse against the run, they deliver enough clutch plays and big moments to steer things more in their direction. With Ucheena Nwosu getting to the quarterback and guys like Tariq Woolen in the secondary making big plays, they're not always as lost at sea as it seems they might be in certain spots. Against a totally off-key Tampa offense that is mired in the muck and now having to pick up and go to Germany, this might not be the worst spot.
100% REAL CASH up to $300

USE BONUS CODE:
PREDICT100
Matchup Issues for Both
We've seen teams that have a solid intention of running the ball start to get the better of a Tampa defense that is waning in that area. Seattle, with Walker and the occasional dashes by Smith, have found this to be a reliable part of their success this season. And even if the Bucs appear to be tougher to exploit aerially, that might be because they are facing more running-inclined teams other than a sputtering Rams' offense last week. Against a Seattle aerial offense that features two bankable receivers, this Tampa secondary might get pushed a bit this Sunday. But let's face it, it doesn't take much on a given week to get some good production against the Seattle defense. They have fared well in this context up until now, keeping offenses where a lot more was expected in check—namely the ones within their own division. If the same Tampa offense shows up at Allianz Arena that we've been seeing lately, the Seattle "D" should be right in their wheelhouse.
More Picks: Get the money with Loot's Indianapolis at Las Vegas Spread winner 11/13/22
The Psychology of the Spread
It's no secret why the Bucs are favored in this game. And very little has to do with what we've seen on the field. To rank Tampa as being nearly a FG better than Seattle in this spot is tied up in a lot of things. It's their reputation, along with their preseason expectations. It's the dichotomy of the greatest QB of all time and a QB picked off the scrap heap. It's tied up in how everyone who is supposed to know what they're talking about had Tampa as contenders and the Seahawks as a team that would struggle to grab onto any success. Here we are in week ten and until now, we have seen the direct opposite play out this season. Now while the Seahawks' spurt might prove to be more smoke and mirrors and the Bucs are just setting up for what's going to be a big finish, it might also be time just to acknowledge the writing on the wall.
Take the Points
It's a funky location where anything can happen and the effects of the travel could resonate badly. Seattle is in their second-straight road game and this one is a doozy. It's just that there is so much life on this Seattle team. They're really buying in and now that they've latched onto something good, it might be hard to separate them from their good momentum. Meanwhile with Tampa, it's so flat. You tune in thinking maybe this is the week where we see the old Bucs and it's just not happening. And while it could, I see it more likely staying the same, with the Seahawks getting the cover in Munich on Sunday.
Loot's Prediction to Cover the Point Spread: I'm betting on the Seattle Seahawks plus 2.5 points. Bet your Week 10 NFL football predictions for FREE by taking advantage of a 100% REAL CASH bonus up to $500 at one of the oldest and best bookies on the web —> Betnow Sportsbook!
10* CONF CHAMP TOTAL - 7-3 (70%) NFL PLAYOFFS
AAA Sports has hit BOTH their Wildcard Round and Divisional Round TOTAL OF THE YEAR, meaning you simply CAN NOT afford to miss out on their CONFERENCE CHAMPIONSHIP TOTALS WINNER! Now an ABSOLUTELY ELECTRIC 7-3 (70%) in the NFL Playoffs, this is TRULY the BIG PLAY that you've been waiting to just UNLOAD on!