Seattle vs. New Orleans Week 5 Betting Predictions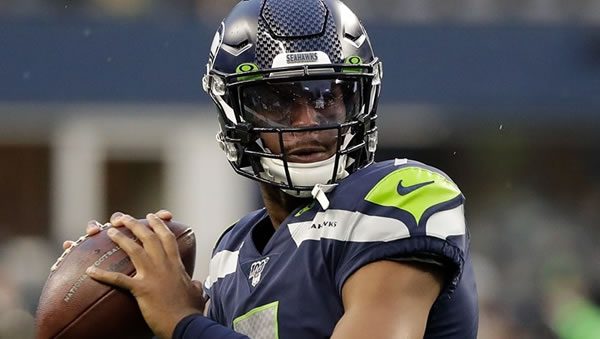 Seattle Seahawks (2-2 SU, 2-2 ATS) vs. New Orleans Saints (1-3 SU, 1-3 ATS)
Week 5 NFL
Date/Time: Sunday, October 9, 2022 at 1PM EDT
Where: Caesars Superdome, New Orleans, Louisiana
TV: Fox
Point Spread: SEA +6/NO -6 (BetOnline – Offers huge wagering limits, contests, online poker, reload bonues and more! Takes all kinds of cryto too!)
Over/Under Total: 46
The Seattle Seahawks come to the Superdome for a week 5 NFC showdown with the New Orleans Saints on Sunday. The Saints gave it a good go on Sunday in London against the Saints, but a late field goal was missed as it doinked repeatedly and fell short, as the Saints were sent back home at 1-3. They now take on a Seahawks team that came out on the right side of a 48-45 shootout with the Lions last week. At 2-2, they hope to keep it rolling, albeit in a tough road assignment in New Orleans. Who can get it done on Sunday and get us the cover in the Superdome?
Tough State of Affairs for the Saints
The Saints have a lot on their plates right now, especially coming off a tough loss that was sandwiched by a pair of trans-Atlantic flights. Alvin Kamara was a late scratch in the game, joining the growing list of injured contributors that has the Saints sliding some early in the season. Heading into this week, we're not sure about the statuses of Michael Thomas, Jameis Winston, and Kamara. They got Taysom Hill back last week and maybe he can take a larger hand in things. The early-season contributions of WR Chris Olave offer promise. But the offense is a definite sticking point headed into week five. It's not easy trying to make it work with RB Mark Ingram and QB Andy Dalton, along with a compromised aerial crew.
Still, one should be hesitant to start shoveling dirt on the Saints at this premature time. One might think they know where this is going to end, but if they get Kamara and Thomas back, they have some offensive pieces they can wield on a Seattle defense that is not averse to giving up points. And unlike their opponent this week, there is some promise on the defensive side of the ball. Giving up 28 to the Vikings in London was their low point of the season and they've managed to hang in there decently despite getting hung out to dry by the offense on occasion.
10* CONF CHAMP TOTAL - 7-3 (70%) NFL PLAYOFFS
AAA Sports has hit BOTH their Wildcard Round and Divisional Round TOTAL OF THE YEAR, meaning you simply CAN NOT afford to miss out on their CONFERENCE CHAMPIONSHIP TOTALS WINNER! Now an ABSOLUTELY ELECTRIC 7-3 (70%) in the NFL Playoffs, this is TRULY the BIG PLAY that you've been waiting to just UNLOAD on!
Offensive Surge by Seattle?
After a difficult start to the season where offensive fireworks were few, we've seen the Seahawks kick it up the last few weeks, especially last week in Detroit. We'll see if they can keep that up. They're in a back-to-back road spot, something that could be counteracted by the Saints coming back after a trip to London. But having some success against Atlanta and Detroit doesn't mean it will all come off swimmingly against the more-rigid Saints this week. But it's fair to say that Seattle QB Geno Smith has been at least a mild surprise with his ability to move this offense lately. Rashad Penny has some nice moments coming out of the backfield. We see both DK Metcalf and Tyler Lockett getting more productive, as well.
The Seahawks needed to do something. They couldn't keep meandering aimlessly and hope to eke out games—not with their lack of power along both lines of scrimmage and a "D" not built to play that game. Maybe opting for more of a shootout vibe is their best hope. And they do have some of the weapons to carry it out, even if you question Smith's viability as a starting QB in 2022. But again, doing pretty good against the Falcons and Detroit defenses doesn't mean this recipe will be automatic every week.
More Picks: 49ers vs. Panthers Point Spread Pick 10/9/22
Sample Size Too Small?
This is a point in the season where it's easy to get carried away with prematurely-made conclusions. We see the New Orleans offense lacking identity. Even when Kamara was in there, it doesn't seem he's being used in the same way since Brees retired. We're just not seeing the big games on a regular basis like we once did. You wonder if Michael Thomas can ever reclaim his spot as a dominant possession-receiver. They gave Taysom Hill all this money and for what, a couple trick plays a game? But I'd hesitate before thinking it's going to be a grind every week, especially when pitted against a Seattle defense that struggles to be stout or make the kind of big game-changing plays the Seahawks will eventually need to see.
The same applies to the Seahawks. Even when they had Wilson, we'd see this team do identity about-faces in midseason. Under Pete Carroll, we've seen them instantly change from a grind 'em out type of team to a high-flying one that tries to win shootouts. So you can't take what we've seen in the first handful of weeks and assSaints'at the dye has been cast. This Seattle team might be in more of a "whatever works this week" mode than a team with a real concrete identity.
Take the Points
I don't question whether the Saints home defense can quell an erratic Seattle offense or that their offense can't get back on the right track against a Seattle "D" that might be on the verge of collapse after running around all day with Detroit, back on the road in what is a tricky spot. I just think the Saints' offense offers an angle where Seattle can find themselves hanging in this one. For all of Seattle's issues on defense, it's iffy if this Saints' offense is in a position to exploit it fully. I suspect this one coming down to the end, in which case taking the points seems like the slightly better course of action. I'll take Seattle.
Loot's Prediction to Cover the Point Spread: I'm betting on the Seattle Seahawks plus 6 points. Bet your Week 5 football predictions for FREE by taking advantage of a 100% real cash bonus up to $400 when you use bonus code PREDICTEM at GTBets Sportsbook! They let you choose your favorite teams and they give you a FREE half point every time you bet them too!