Super Bowl LIV Betting Props – Analysis & Picks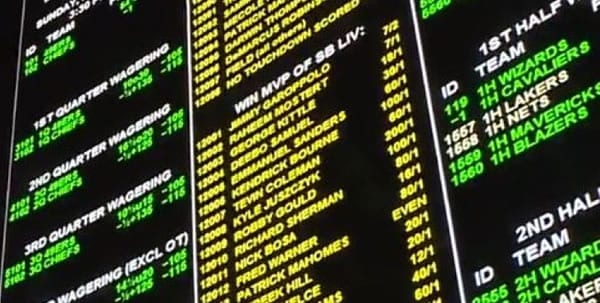 Super Bowl LIV Props at MyBookie
The bigger the event—the more prop bets you will see. It doesn't get any bigger than the Super Bowl, so if you can conceive it, the sportsbook has it covered. Even if you can't imagine it, they have it. For those old enough to remember, Super Bowl prop bets used to be things like who will win the MVP or score the first touchdown. Then it started covering things like what color the winner's Gatorade will be. Now, forget it. You can bet on whether a halftime performer will show cleavage, if an announcer will utter a specific word, or if any former cast members of the Brady Bunch will be shown on camera during the game. And sure, we like to have fun too, but we prefer to hone in more on events that can actually be handicapped. Here's some of our favorite props from MyBookie for Super Bowl LIV in Miami.
If you're old school you may want to look at playing some Super Bowl Squares>>>
Super Bowl MVP
One of the more classic Super Bowl props, it's a fun bet to make, as you follow the performances of either a player or a small group of guys throughout the game. It really increases your attention level of the game, as you will always have action. We like to cover a few different bases on this one, while not putting all our eggs in one basket as far as which team will have the MVP. It's an award geared to quarterbacks. If no one does anything remarkable, the winning quarterback is often a default choice. But there are some tasty odds to be had elsewhere, as well. We like to spray the board a little, hit the quarterbacks and put most on them, while entertaining some longer shots that could really pay off. Here are our favorite choices.
Patrick Mahomes (-110) – The most compelling choice, but almost no value
Jimmy Garoppolo (+275) – Much better value than Mahomes, will he have the numbers?
Raheem Mostert (+650) –With his current form, can't be ignored.
Tyreek Hill (+1900) – A nice number on a receiver who can dominate and is due for a big game.
Deebo Samuel (+2300) –A growing focal point for SF who could deliver some big plays.
Tevin Coleman (+6500) –When he goes off, he really goes off. Interesting at 65-1.
---
Player to Score First Touchdown
Another classic, this is a good way to get your game off to a good start. Maybe I'm in the minority, but this type of bet calls for a more-exotic stance. When watching the Super Bowl, it's striking how often a more-obscure player is called upon, as defenses key in on the bigger-name threats, leaving longer-odds player open for a chance to pull down that first score. Here's who we like.
Deebo Samuel (+1200) – Not hard to envision.
Sammy Watkins (+1600) – A guy who knows how to find the end zone at 16-1 is nice.
Kendrick Bourne (+2000) – Sure-handed WR is a perfect low-key candidate for this.
Mecole Hardman (+2000) – Another lower-key guy who is dangerous and getting 20-1.
Kyle Juszczyk (+3300) – Not a lot of touches in the postseason, he could surface here.
Jimmy Garoppolo (+5000) – Maybe not quite the longshot that the odds suggest. Bet these and more at MyBookie!
---
Game Props
In game props, we answer yes or no questions as to whether something will occur in a game or not. It can be whether something will happen, how many times it will occur, or when it will happen. This bet allows you to capitalize on any insight you have as to how the game will go that isn't covered by the more-conventional wagers. Here's a handful of game props that we found interesting.
Total Interceptions Made in Game
Over 1.5 +115
Under 1.5 -145
Pick: I like the value in over 1.5 at +115, even if neither QB is very interception-prone and certainly not in this postseason. I can see one happening in a late-game sequence, as one of the teams goes for a late comeback bid. And getting one more at some point in the game considering the playmaking ability of both defenses seems largely doable. Frankly, it seems even more likely than not, which is going off at a much less-appealing -145.
Team to Score Longest Touchdown
San Francisco 49ers -120
Kansas City Chiefs -110
Pick: I'm going Niners on this one. I get the feeling the book wants you to take KC, the team with a far more-developed reputation for having the more high-flying offense. Yet it is the Niners who have actually gotten more overall big plays from their offense this season. I like them at the slightly-better price.
Will Both Teams Make a Field Goal of 33 Yards of Longer?
Yes -105
No -125
Pick: Yes. The quality of the kicking game on both sides, in addition to having two clutch-playing defenses, has me thinking there will be a gaggle of FG attempts. I think this is a bet that could be locked up by the end of the first half. Not only can you find all these great prop bets, but MyBookie is going to give you a 100% REAL CASH bonus as well! This offer is good on deposits from $100 to $300! You must use this special link to sign up and use bonus/promo code: PREDICT100.
---
Alternate Lines
We also want to give ourselves a chance to notch a nice win on props. Alternate spreads could provide a nice chance to make a real score. Let's face it—it's been a weird season. Subscribing to what's reasonable hasn't always paid off in 2019-20. This game features a tight point spread, one of the closest ones in Bowl history. But with the way this season has gone and the up-in-the-air nature of this game, maybe taking a more-extreme case makes sense on multiple levels. We're going to spread it around a bit in an attempt to get a nice little payoff.
49ers Win by 13-18 Points (+800)
49ers Win by 19-24 Points (+1400)
49ers Win by 25-30 Points (+2200)
Chiefs win by 7-12 Points (+500)
Chiefs Win by 13-18 Points (+750)