Super Bowl LVI Futures Analysis & Picks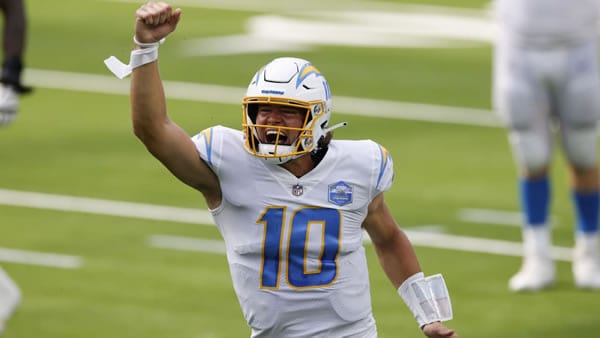 Super Bowl LVI Futures
It's understandable why some wouldn't want to get involved in Super Bowl futures so far before the season even starts. Before serious training camp even begins, a lot is still up in the air. A lot can happen that throws a different light on things. There can be major twists. There are still things to work out. Some players aren't locked in. And also, not everyone likes to have their money tied up at the book for months on end.
We like to look at it a different way. While it's true that some things are still up in the air, there is enough information to start forming some opinions. And in NFL football, when everyone else can see it—it's too late. In other words, you might have some insight that a team will be far better than anyone is projecting. If that team hits the field and starts playing the way you thought they would, the betting value will be gone. Now is a good time to capitalize on these types of thoughts, before everyone else is shown what you suspected would be true all along.
And there's something about the NFL this season that suggests something topsy-turvy could happen. Sure, the established contenders loom large, but there is a shift occurring that suggests any squad from a large group of teams could emerge. And the time to take advantage would be now, before the rest of the world gets hip to what's going on. Let's look at the odds for all NFL teams to won Super Bowl LVI, followed by some of our better picks.
Odds to Win Super Bowl LVI
Note: If you're betting Super Bowl futures bets, it's essential that you place your wagers with a sportsbook that you KNOW is going to be in business long term. All of our advertisers are safe, however, you can't go wrong with Intertops Sportsbook, which has been in business since the 1990's! They also offer multiple bonuses to fit everyone from micro bettors to whales! ROCK SOLID!
Kansas City Chiefs+500
Tampa Bay Buccaneers+600
Buffalo Bills+1100
Los Angeles Rams+1200
San Francisco 49ers+1300
Baltimore Ravens+1400
Cleveland Browns+1600
Green Bay Packers+1600
Indianapolis Colts+2000
Denver Broncos+2400
New England Patriots+2500
New Orleans Saints+2800
Seattle Seahawks+2800
Dallas Cowboys+3000
Los Angeles Chargers+3000
Miami Dolphins+3300
Tennessee Titans+3300
Arizona Cardinals+4000
Minnesota Vikings+4000
Pittsburgh Steelers+4000
Atlanta Falcons+5000
Chicago Bears+5000
Washington Football Team+5000
New York Giants+6600
Carolina Panthers+7000
Las Vegas Raiders+7500
Cincinnati Bengals+8000
Philadelphia Eagles+8000
Jacksonville Jaguars+10000
New York Jets+10000
Detroit Lions+15000
Houston Texans+17500
Top Choices
Kansas City Chiefs (+500) A team that is built to be good for a long time. Even in a 2020 season where a lot of things went wrong, they still came about as close as they could come without actually winning it. In addition, they may have found some solutions along the O-line, with a few key acquisitions and maybe even a returning piece. I would be very hesitant to sell KC short this season, as they could be a team on a mission. All their good stuff is still there and we could see something special from Mahomes this season, as he enters his prime.
Tampa Bay Buccaneers (+600) At his advanced age, Tom Brady isn't in this for any other reason but to haul in more hardware. After pulling it off last season, there is no reason to expect much of a letdown. That defense is still packed with difference-makers and all of Brady's weapons will return. It's been a long time since a team repeated and that could dissuade some bettors, but with Brady, a rising roster of veterans and youngsters, and great coaching, they are a rightful co-favorite on this board.
Buffalo Bills (+1100): A team undeniably on the rise, Josh Allen stepped up his game immeasurably last season, giving Buffalo a high-flying offense that delivered time and again. They even added a few weapons heading into the 2021 season, including guys like Emmanuel Sanders. For those who think last season was a table-setter, this is a heck of a selection at 11-1. A little slip-up from the Chiefs, an injury to Mahomes, or just stepping their game up a notch could be enough to get Buffalo to the big dance.
Los Angeles Rams (+1200): With more dependable quarterbacking from Matthew Stafford, it's not hard to envision a return to Super Bowl form for the Rams. For once, Stafford will be working with a stocked offense of reliable and steady contributors. And we'll see how a Stafford-led team does with a difference-making defense in tow, another thing Stafford hasn't always had in his career.
Best Middle of the Road Selections
San Francisco 49ers (+1300): It seems to come down to injuries with this squad. They have had a team that is capable of big things for several seasons, only getting good enough health in 2019 to actually see it through. A similar amount of avoidance of the injury bug could give way to big things. And if rookie third overall pick QB Trey Lance can step in and take flight, it really makes them an interesting choice, albeit in a very tough division.
Baltimore Ravens (+1400): Last season was a bit of a dud, though they did go 11-5 and win a playoff game to exorcise that particular demon. It's just that they never looked like the 2019 team that took the league by storm. Lamar Jackson was not as electric and his aerial numbers slipped. And on both sides of the ball, some of the fire and inspiration we saw the previous season wasn't always present. I don't anticipate them going away and some incoming help could throw a new light on it.
Interesting Long-Shots
Los Angeles Chargers (+3000): Granted, there wasn't much last season or the season before that to suggest that the Chargers belong in this conversation. This being the second season for promising Justin Herbert and getting a bright coaching mind in new head coach Brandon Staley could help. A lot is in place and if they get a fair shake on the injury front, there are difference-makers on both sides of the ball. On defense, some good health and having all of the Chargers' heavy-hitters playing most of the season could give Staley enough to form a really good unit. An interesting X-factor to be sure.
Pittsburgh Steelers (+4000): Not bad return for a team that was considered a top contender for much of last season. The wheels came off and there were a series of ugly showings that rightfully soured the public. But is the backlash here too steep? And they are due. Coach Tomlin is looking for a big season after several so-so years and Roethlisberger could be down to his last hurrah. I see some urgency with this bunch in 2021 and while all the pieces might not be in place as they once were, there is some value with this pick. Bet your SB Futures for FREE by taking advantage of a 100% REAL CASH bonus on your first deposit of $100 to $300 at MyBookie Sportsbook! (must use promo/bonus code PREDICT100 to get the extra money credited to your account).