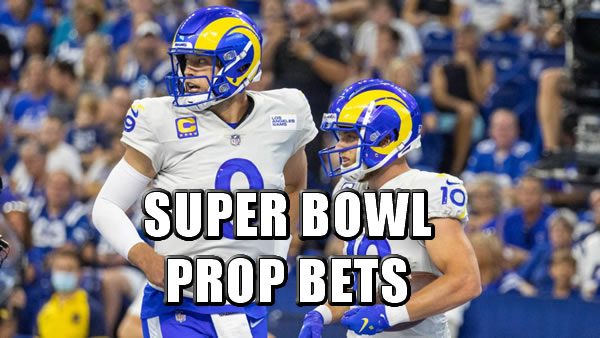 The prop bet market for the Super Bowl is an ever-growing market, and it's the game when you can take any position that the mind can imagine. And it can be on any aspect of the game, with even things that have nothing to do with the game itself on the table for wagering. While we have no problem in having a little fun this time of the season, we also like to hone in on the more football-related propositions, as opposed to the outfits of halftime performers, the lengths of anthems, the colors of Gatorade being poured, or how many times the announcers utter a certain word. But truth be told, we'll probably get into a few of those too.
We have had a whole season to watch these two teams, noting their tendencies and how they play, what they do in certain situations, and how they respond to adversity. With a 17-game regular season and three playoff games apiece, we should have a pretty good read on what the Rams and Bengals can do, where they're headed, and what kind of usage to expect from different players. Here are some Super Bowl LVI prop bets we honed in on for Super Bowl LVI. Let's take a look! (All Bets Courtesy of Betanysports – Home of -105 odds on sides and totals!)
Cam Akers Will Score a Touchdown +100
Pick and Analysis: Yes. Granted, his production has been somewhat of a disappointment this postseason, as some suspected Akers would take over this backfield in a big way, being rushed back from a bad injury and supplanting both Sony Michel and Darrell Henderson as the lead back. But he was still restricted to open the playoffs in the wild-card, and with subsequent tough matchups against the Tampa and San Francisco run-defenses, he couldn't get off the way they wanted. Against a much less-formidable Cincinnati run-defense, one could see how a balanced Rams' offensive plan could result in an Akers TD.
Three Straight Scores By Either Team, Yes -227, No +170
Pick And Analysis: No. Granted, it's not that hard imagining either team getting on a little roll, and even three straight field goals would count here, making it, so a team doesn't necessarily need to stomp its opponent for this to be a "yes." Still, in a game with two premier offenses, that would be three scoring drives with the opposing offense managing to make no noise during that time. In what seems to be some pretty decent value, with the "no" being a decent dog, this might be the move this week.
Tyler Boyd 5+ Receptions +136
Pick and Analysis: the Cincinnati Bengals receiver hasn't really performed well this postseason, often drowned out in favor of Tee Higgins and Ja'Marr Chase. There could be actual football reasons that have stunted Boyd's postseason showings, as opposed to Burrow not looking his way or something else that would suggest light Super Bowl usage. Against the Raiders, targeting the slot a lot didn't make sense with the Las Vegas defensive layout, as the Bengals sought one-on-one matchups on the outside. And against the Titans and Chiefs, they were working with either some deficient or compromised corners, again bringing Chase and Higgins more into play on the outside. With two high safeties for the Rams and a likelihood that Mixon will be used to block, you could easily see short attempts to Boyd in the slot at a more-condensed rate than the first three games of the postseason.
ANOTHER GREAT SPORTSBOOK OFFERING TONS OF PROP BETS ON SUPER BOWL 56: BOVADA SPORTSBOOK – OFFERS PREDICTEM READERS A 50% CASH BONUS!
Evan McPherson Over 7.5 Kicking Points -130
Pick and Analysis: Over. First of all, in a kicking prop, you want a guy who is red-hot, and McPherson fits that bill, only trailing Justin Tucker this season in terms of FG percentage. And he's done it in some tough conditions, as well, now inside and immune from weather conditions in SoFi Stadium. The Bengals aren't a team that goes for it a lot in risky situations when they're in range, they have no issue running McPherson out there. Two field goals and a few extra points is a bet that could pay off early in the third quarter.
Cincinnati Bengals Over 1.5 Field Goals -167
Analysis and Picks: Over. A continuation of the last prop, we have an accurate kicker in McPherson, who the Bengals are not shy about trotting out there. Having gone well over this total in all his postseason games, McPherson could put this total to sleep in the first half. Sure, there is a chance that the Rams dominate to an extent that takes the FG out of the picture, but it should be competitive long enough for McPherson to eclipse this total.
Joe Mixon Under 26.5 Receiving Yards
Pick and Analysis: Under. Mixon is unquestionably a versatile back, capable of breaking a small pass-play all the way to the house. So sure, he could go over in this area pretty easily. I'm not sure the game-plan will cooperate, however. And if Burrow finds himself coming under siege by the robust Rams' pass-rush, the bulk of Mixon's work when not taking handoffs could be spent providing protection, while Burrow relies more on Uzomah and Boyd to take over the short-pass work.
Most Receiving Yards
Analysis and Pick: Tee Higgins at +500. He will need to out-leg some good receivers, but there could be some value here. It won't be easy to eclipse Cooper Kupp and teammate Ja'Marr Chase, not to mention Odell Beckham and a few other guys who could jump up. But Higgins has smashed in spots this season. In big games like this, with extra preparation, you can sometimes see teams manage to curb their opponents' best weapons. And if Higgins is being afforded less-blanketing coverage, he could be primed to shine at a handsome price. 
More: Kevin West's Super Bowl LVI Pick
10* GAME OF MONTH **INSANE 75% NFL PLAYOFFS!
AAA Sports has gone 5-1 (83%) with their NFL Playoff picks over the L2 rounds and overall they enter the Super Bowl having gone an INSANE 75% (9-3!) with ALL of their NFL Playoff releases! AAA Sports is playing with HOUSE MONEY in BOTH the NFL and College Football this season and they're UNLOADING MASSIVELY in this year's Super Bowl with BOTH SIDE and TOTAL! BE THERE!