Take the Points: Denver Broncos vs. Carolina Panthers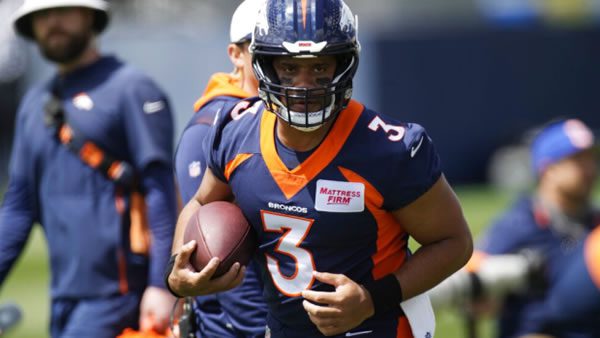 Denver Broncos (3-7 SU, 3-7 ATS) vs. Carolina Panthers (3-8 SU, 4-7 ATS)
Week 12 NFL
Date/Time: Sunday, November 27, 2022 at 1PM EST
Where: Bank of America Stadium, Charlotte, North Carolina
TV: Fox
Point Spread: DEN -2.5/CAR +2.5 (Betanysports Sportsbook – These guys offer you the ability to bet on games at -105 odds instead of -110. Imagine how much money you will save risking less!) 
Over/Under Total: 36
The Denver Broncos come to Charlotte for a week 12 matchup with the Carolina Panthers on Sunday. On Sunday, the Broncos fell to 3-7 in a 22-16 overtime loss to the Raiders at home. They now pick up to take on a Carolina team that only managed a field goal in last week's 13-3 loss to the Ravens. Both teams are struggling, but who can notch their fourth win of the season this Sunday at Bank of America Stadium? Let's break it down!
Is Denver's Offense Broken?
It has really been an unmitigated disaster. And with news that the Broncos have waived RB Melvin Gordon, it just adds another layer of dysfunction to the organization. Last season and even into this year, people wanted to see Javonte Williams take over the backfield, but they kept feeding Gordon. And now that Williams is out for the season, they waive Gordon. We see mid-game coaching moves by Nathaniel Hackett that leave viewers confused. Russell Wilson has seen the shine come off, going from a hero who carried the team in Seattle to a weirdo in Denver who can't find success. Even with the injuries and whatnot, they still have some players—receivers like Courtland Sutton and Jerry Jeudy, but we're in week 12, and they've surpassed 21 points of scoring just once this season. It's time to wrap our heads around the futility of this offense.
Denver's Saving Grace
You almost have to feel for the Denver defense, their coaches and players alike. They've really seen some things come together. Acquisitions have worked out, and draft picks have delivered on occasion. Their secondary is really good, with Patrick Surtain, II. becoming one of the top corners in the conference. Opposing teams are averaging 17 points a game against this group, quite a feat considering the lack of support this side of the ball has been getting from the offense, which usually hangs them out to dry.
Against a Panthers team that put up 3 points last week, this is a spot for a road Denver defense to take over a game and give even their own inept offense enough room with which to work. Against Baker Mayfield, assuming he starts, this is a spot for this Denver "D" to make some things happen, perhaps even secure a turnover or two, and put a real crimp in Carolina's flow. The Panthers have had some success running the ball, but if that's all they're going to be able to do, it's going to be a pretty narrow path to success.
Where Will the Offense Come From?
We see Denver's offense really struggling with Wilson, unable to create much of anything. But with their "D," it might make it, so we see Carolina barely hitting the scoreboard. Finding a likely source of offense isn't easy. Denver is really deep in the barrel in the RB category, but old hand Latavius Murray can still get it done in a reduced capacity. The Carolina run-defense is exploitable enough to make that a realistic possibility. But even against struggling secondary units, we've seen Wilson labor in connecting with Sutton, Jeudy, or TE Greg Dulcich, so there's no guarantee they will get anything extra this week against the Panthers.
Carolina has some good receiving talent with DJ Moore and guys like Terrace Marshall. They have various speedsters, but making them a regular part of the offense has been challenging. QB play hasn't been a strength of the Panthers this season. They've had a few explosive games, but going against this Denver secondary seems like a weird spot to see that surface again. D'Onta Foreman might be their best option, as the back has been fruitful in a few spots since the Panthers traded Christian McCaffrey. All in all, though, those looking for an offense-heavy game might have to look elsewhere this week.
More Picks: Get Jay's Atlanta at Washington projected point spread winner for their 11/26/22 game
Can Carolina Defense Make a Difference?
After allowing just 13 points to the Ravens last week and 15 to Atlanta the week before, we're starting to see some better things from the Carolina defense. They are at home and facing an offense that has been a grand disappointment. With killers like Brian Burns up front and a good young corner in Jaycee Horn, they have some talent. With others coming around on that side of the ball, we see a unit that is getting better as the season carries on. Against Denver, they have a chance to shine again this week at home. With the lack of support they've generally been given, it seems safe to say this is a unit on the rise. With all the attention on Denver's defense this week, maybe pitting an improving Panthers' defense against this Denver offense offers some interesting possibilities for potential Carolina backers this week.
Take the Points
With that total plummeting to 36, a low-scoring game is expected. There might not be much offense. Still, it almost seems like this spread is holding out hope that even a reduced version of what some Denver optimists had in mind will still surface. I'm not sure it will, and it's hard to locate reasons for why this equation would suddenly grow better with Denver on the road and traveling out of conference. I think the Carolina defense will have a big say on this game and help keep Denver off the scoreboard, at least enough to where the Panthers notch the cover at home. I'll take Carolina.
Loot's Prediction to Cover the Point Spread: I'm betting on the Carolina Panthers plus 2.5 points. Bet your Week Twelve NFL predictions for FREE by scoring a 100% real cash bonus up to $300 by entering bonus promo code PREDICT100 at MyBookie Sportsbook!
Fargo's NFL Thursday Enforcer 40-24-1 NFL YTD