NFL Pick: Tampa Bay Buccaneers vs. Atlanta Falcons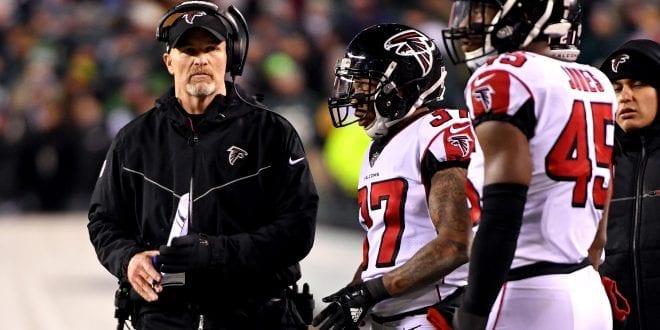 Tampa Bay Buccaneers (2-2 SU, 2-2 ATS) vs. Atlanta Falcons (1-4 SU, 1-4 ATS)
NFL Football Week 6
Date and Time: Sunday, October 14th, 1:00pm EST
Where: Mercedes-Benz Stadium - Atlanta, GA
TV: FOX
By: Bob Clark, NFL Football Handicapper, Predictem.com
Point Spread: TAM +4/ATL -4
Over/Under Total: 57.5
NFC BATTLE…I GUESS?
I don't even know what to think of this game to be honest. The Atlanta Falcons have gone from being many experts' favorite to win the Super Bowl to being the joke of the NFL. These guys just plain SUCK. Yeah, I said it…and I am allowed to because I am a life long fan of this "team". So we have Atlanta which is looking like a team that cannot buy a win, and the Buccaneers who are now coming back to earth after starting the season 2-0. Although I was never buying the crap, early on many Tampa fans and other uneducated football fans thought that Ryan Fitzpatrick was going to lead the Bucs to not only the NFC South, but potentially the Super Bowl. Not….A….Chance. Not only had Tampa lost two straight before their BYE week, this team is going back to Jameis Winston at quarterback. This game ought to be a real s–t show in the NFC South.
Sunday NFL Pick: Colts vs Jets
Regardless of having an offense that has been nothing short of a roller coaster ride in 2018 and a defense that could not hold a middle school powder puff team to less than 24 points, the Atlanta Falcons come into this game as four point favorites at home. Not only are the Falcons favored, but once again the public appears to have faith in them. Sportsbook sources have said 63% of the public action likes the Falcons to cover this Sunday and as for the total points, 56% think this game stays under the posted total of 57.5 combined.
WHY I HAVE ZERO FAITH IN ATLANTA
I love the Atlanta Falcons. Always have. I want so badly to be able to be proud of my hometown team. The most frustrating part is not just the horrible injuries they have suffered on defense, but the lack of production from an extremely talented offense. Yes, after week one the Falcons went on a nice run offensively only to lose because their defense played at a high school level but this past Sunday not only was the defense lit up, the Steelers defense made the offensive line look bad….real bad. Against Pittsburgh, Matt Ryan pretty much ran for his life on the way to being sacked six times. It was seriously just a piss poor effort from start to finish for the Falcons and I really hope they learned from it.
Why else do I have zero faith in this team? I hate to say it, I really do, but I am starting to think that Dan Quinn is more worried about sugar coating their losses than he is getting in his teams ass and holding them accountable for the sub par play. Of course none of us can see what happens behind closed doors and I really hope there is lots we do not see, but I am slowly losing faith in Dan Quinn week by week. I love the guy, he has done a great job so far but SOMETHING has to give…and fast. The season is yet to be considered a total wash but another loss, especially within the division, could almost put a nail in the coffin for Atlanta.
CAN TAMPA BAY COVER THIS SUNDAY?
Well, yeah, they are playing the Falcons and at this point I see no reason to think ANYONE could not beat Atlanta or at least keep it close. Tampa started the season at 2-0 and Ryan Fitzpatrick looked good…real good. But since the 2-0 start, Tampa has now dropped their last two and most recently they lost to the Chicago Bears by a 48-10 score. Going into the Bye week this past Sunday, Tampa announced that once they return against Atlanta, suspended QB, Jameis Winston, would be back as the starter. In order to have a shot this Sunday, the Tampa defense must step up. Yeah, I said the same about the Falcons but the Bucs D is just as bad, if not worse. So far in 2018, the Tampa defense has allowed almost 35 points a game which is worst in the entire NFL but the saving grace is the fact that the Atlanta defense is not much better….this game could and probably will be a shootout but one stop here or there could make a huge difference.
THE PREDICTION!
To be honest I can see this game going a number of ways. But let me be real….The Falcons are my team…you guys know that. But at this point there is no way in hell I can take them especially when they are giving up points. I do not trust them and I do not think they are worthy to be favored over any team beyond a mid level NCAA Pac 12 team….Atlanta MAY win but in that scenario the final score will be 30-27 and regardless of the winner, Tampa will cover.
Bob's Pick to Cover the Point Spread: I like the Tampa Bay Buccaneers plus the points against the Atlanta Falcons!