Washington at Indianapolis Analysis & Pick ATS 10/30/22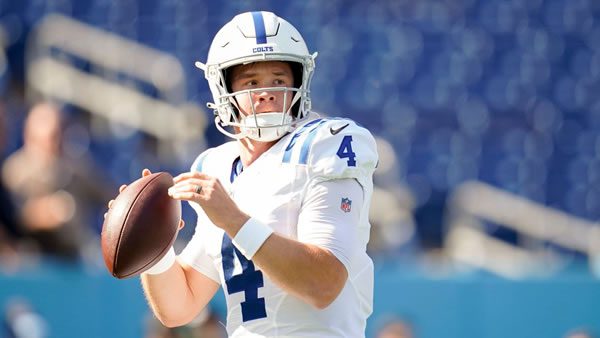 Washington Commanders (3-4 SU, 3-4 ATS) vs. Indianapolis Colts (3-3-1 SU, 3-4 ATS)
When: Sunday, October 30, 4:25 p.m.
Where: Lucas Oil Stadium, Indianapolis
TV: Fox
Point Spread: WSH +3/IND -3
Total: O/U 39.5
Outlook
It's the return of Carson Wentz to Indianapolis, except Wentz isn't going to be playing in this game. For that matter, neither will the man who replaced him at quarterback, Matt Ryan. Instead, the Commanders will send Taylor Heinecke to play quarterback, and the Colts will counter with Sam Ehlinger. Heinecke is coming off a win over Green Bay last week, but that had more to do with the Packers' struggles than with the Commanders playing a great football game. Heinecke did what he had to do for the most part, which was not lose the football game.
Ehlinger might be asked to do something similar for the Colts, who are turning to the Texas product out of desperation. Matt Ryan is just not mobile enough to play behind the Colts' weak line, so Ehlinger gives them their best chance to win games at this point in the season. However, the Colts know that they're on life support as far as the AFC South goes, given that they've already lost two to Tennessee. They're not likely good enough to get a wild card spot, which means that the season could be over with pretty quickly. If Ehlinger struggles, the Colts would be well-positioned to land a high draft pick in 2023.
How the Public is Betting the Washington/Indianapolis Game
The public and the sharps are both leaning in Washington's direction. This line might have started at -4.5, but it has since fallen to -3, with the total ticking down from 41 to 39.5
Injury Concerns
Washington:
Quarterback Taylor Heinecke (calf) is probable. Linebacker Cole Holcomb (foot), tackle Saahdiq Charles (illness), tight end Cole Turner (concussion), wide receiver Dyami Brown (groin), cornerback William Jackson (back), running back Jonathan Williams (knee), and tight end Logan Thomas (calf) are questionable. Quarterback Carson Wentz (finger), cornerback Tariq Castro-Fields (knee), wide receiver Jahan Dotson (hamstring), linebacker Milo Eifler (hamstring), tackle Sam Cosmi (thumb), center Chase Roullier (knee), guard Wes Schweitzer (concussion), defensive tackle Phidarian Mathis (knee), defensive end Chase Young (knee) and tight end Curtis Hodges (thigh) are out.
Indianapolis:
Long snapper Luke Rhodes (shoulder), linebacker Zaire Franklin (shoulder), linebacker Shaquille Leonard (concussion), and wide receiver Keke Coutee (concussion) are probable. Safety Trevor Denbow (ankle), center Ryan Kelly (knee), linebacker Grant Stuard (pectoral), linebacker Jojo Domann (abdominal), defensive tackle Eric Johnson (illness), and defensive end Kwity Paye (ankle) are questionable. Quarterback Matt Ryan (shoulder), wide receiver Ashton Dulin (foot), safety Armani Watts (ankle), punter Rigoberto Sanchez (Achilles), tight end Andrew Ogletree (knee), and tackle Carter O'Donnell (undisclosed) are out.
When Washington Has the Ball
Heinecke's health shouldn't be too much of an issue for Washington. The bigger issue is whether the Commanders can run the ball well enough to set up the pass. Indianapolis does not defend the run well at all, but the Colts can always pull a defender out of coverage and force Washington to either move the ball on the ground or put the game in Heinecke's hands, neither of which the Commanders really want to do.
So far, there isn't a lot to suggest that the Commanders can move the ball on the ground. Indianapolis has been soft against the run, but Washington really doesn't do a lot with its running game. Antonio Gibson did run well against the Packers last week, but he didn't do it often enough, and the Commanders don't really commit to the ground game very well anyway. Gibson has only had two games where he topped four yards per carry and got double-digit carries: the Packers last week and Jacksonville back in Week 1.
The best way to beat Indianapolis is the run, but Washington isn't committed to that and isn't going to ask Heinecke to do too much. The Commanders want him not to lose the game more than they want him to go out and win it. Against Indianapolis, which would be a one-win football team if not for self-inflicted wounds by Kansas City and Denver, it's even more important to make sure not to lose the game. That means Heinecke will likely try for short, safer routes, and if the Colts can cut that off, they have a shot.
10* CONF CHAMP TOTAL - 7-3 (70%) NFL PLAYOFFS
AAA Sports has hit BOTH their Wildcard Round and Divisional Round TOTAL OF THE YEAR, meaning you simply CAN NOT afford to miss out on their CONFERENCE CHAMPIONSHIP TOTALS WINNER! Now an ABSOLUTELY ELECTRIC 7-3 (70%) in the NFL Playoffs, this is TRULY the BIG PLAY that you've been waiting to just UNLOAD on!
When Indianapolis Has the Ball
The Colts' passing attack in 2022 has been a lot like the summer construction on Interstate 70 right outside their stadium: a lot of work was put in, and really nothing to show for it this year. But unlike the interstate, the passing attack doesn't look like it's going to get better anytime soon. Maybe Sam Ehlinger is the answer, or at least the spark that the Colts need, but the line is still terrible, and the Colts don't get enough out of their running game.
Even having Jonathan Taylor on the field isn't enough to save the Indianapolis offense from its offensive line. Taylor usually doesn't have a hole to hit, which is why he often finds himself buried before he can get moving. Worse is that the Colts often give opponents an express lane to the quarterback, which has left Ryan to either throw into pressure or give up the ball on a fumble. The Colts are third-worst in giveaways, and Ehlinger might not be any better there with his lack of experience.
More Picks: Get Ted's Bengals vs. Browns MNF Week 8 game betting predictions >>>
Betting Trends
The Colts have covered in three of the past four meetings with one push, but these teams only play once every four years, so that isn't that useful. Instead, we'll look at the obvious trend here: the Colts cannot score. Indianapolis has played to the under in 11 of their past 12 contests, and the under is 4-0 in the Colts' past four after a straight-up defeat. Washington is also a strong under team; 16 of its past 21 October games have come in under the number.
Weather Report
Odds are good that the Colts will close the roof. The temperature will sit at a mild 62 degrees, ideal for football, but there's a 70% chance of rain in Indianapolis, and the Colts won't take any chances with that.
Dan's Pick to Cover the Spread
It's tough to trust either of these teams. Ehlinger has never thrown a pass in a regular season game, so we have no idea what we're going to get with him. I'm leaning toward it not being all that great of a return in his first start. Strange as it is, Heinecke is the more proven option. As such, give me Washington and the points.