Washington Football Team vs. New York Giants Pick 1/9/22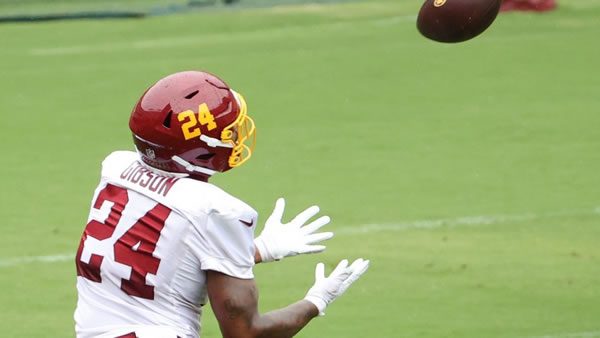 Washington Football Team (6-10 SU, 6-9-1 ATS) vs. New York Giants (4-12 SU, 6-10 ATS)
Week 18 NFL
Date/Time: Sunday, January 9, 2022 at 1PM EST
Where: MetLife Stadium, East Rutherford, New Jersey
TV: Fox
Point Spread: WFT +7/NYG -7 (WagerWeb – You can tease football games up to 20 points here!)
Over/Under Total: 44
The Washington Football Team will take on the New York Giants on Sunday in an NFC East battle from East Rutherford. This might not be the most exciting game on the schedule, as both teams have no playoff hopes. But it's still an interesting game to break down, one where there can be some solid wagering possibilities. It continued going ugly for the Giants on Sunday in a 29-3 loss to the Bears, their fifth loss in a row in an ugly slide to end the season. Washington, meanwhile, fell to the Eagles, 20-16, for their fourth loss in a row. Who can right the ship and end the season on a positive note?
Clues from Game One?
A week two 30-29 win for Washington might not mean a ton now. Still, the fact that Washington beat a full-power Giants and will now be facing a Giants' squad with a third-string QB and a team tattered by injuries could offer enhanced hope for Washington. A big game by Washington QB Taylor Heinicke with Terry McLaurin catching 11 balls helped lead them to victory. And the big running performance from Daniel Jones and big games from Sterling Shepard and Darius Slayton is no longer anything the Giants can count on this week with all those guys out of action.
Who is in Better Shape?
With four straight losses, it's not like anything is going great for Washington. But they are somewhat intact, with their starting quarterback, most of their main ball-catchers, and a pretty big chunk of their defense still out there. How good they are at this point is another question. But it's still likely better than being down to your third-string QB, as the Giants are, looking to start first-timer Jake Fromm, with almost every viable pass-catcher out of action and an injury list that has more talent on it than the active roster.
The Giants almost seem broken coming down the stretch run of this regular season. If anything, it paints Daniel Jones in a good light because since he has been gone, this offense can't make anything happen. For the Giants to manage a combined 19 points in their last three games against the Cowboys, Eagles, and Bears is truly demoralizing to witness. And to get behind such a team in the last week of the season like it's going to suddenly get better seems like a dicey maneuver.
Can Washington Do Anything About it?
At one point 6-6, Washington has seen the wheels come off in the final month of the season. It's a bit strange in a way, as they've lost to just two teams in that stretch, getting beaten twice apiece by the Cowboys and Eagles, two teams who will be going to the playoffs, Maybe that makes it a little better. Three of those four games being decided by ten or fewer points at least paints them as a team flashing better form than the Giants. That's not to paint them as a thriving team, with their offense in stitches with a "D" that has hit some pretty low depths over the last several weeks.
Still, Washington can hang their hat on something. Heinicke, not thriving over the last month, is at least capable of a big game, and he went over 300 the last time he faced this team. They are depleted with injuries with Antonio Gibson out and some different aerial pieces in a state of flux. But with McLaurin and some other pieces, along with RB Jaret Patterson, they can still string together something. But make no mistake, this Washington offense has taken a pronounced step backwards over the last six games, having not once surpassed 20 points in that time.
The Washington defense might match up well this week with what's left of the Giants' offense. While the secondary has been a sore spot all season, the prospects of seeing a high-flying Giants air-offense this week seems a longshot, with Fromm at the helm with Brian Lewerke lurking in the wings. They will be working with Saquon Barkley, a guy where you wonder if he's still capable of having a big game, along with a stripped-bare receiver crew. Against the still-formidable Washington defensive front, the prospects of running the ball is bleak, as are the overall prospects for whichever inexperienced QB is behind center for the Giants.
More Picks: Get the money with Loot's INDY/JAX point spread winner >>>
Value
Let's face it, there isn't much that makes one super-eager about laying a TD on Washington on the road. Four straight losses, nothing to really play for, and diminishing returns team-wide make them a dicey proposition in that role. When looking at other teams favored by close to that much this week, we see teams who are functioning well. But before we get too caught up in an assessment on Washington and how they're dubious in the role of substantial road-favorites, it's important to gauge what they'll be facing this week and how that alone can cast a different light on Washington.
Lay the Points on the Road Favorite
Between the personnel turmoil and all their other issues, it's hard to picture a strong close to the season with a sideways Giants team that has been that way for a number of weeks. Maybe Fromm has it in him to make a statement. Other than that X-factor, it's hard to identify a real upside in this spot. You could say Washington is just not good enough to be a TD road favorite, and that might have merit, but it's hard to cite anything positive about the Giants' case this week as it pertains to things that they can do well to alter the course of this game. I'll take Washington and lay the points.
Loot's Prediction to Cover the Point Spread: I'm betting on Washington minus 7 points. Question: Did you know that you could be laying -105 odds on your bets instead of -110? Find this sweet offer at BetAnySports!