[et_pb_dcsbcm_divi_breadcrumbs_module hide_homebreadcrumb="off" homebreadcrumbtext="Home" separator="sep-raquo" hide_currentbreadcrumb="off" homebreadcrumborientation="left" _builder_version="3.8″ fontsbreadcrumbs_font="Lato||||||||" fontsbreadcrumbs_text_color="#000000″ fontsbreadcrumbs_font_size="15px" fontsbreadcrumbs_line_height="16px" fontsseperator_font="||||||||" fontsbreadcrumblinks_font="||||||||" fontsbreadcrumblinks_text_color="#2567cf" custom_margin="25px|||" custom_margin_phone="30px|||" custom_margin_last_edited="off|desktop" custom_css_main_element="font-family: Helvetica Regular;" disabled="on" global_module="3641″ saved_tabs="all"][/et_pb_dcsbcm_divi_breadcrumbs_module]
Week 11 Pick: Oakland Raiders vs. Arizona Cardinals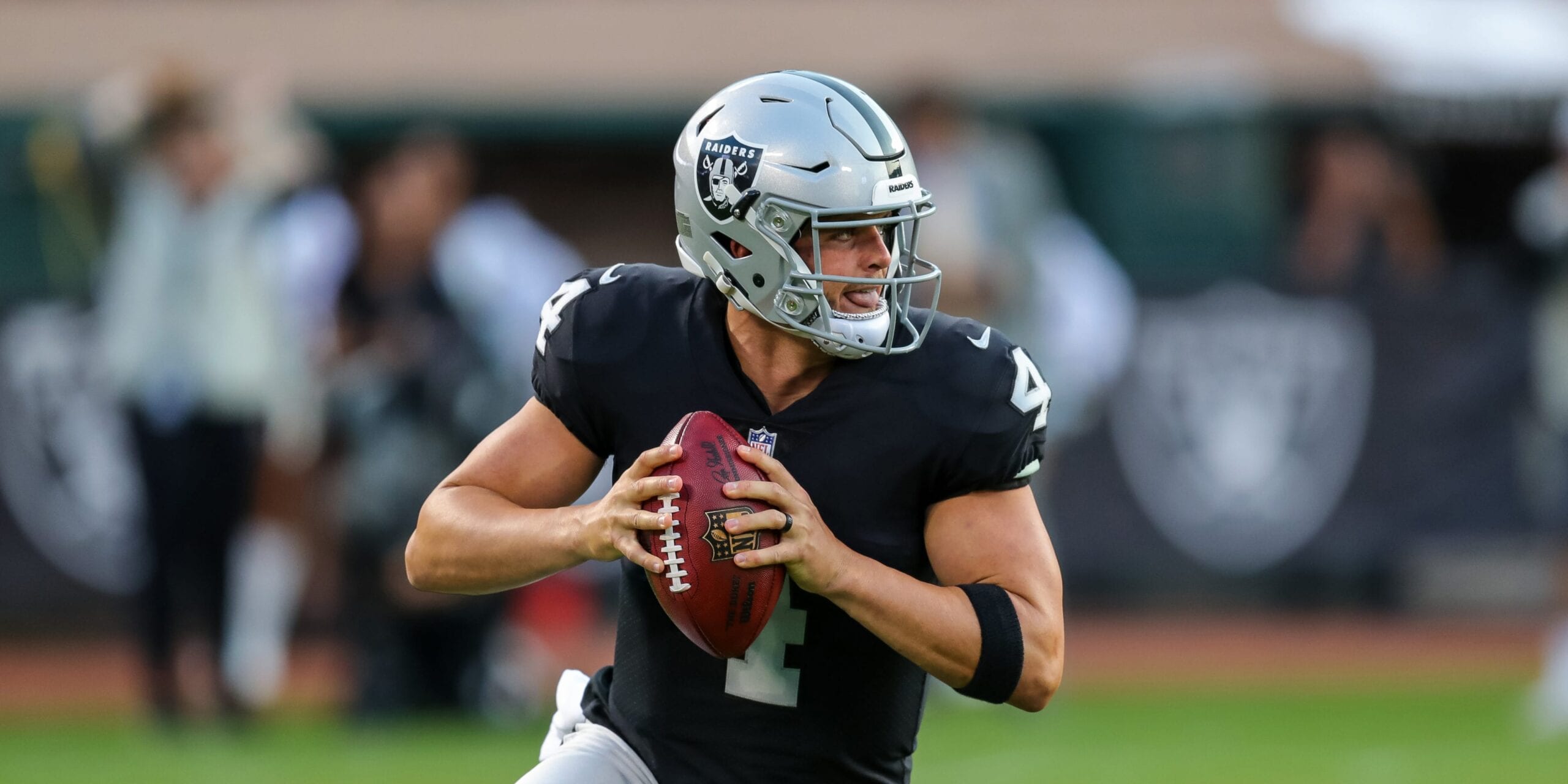 Oakland Raiders (1-8 SU, 2-7 ATS) vs. Arizona Cardinals (2-7 SU, 5-3-1 ATS)
NFL Week 11
Date/Time: Sunday, November 18, 2018 at 4:05PM EST
Where: State Farm Stadium, Glendale, Arizona
TV: CBS
By Loot Levinson, Expert Football Handicapper, Predictem.com
Point Spread: OAK +4/ARI -4
Over/Under Total: 40.5
The Oakland Raiders come to Glendale to take on the Arizona Cardinals in a week 11 matchup on Sunday. Neither team is doing well at a combined 3-15. Still, it makes for an interesting betting-game. The Raiders lost 20-6 to the Chargers on Sunday—their fifth straight loss and non-cover. Perhaps against another struggling squad in the Cardinals, things can go more their way. On Sunday, the Cardinals lost 26-14 to the Chiefs at Arrowhead. It was not what they were hoping for coming off the bye, but I like them to cover the spread against the hapless Raiders this week.
What to Make of Oakland
To simply say the Raiders are bad doesn't do much justice. It's been hard to watch. It is one thing to unload all your big talent in an attempt to build for the future, but the product they're putting out there is majorly substandard. It's bad enough to lose a bunch of games, but Oakland is now forcing bookmakers to push the boundaries of good-taste when setting these numbers. And even with the spreads being big, as they were double-digit dogs at home against their division-rival Chargers on Sunday, they're not big enough. In this 5-game losing streak, they've missed covering the spread by a combined 82 points.
In other words, they aren't even getting close! And it's not like it's a low-key story, either. How hard this team is falling and how they're in the midst of a massive tank-job is widely-known. Normally, betting into a story like that has no upside. But the Raiders are so bad that no number is big enough. Add to that a total lack of confidence, depleted personnel, mistakes-galore, and low overall morale, and you see a team that is not only hopeless in a straight-up sense, but also ATS.
Will Oakland Do Better Against Another Bad Team?
Sure, one could think that the Raiders might be in better company here against a two-win Arizona bunch. Still, this season, we've seen the Raiders not lose to just good teams. Only the Rams and Chargers can be considered good teams who have beaten the Raiders. A few weeks ago, they lost by 31 to a one-win Niners team. The Colts and Seahawks cleaned their clocks in recent weeks. So, it's not clear that taking the field with the struggling Cardinals will provide any meaningful relief.
There can be a lot of variance among what one would call "bad teams." With the Raiders, you have a downward-spiraling tank-job in full swing. Not only are they not winning or covering, but they're not even in the ballpark. The future lies solely in the future, with this being a holding pattern with so substantive hope. Everything is going wrong and there is nothing they do particularly well. With Arizona, they might stink, but there is a different feeling. They're working on things. There are things they do well. And as evidenced by their 5-3-1 record against the spread, they are still capable of performing well—at least well enough to cash some winners as of late. And this was all evident with how well they hung in there against a very good Chiefs team on the road last week. A twist here and a twist there, they would have been right in that game at the end.
Matchup Issues for The Cardinals
Obviously at 2-7, not everything is peachy for the Cardinals. Problems exist and there are plenty of them. Key among their issues is a languid offense that can't seem to create much momentum. It's quite possibly the worst offense in the league at less than 14 points per game on average. The Oakland defense is not anything near what you would call sufficient, but it's not as hopeless as some might think. Against the Chargers on Sunday, they were dominating the game late into the first half, before the wheels starting coming off. And in allowing just 20 points to the 7-2 Bolts, they showed they can still provide some resistance. It was a season-low in total yards for the Chargers offense. Against an Arizona offense, that could pay off even more. Let's face it—there's nothing about Arizona's offense that inspires confidence taking them as a favorite. They've only lost ATS three times this season, but they've been underdogs every game since week one and taking them as a favorite provides a less-enthusiastic feeling overall.
Oakland Matchup Issues
Not all contrast takes place in Xs and Os, as there is a difference in team-morale in this matchup. What kind of Oakland team can we expect in this matchup? The road-trip isn't a bad one, but it's against a team which they have no real connection. If they're tanking against division-rivals, how "up" are they going to be for this game? It's not out-of-line to expect some divergent enthusiasm between the two teams this week. Oakland might be able to run the ball, as most opponents have against the Cardinals this season. But Arizona has shown better form in that area lately. Oakland depends a lot on the aerial prowess of Derek Carr, but if there's anything the Cardinals do well, it's defending against the pass. With Patrick Peterson, Budda Baker, Tre Boston, Bene Benwickere, and others, they are pretty sound in that area with a playmaking element to go with it. The Oakland aerial-game is laughable at this point. After looking good against the Chiefs and holding them to their season-low in points, this could set up well for the Cardinals this week.
Lay the Points on the Home Favorite
It seems kind of counterintuitive to lay more than a field goal on a team that averages 13.8 points a game, doesn't it? Still, the Raiders aren't just losing—the spread has been off by an average of 16 points a game in this recent losing streak. While it was more in the ballpark last week in the loss to the Chargers, it still seems like those who set these spreads are a little slow in acknowledging how far they have really fallen. Taking the Cardinals this week might qualify as "pushing it" a little too much. I mean, if the Raiders were to cover, why not here? Still, I see the Cardinals as a team that is improving subtly, with enough to get the win and cover this week at home.
Loot's Pick to Cover the Point Spread: I'm betting on the Arizona Cardinals minus 4 points.
<aside><!-- [et_pb_line_break_holder] --><div class="widget105"><!-- [et_pb_line_break_holder] --><h4 class="cash">Biggest Sportsbook Bonuses</h4><!-- [et_pb_line_break_holder] --><div class="widgetlist"><!-- [et_pb_line_break_holder] --><div class="col1"><!-- [et_pb_line_break_holder] --> <a href="https://www.predictem.com/out/Bovada"><img src="https://www.predictem.com/wp-content/uploads/2018/04/bovada.png" width="" alt="Bovada" /></a><!-- [et_pb_line_break_holder] --></div><!-- [et_pb_line_break_holder] --><div class="col2"><!-- [et_pb_line_break_holder] --><span class="list"><b>50% Cash</b></span><br><!-- [et_pb_line_break_holder] --><span class="list">5x Rollover</span><!-- [et_pb_line_break_holder] --> </div><!-- [et_pb_line_break_holder] --> <div class="col3"><!-- [et_pb_line_break_holder] --><a href="https://www.predictem.com/betting-sites/bovada/"><button class="btn-widget">Review</button></a><!-- [et_pb_line_break_holder] --></div><!-- [et_pb_line_break_holder] --></div><!-- [et_pb_line_break_holder] --><div class="widgetlist"><!-- [et_pb_line_break_holder] --><div class="col1"><!-- [et_pb_line_break_holder] --> <a href="https://www.predictem.com/out/Intertops"><img src="https://www.predictem.com/wp-content/uploads/2018/04/intertops.png" width="" alt="Intertops" /></a><!-- [et_pb_line_break_holder] --></div><!-- [et_pb_line_break_holder] --><div class="col2"><!-- [et_pb_line_break_holder] --><span class="list"><b>50% Cash</b></span><br><!-- [et_pb_line_break_holder] --><span class="list">4x Rollover</span><!-- [et_pb_line_break_holder] --> </div><!-- [et_pb_line_break_holder] --><div class="col3"><!-- [et_pb_line_break_holder] --><a href="https://www.predictem.com/betting-sites/intertops/"><button class="btn-widget">Review</button></a><!-- [et_pb_line_break_holder] --></div><!-- [et_pb_line_break_holder] --></div><!-- [et_pb_line_break_holder] --><div class="widgetlist"><!-- [et_pb_line_break_holder] --><div class="col1"><!-- [et_pb_line_break_holder] --> <a href="https://www.predictem.com/out/Gtbets"><img src="https://www.predictem.com/wp-content/uploads/2018/05/gt-bets.png" width="" alt="GtBets" /></a><!-- [et_pb_line_break_holder] --></div><!-- [et_pb_line_break_holder] --><div class="col2"><!-- [et_pb_line_break_holder] --><span class="list"><b>150% Cash</b></span><br><!-- [et_pb_line_break_holder] --><span class="list">4x Rollover</span><!-- [et_pb_line_break_holder] --> </div><!-- [et_pb_line_break_holder] --> <div class="col3"><!-- [et_pb_line_break_holder] --> <a href="https://www.predictem.com/betting-sites/gtbets/"><button class="btn-widget">Review</button></a><!-- [et_pb_line_break_holder] --></div><!-- [et_pb_line_break_holder] --></div><!-- [et_pb_line_break_holder] --><div class="widget-footer"><a href="https://www.predictem.com/best-sportsbooks/bonuses/">See all sportsbook bonuses</a></div><!-- [et_pb_line_break_holder] --> </div></aside>
<h4 class="widgettitle">NFL Picks</h4><!-- [et_pb_line_break_holder] -->
<!-- [et_pb_line_break_holder] --><div class="widget-footer"><a href="https://www.predictem.com/nfl/">See all the NFL picks.</a></div><!-- [et_pb_line_break_holder] --><hr><!-- [et_pb_line_break_holder] --><style><!-- [et_pb_line_break_holder] -->ul.postsbycategory {list-style-type: none; margin:0; padding: 0; margin-left: -3px}<!-- [et_pb_line_break_holder] -->.postsbycategory li {padding: 5px 0px; display:block; clear: both; border-bottom: 1px solid #ccc;line-height:16px!important; min-height: 50px;}<!-- [et_pb_line_break_holder] -->.postsbycategory li a{color: #000; font-size: 14px!important;}<!-- [et_pb_line_break_holder] -->.postsbycategory img {width: 85px!important; height: 40px;<!-- [et_pb_line_break_holder] -->float:left; <!-- [et_pb_line_break_holder] -->padding:0px;<!-- [et_pb_line_break_holder] -->margin: 0px; margin-right: 8px;<!-- [et_pb_line_break_holder] -->border: 1px solid #EEE;<!-- [et_pb_line_break_holder] -->}<!-- [et_pb_line_break_holder] --> .widget-footer a {color: #666;}<!-- [et_pb_line_break_holder] --> .widget-footer a:hover {padding-top: 2px;}<!-- [et_pb_line_break_holder] --></style>