Chelsea vs. Manchester United Analysis & Picks 10/24/20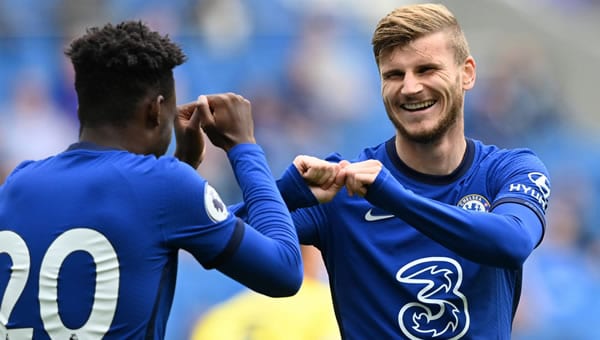 Chelsea (2-1-2, 8 points, 8th place) vs. Manchester United (2-2-0, 6 points, 15th place)
When: Saturday, October 24, 12:30 p.m.
Where: Old Trafford, Manchester, United Kingdom
TV: NBC
Point Spread: Chelsea 0/Manchester United 0
Moneyline: Chelsea +175/Manchester United +145/Draw +260
Total: Over 2.5 (-150)/Under 2.5 (+110)
(Find the best sportsbooks for your soccer betting)
Last Time Out:
Chelsea drew 0-0 with Sevilla; Manchester United defeated Paris Saint-Germain 2-1.
Previous Meeting:
Chelsea defeated Manchester United 3-1 on July 19 at Wembley Stadium in London.
About the Matchup:
Old Trafford is known as the Theater of Dreams, but it's been more of a house of nightmares for Chelsea lately, as the Blues haven't won here since 2013. Last year was especially demoralizing for Chelsea against Manchester United, as the Red Devils blitzed the Blues by a 4-0 count to open the season, establishing just how wide the gap was between the two English giants.
But things have changed since that last meeting in Manchester, and Chelsea now believes that it's ready to make a run toward the top of the table. Meanwhile, United has hit some real growing pains that have people wondering just how much longer Ole Gunnar Solskjaer will survive as the man in charge at Old Trafford. The Red Devils picked up a badly-needed win in the Champions League, but the fact remains that they've played two matches at Old Trafford in this new campaign and have lost them both by a combined 9-2. Was the midweek match a sign of brighter days ahead for United, or is this the time for Chelsea to finally break through at Old Trafford and add to the Manchester United misery?
Scouting Chelsea:
The Blues set their sights on scorers in the offseason, and it's really paid off. Chelsea has become an excellent attacking side in its second season under Frank Lampard, scoring three goals or more in four of their five Premier League matches this year.
What should really excite both Lampard and the fans who'd like to be at Stamford Bridge is the fact that Chelsea is neither fully healthy nor completely clicking, and yet the Blues are still scoring at a torrid pace. Kai Havertz and Timo Werner were the major imports this year, but eight of the Blues' 11 goals have come from someone besides their new German players. Plus, American Christian Pulisic has been hurt for much of the season, only just appearing in his first match of the 2020-21 campaign.
BET THIS MATCH FOR FREE! DEPOSIT $100 AND GET A $100 FREE BET AT MYBOOKIE!
Chelsea's problem is the same problem that's always been there for Chelsea: it can't play defense worth a darn. So far, the Blues have managed to blow a home win against Southampton by allowing three goals to the Saints and wasted a three-goal effort at West Bromwich Albion, settling for a draw because it gave up three first-half goals. That's made the over a reliable way to bet with Chelsea, but you never can know with the Blues whether they're going to hold the lead or give it away because of their problems in the net.
Scouting Manchester United:
Quite frankly, without a 10-minute stretch at St. James Park against Newcastle, Solskjaer might be out of a job right now. The Red Devils flipped the match around in the final five minutes of regular time by getting three goals and breaking a 1-1 tie, and they rode that momentum to a 2-1 win in Paris to kick off their Champions League campaign.
Much like Chelsea, United has really been lacking on defense to this point. Unfortunately for the Red Devils, they haven't always had the strong attack to fall back on. United is full of young talent, but the problem with young talent is that it isn't always reliable. Mason Greenwood was recently disciplined for his off-field conduct, and having him out for the past two matches — even if they were wins — hasn't helped the United cause.
What has helped is the play of Marcus Rashford, another young scorer who's mature beyond his 22 years and has scored twice in this young season. When he's put the ball in the net, United are 2-0, but things have really gone downhill when he hasn't found the mesh. To get back on track, the Red Devils need to do one of two things: get the defense fixed or get the rest of the offense on the same page as Rashford. At the moment, the latter seems a far more likely outcome.
Dan's Best Bets:
These two teams have been incredibly even during the Premier League era: Chelsea leads the series 18-17, with 21 draws between them. Given Chelsea's inability to hold leads and inability to shut teams out away from home (the Blues still have not shut out a Premier League opponent away from Stamford Bridge in 2020, a streak that's now at 12 matches), I think the best bet here is a draw and both teams to score at +320. I'm a little worried that this could be a lower-scoring match because both teams played Champions League matches mid-week, but the defensive problems are so pronounced that I don't think it's going to matter.
If you feel like playing it safe and don't mind getting a push on the draw, I'd back Chelsea at -106 on a draw no bet. I think the Blues are the better team, and if there is a winner here, they're likely to be it. But I think the draw is the most likely outcome here, so I wouldn't want to take either side to win straight up.
For the first goal of the match, I'd go with Chelsea at even money. Manchester United has fallen behind in each of the two games at Old Trafford this season, and Chelsea's attack should be hungry after the shutout against Sevilla. I think the Blues are the more mature side and should start the match stronger.
Dan's Score Prediction:
With neither side showing their best form, I think the wise play is to go with history, and with these teams, that means a draw that sees a fair amount of goals. Of Chelsea's past seven trips to Old Trafford, four have ended in a draw, and these teams are nowhere near as good on defense as they've been in past seasons.
I'm going to back this match to finish in a 2-2 draw at +1150. Bet this game live in-game where your credit card WILL work for deposits and where you'll receive a 50% real cash bonus up to $250 FREE! —> Bovada.
STOP LOSING TODAY! START WINNING WITH DOC'S TEAM OF PROFESSIONALS! GET A FREE NO STRINGS ATTACHED $60 FOR THIS WEEKEND'S GAMES!