England vs. Denmark Prediction 9/8/20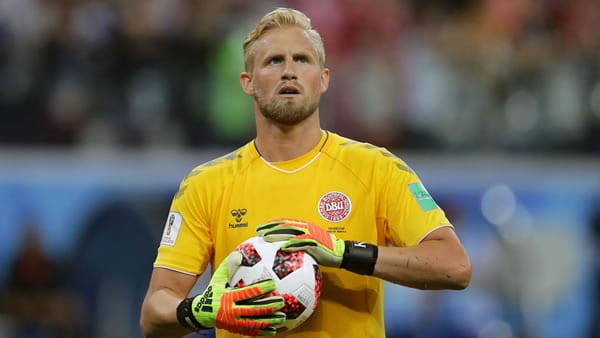 England vs. Denmark
When: Tuesday, September 8, 2:45 p.m.
Where: Parken Stadium, Copenhagen, Denmark
TV: ESPN2
Point Spread: England -0.5/Denmark +0.5 (Bovada - Awesome Live Betting Platform + 50% Bonus!)
Moneyline: England +105/Denmark +275/Draw +240
Total: Over 2.5 (-125)/Under 2.5 (-106)
Last Time Out:
England edged Iceland 1-0; Denmark lost 2-0 to Belgium.
Previous Meeting:
England defeated Denmark 1-0 on March 5, 2014 at Wembley Stadium in London.
About the Matchup:
Two sides that cannot be happy with how they played Saturday get a chance to redeem themselves and avoid falling off the pace in Group 2 of the Nations League's League A competition. England at least picked up a win in its opener by escaping Iceland, but the Three Lions never really looked comfortable over the course of the 90 minutes, only avoiding a draw when Iceland missed a penalty in the final minute of stoppage time.
Still, it's a better place to be than Denmark, as the Dynamite were quickly extinguished by Belgium when they gave up a goal in the first 10 minutes. Truth be told, Denmark probably could have gone 180 minutes without ever breaking down the Belgian defense, as the Danes never really came close to threatening the goal despite the home field advantage. With one home match already wasted, Denmark really can't afford to drop another three points at home, or it's going to find itself locked in a battle with Iceland to avoid relegation to League.
BONUS OF THE WEEK: DEPOSIT $100 TO $500 AND GET A DOLLAR FOR DOLLAR MATCHING REAL CASH BONUS AT GTBETS SPORTSBOOK!
Scouting England:
The trip to Reykjavik really feels like a draw for the Three Lions rather than the 1-0 win it was. To be completely fair, England should have had a goal early in the match when Harry Kane put the ball in the net but was erroneously judged offside, but to its discredit, England really let that decision take it out of its game. Following Kane's non-goal, the English really looked devoid of ideas, even though they had the lion's share of possession and didn't really have to worry about Iceland pushing forward to attack their net.
What that performance suggests is that either England is rusty, or the lack of a creator is really going to be a bigger problem than expected for the Three Lions. Iceland came out determined not to let Kane beat them, and Denmark might very well do the same thing. Phil Foden was supposed to be the backup talisman if Kane wasn't getting the job done, but he wasn't able to handle the job against Iceland and will have a much tougher task doing so against a side that really knows how to play defense.
The real worry for the English is the defense. Kyle Walker won't be available after he was needlessly sent off for a second yellow card against Iceland, and the England defense didn't exactly cover itself in glory after he was sent to the dressing room, nearly giving away the match when Joe Gomez gifted Iceland a cheap penalty attempt. England isn't going to get away with another lackluster defensive performance against Denmark.
Scouting Denmark:
The loss to Belgium put an end to a long streak of success: it was Denmark's first loss in 15 matches, dating back to a 2018 loss against Slovakia that didn't really count, because the regular Danish players refused to play over a dispute with their national association. If that match is ignored, the regular Danish players' streak would have been 34 matches without a loss until falling to Belgium, dating back to October 2016.
When you have that much sustained success, it's because you've got a good plan, and Denmark's plan has been to take its chance when it comes and rely on Kasper Schmeichel to do the rest. Schmeichel has made his name at Leicester City in the Premier League, and he's been just as effective for Danish Dynamite, holding eight of Denmark's past nine opponents to a goal or less. Denmark gave up just one goal in all of 2019, and that's because they play a possession-oriented style that can frustrate its opponents.
Against Belgium, the Danes actually won the possession battle, holding the ball for 51 percent of the match. They might not be able to do the same thing to England, which had the ball for 78 percent of the match against Iceland, but given the Three Lions' lack of direction against Iceland, all Denmark might need is 45 percent to keep the English attack from punishing them at the back.
Dan's Best Bets:
England's tendency to leave its attack on the British Isles when it travels can be absolutely maddening. During its qualifying run to the 2018 World Cup, England managed just one goal at Slovakia, one at Lithuania and nothing at Slovenia, three matches where the Three Lions should have absolutely buried their opponent. Given how England looked in Iceland and that they're facing a desperate team on the road, now is an excellent time to take Denmark on a double chance. However, given that you'd still have to pay some small juice at -134, I'd rather get close to even money by taking the under, as I expect this to be another tight, low-scoring match.
But this is soccer, and that means there is always plus money to be had somewhere. For me, I think the aggressive way to play this is a draw and both teams to score at +310, which might take some time to develop but has a good chance to occur down the stretch. If you aren't feeling that aggressive but still want to go more aggressive than the under, I'd back any kind of draw. It's very possible that this match finishes goalless, and I want that insurance given how these teams' attacks looked on Saturday.
Finally, I'd back a scoreless first half at +185. It will take time for these teams to get their legs under them, and neither one looked themselves in their 90 minutes on Saturday. I think there's an excellent chance that a goal doesn't come until halftime.
Dan's Score Prediction:
England didn't look great at all against Iceland, and Denmark knows how to play rock-solid defense. On the other side of the coin, I don't trust the England defense at all after how it nearly gave the match away at Iceland. England has too many weapons for me to pick a shutout, but I think the Danes can find a hole in a questionable English defense and hold the Three Lions. I'll back a 1-1 score at +600. Also be sure to follow my college football picks each week of the season!
100% REAL CASH up to $300

USE BONUS CODE:
PREDICT100