Adesanya vs. Whittaker 2 Picks – UFC 271 Predictions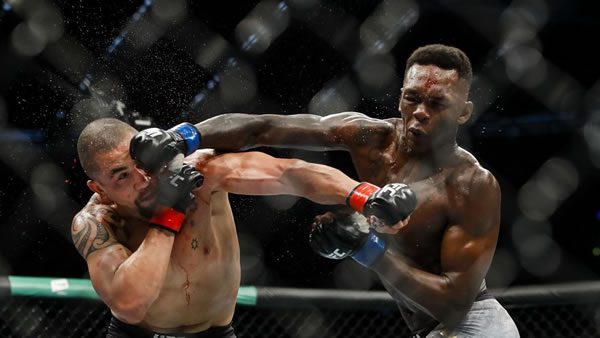 UFC 271: Adesanya vs. Whittaker 2 Picks
When: Saturday, February 12, 2022
Where: Toyota Center, Houston, Texas
TV: PPV
UFC 271 in Houston offers a strong main event as UFC Middleweight Champion Israel Adesanya defends his belt against the man he won it from in former belt-holder Robert Whittaker. Their first fight in 2019 in Melbourne saw the New Zealand-based Adesanya lift the title with a second*round KO of Whittaker. Now 2.5 years later, Whittaker has a chance to exact revenge. Who can come out on the sunny side of this anticipated rematch?
Fight Analysis
Israel Adesanya, 21-1 (15 KOs), (-285) vs. Robert Whittaker, 23-5 (9 KOs, 5 Submissions), (+225)–Bovada
The middleweight title is up for grabs in this terrific rematch, as champion Israel Adesanya takes on Robert Whittaker. A lot has happened since their 2019 bout. Adesanya has been in the business of defending the belt while also sandwiching in a failed attempt at the light heavyweight title. He is still unbeaten at 185 pounds and looks to add another nugget to his resume in the form of a second win over the excellent Whittaker. And that 2019 setback for Whittaker was his only setback at 185 pounds and the only time he has tasted defeat in the last eight years.
With the KO loss to Adesanya, being out of the world title picture for a few years, and the subsequent captivating work of Adesanya has taken some attention off of Whittaker. His name isn't on people's lips anymore, and he is seemingly regarded as yesterday's news. After all, once a fighter wins a title, loses it, then you don't hear much for a few years; you're conditioned just as a fan to figure the gravy period is over. One shouldn't be so sure with Whittaker.
First of all, losing to Adesanya before people totally wrapped their heads around how good of a fighter he is carries no great shame. Whittaker's championship resume speaks for itself, and for him to go eight years with all the good fighters he has beaten with just one loss to a fighter of Adesanya's ilk is really impressive. And perhaps people are overlooking his post-title work, as well, Wins over good competition like Darren Till, Jared Cannonier, and Kelvin Gastelum show he still has what it takes. In other words, don't sleep on Robert Whittaker.
The first fight was strange. Whittaker was in pursuit, and after an uneventful first round, an Adesanya left hook floored Whittaker with a follow-up barrage leading to a referee stoppage. It was sudden, as a lot of Adesanya finishes are. But for a champion who improved as greatly as Whittaker and put together so many wins, it was a bitter pill to swallow for him and his many supporters.
Maybe Adesanya losing to Blachowicz offers some hope to Whittaker or any other 185-pounders who will challenge for the belt. It shows that he's not the unbeatable whirlwind that some thought. Whittaker was a welterweight who moved up and might lack some of the robust physical qualities that Blachowicz used to trouble the champion, but the cloak of invulnerability is gone for Adesanya.
BET ON UFC 271 LIVE-IN-PROGRESS AT BOVADA SPORTSBOOK!
First result notwithstanding, these are the two best middleweights in the world. In fact, these two might be a clear tier above the best of the rest, with all due respect to other top contenders like Paolo Costa, Tyrone Brunson, and others. The question is whether Whittaker can do something to reverse the tide of the first fight. The things that troubled him the first time are obviously still at play.
Whittaker is a true middleweight being that he is one of the best 185-pounders of all time. However, his size is unexceptional at the weight, standing under six feet with a 73-inch reach. Adesanya stands 6'4" with a long reach of 80 inches. That's a big gap for the more-stout Whittaker to bridge without leaving himself open for the same kinds of vicious and sudden strikes that short-circuited him the first time. The dimensions alone are a big advantage for a fighter of Adesanya's style and sensibilities.
In the first fight, Adesanya was able to use his mastery of distance, height, reach, and mobility to outmaneuver Whittaker. He was able to poke and prod while surveying the playing field. And when he saw the opening, he was able to lash out with incredible velocity to put a sudden end to matters. The distance gives him margin for error that Whittaker doesn't have. The former champion has to work extra hard just to get into a position to launch his attacks. And in doing so, he has to avoid being struck with the long limbs of Adesanya. And the reach doesn't just apply to punches, with the long legs of Adesanya snaking out there from long distances. Whittaker will need to get inside and stay there—not an easy proposition against a fighter of Adesanya's credentials.
This is not an indictment on Whittaker or his skill, experience, or wherewithal to overturn what was a disastrous result in his first fight with Adesanya. After one calibrates what he has accomplished and how he has rebounded from that loss, this seems like something he can maybe pull off. But this comes down to styles and matchup in the end. And in that regard, Adesanya might be all wrong for Whittaker. While I'd be tempted to pick Whittaker against any other middleweight in the world, the style, height, reach, movement and mastery of distance that Adesanya brings to the table will be too much to overcome. I'll take Adesanya to retain his title.
My Pick to Win: I'm betting on Israel Adesanya at -285 betting odds..I see his combination of speed and length allowing him to dictate pace and distance, setting up well for the champion to lash out with sudden strikes that will again play a critical role in determining the result of this fight. Bet your UFC 271 picks for FREE by taking advantage of a 100% REAL CASH bonus on your first deposit of $100 to $1000 at Betnow Sportsbook!
100% REAL CASH up to $300

USE BONUS CODE:
PREDICT100