Bellator 225: Mitrione vs. Kharitonov II Picks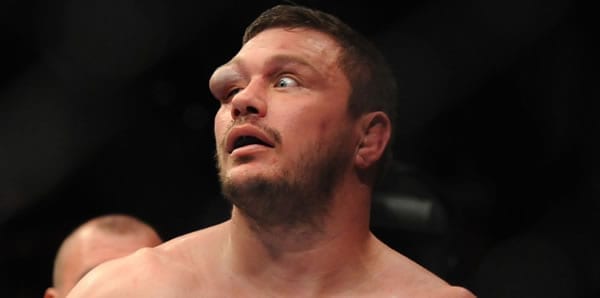 Bellator 225: Mitrione vs. Kharitonov II Picks
When: Saturday, August 24, 2019
Where: Webster Bank Arena, Bridgeport, Connecticut
TV: Paramount Network

In heavyweight action, Matt Mitrione and Sergei Kharitonov will do battle in a rematch from a truncated February bout, ruled a no-contest after Mitrione landed an accidental kick to the groin, which ended the fight. Generally, in a rematch, there is something to go on, but the first fight lasting 15 seconds makes it hard to draw any real evaluations from their first encounter. These are two of the better big men in the Bellator organization, and one would figure the winner of this would be on a short-list of contenders in line for a title shot. Neither man is young, making the prospects of a long rebuild very dicey. As a result, one should expect two urgent fighters to surface in the cage on August 24.
Matt Mitrione, 13-6 (11 KOs), (-125) vs. Sergei Kharitonov, 28-6 (16 KOs, 10 Submissions), (+105)
Fight Analysis:
Matt Mitrione takes on Sergei Kharitonov in the Bellator 225 main event. It's an interesting matchup between two exceedingly-dangerous men who have scored 37 stoppages in their combined 41 victories. Let's just hope this fight isn't cursed, as the southpaw Mitrione and righty Kharitonov didn't take long to see their first fight implode. In the first strike of the fight, Mitrione launched a left-leg strike that uppercutted the poor Russian square in the groin. We hope for better luck in the rematch, and if it's allowed to unfold organically, fans should anticipate an exciting and high-impact fight.
Their respective backgrounds are quite different. Kharitonov started martial arts at a young age, and his pro MMA career dates all the way back to 2000. He also had a decent pro kickboxing career where he scored some pretty impressive wins against well-known fighters. His track record might make people think he's older than the late-starting Mitrione, but he's three years Mitrione's junior at 38. Mitrione, meanwhile, was brought up as a football player, eventually even seeing time on an NFL gridiron. After a stint on The Ultimate Fighter, Mitrione turned pro in 2009, beginning his career in the UFC. His record of just 13-6 should be taken in with the consideration that he wasn't afforded a chance to rack up a bunch of wins on regional shows before joining the UFC, as he got thrown to the lions pretty quickly.
And let's face it—things haven't always gone Big Matt's way. After starting his career 5-0, losses to Cheick Kongo, Roy Nelson, and Brendan Schaub slowed his progress. He then went on a nice run with three straight KOs, including wins over Derrick Lewis and Gabriel Gonzaga. Stoppage losses to Ben Rothwell and Travis Browne showed that he wasn't quite up-to-snuff with the elite of the UFC heavyweight division.
Bet the winner, distance and TKO Y/N at
MyBookie
Three straight wins in the Bellator organization helped right the ship for Mitrione. He got revenge on Roy Nelson and even beat Fedor. Before his first fight with Kharitonov, he lost in the Bellator Grand Prix semis to a vastly-improved Ryan Bader, but he is still near the top of the Bellator heavyweight pile, and a win here would do wonders. He is 41 and running out of time even after getting a late start. And while he has some losses on his ledger that might lead one to conclude negative things, he is a very dangerous and skilled fighter. He's an explosive-enough athlete to have once played in the NFL. And when given room and position, his kicks are among the best of any heavyweight.
Kharitonov goes back to the old school, with wins over guys like Jerome LeBanner, Semmy Schilt, Pedro Rizzo, and others. He has beaten top opposition like Fabricio Werdum, Alistair Overeem, and Andrei Arlovski back when that meant something. And even with two no-contests, he hasn't tasted defeat in his last seven fights. Losing to Javy Ayala in 2016 was bad, but it's his only defeat in the last 8+ years. You can see by looking at his record that striking is not his only route to victory, as he also has ten submissions.
More Fight Picks: Sergey Kovalev vs. Anthony Yarde Analysis & Picks 8/24/19
He has been knocked out three times and submitted twice, but Kharitonov has done plenty of damage in his own right. We talk about the damaging kicks of Mitrione, but with a long career in different disciplines, including high-level kickboxing, the Russian is a fierce striker. He throws heavy punches and can put a lot of steam behind his own leg-work, including kicks and knees. He can zero in with the right hand, which can turn anyone's lights out. He has destroyed some name fighters and showed late last year with a destruction of tough Roy Nelson that he can still bring the noise.
While I question whether Kharitonov's best days are behind him, I feel he has hit high notes that Mitrione has yet to reach. And while Mitrione isn't too shopworn, fighters typically don't see large jumps in form at age 41. He is who is he is—a good fighter who has never been able to break through to the next level. Sure, in his 19th year as a pro, a lot of that can also apply to Kharitonov, I just don't think there's any ample evidence to forecast an appreciable Kharitonov downturn at this point. I'm going with Sergei Kharitonov at the small underdog price.
My Pick to Win:
I'm betting on Sergei Kharitonov at +105 betting odds at BetOnline. The odds reflect what is a toss-up fight in many ways. I just see Kharitonov as being more-bankable at this level with more routes to victory. Mitrione is dangerous and the small favorite for a reason, while having never been terribly reliable in these kinds of spots.