Grasso vs. Shevchenko 2 Prediction & Fight Insight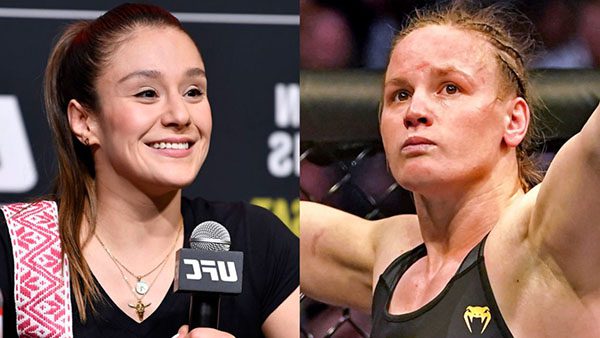 UFC Fight Night: Grasso vs. Shevchenko II Picks
When: Saturday, September 16, 2023
Where: T-Mobile Arena, Las Vegas, Nevada
TV: ESPN+
Fight Analysis:
UFC Fight Night: Grasso vs. Shevchenko 2 is headlined by a fight for the UFC Women's Flyweight Title, with the new champion Alexa Grasso making her first defense against the woman from whom she won it—former longtime champion Valentina Shevchenko. Shevchenko had reigned from 2018 until she lost her belt in March in a 4th-round submission to Grasso. The fundamental question is whether or not Shevchenko had an off-night or if their first fight was a true changing of the guard. Let's break this one down!
Alexa Grasso, 16-3 (4 KOs, 2 Submissions), (+170) vs. Valentina Shevchenko, 23-4 (8 KOs, 7 Submissions), (-210)—Live bet the fight at Bovada Sportsbook!
UFC Flyweight Champion Alexa Grasso defends her belt against Valentina Shevchenko. The Mexican-born Grasso has been a pro for over a decade and, after some up-and-down moments, has hit her stride at age 30, winning five in a row and scoring the huge win over Shevchenko. At 35, the former champion has accrued a lot of mileage with a brief pro boxing career, a 59-fight kickboxing career, and an MMA career spent taking on the best women fighters of all time. Her title run of 7 successful defenses ranks her title reign among the best in UFC history.
But when a fighter has been around long enough to rack up such accolades, it's also a good sign that they're nearing their expiration date. Historically, we're not geared to fighters having second acts, and usually, when it's gone, it stays gone. Grasso boxed well that night and took Shevchenko's back, and that was it. She was the better fighter. Now, Shevchenko is in a position where she has to make adjustments. And whether she can do that will go a long way to determining the winner of this fight. Oddly, it was only Grasso's second career submission win, a route to victory that few suspected on top of her simply winning already being an upset.
Still, there can be some merit to the fact that it was a one-off for Shevchenko. A champion on a five-year run can grow complacent and overlook what seemed to just be one of many other contenders, just like the ones she had dusted off with ease. Maybe it simply became old-hat, and the loss refocused her as to what can happen in this sport. There is no questioning her excellence. Her track record will attest to that. It's not outlandish to expect a better Shevchenko this time around. She didn't look herself in that first fight, and not to say that Grasso didn't have something to do with that, but it's not like we saw her at her best and she was comprehensively beaten. It also wasn't what you could call a total fluke, either. So, let's not pretend Shevchenko winning just comes down to her being more serious or looking to better prevent being taken from the back.
I think spirits will be high for Grasso, with this taking place in Vegas on Mexican Independence Day. She should get a lot of support for what figures to be a demanding five-rounder. On one hand, observers of the sport might recall Grasso's 2-3 run from 2017-19, where she was barely hanging onto her spot on the UFC roster. But after a year off, something clicked when she returned in 2020, showing crisper boxing and overall movement, while also developing the capacity to take her opponent's back, with her first two career submission choke-wins having come in her last three fights.
Even taking these specific fighters out of the equation for a second, there is a discernible cycle in this sport. In fairly short order, once-dominant champions find that the pack catches up to them. What is working so well for the champion is a source of great success, but also a path to stagnancy. When you're dealing with a champion who reigns for half a decade, you're going to see that gap get bridged by fighters who are working on things, angling for a formula that works, while a champion is just steadfastly sticking to what has always produced results. And when the leader of a race gets overtaken, it's not easy for them to find the lead again.
Still, one has to account for talent, and Shevchenko didn't get to be a transcendent fighter for no reason. With ratcheted-up urgency and the end in sight, I'd think that would have an invigorating effect on a fighter who perhaps did grow complacent. This will reflect in the sharpness of her striking and her distance-control, as she will be more alert. Her wrestling, her striking, her kicks, it will all be on full display. A premium will be placed on minimizing mistakes, as an errant kick is what led to Grasso taking her back in the first fight.
Grasso is a very-prepared fighter, versed in how to take advantage of mistakes. Her performance was very heady, and she comes across as someone who approaches fights very clinically. But she is generally not a finisher, despite her recent mini-spurt. Shevchenko is a finisher, and I think we get back more to script in this one. Whereas you could get Shevchenko at -600 or -700 in their first fight, now she can be had at a far more appealing -210. And sure, it's to the same woman who showed she could beat her, who was still standing in the fourth round and able to turn it around just as it looked like Shevchenko was about to take control. I just don't see that bolt coming from the sky in this one. I'll take Shevchenko.
My Pick to Win: I'm betting on Valentina Shevchenko at -210 betting odds. Knowing what's coming now, I see Shevchenko more on-point with her wrestling and striking, efficiently and cautiously using her vaster toolbox to navigate her way to victory.
Boost your betting bankroll with a 100% real cash bonus on your first deposit of $100 to $300 when you use bonus code PREDICT100 at MyBookie Sportsbook!