Sandhagen vs. Dillashaw Analysis & Picks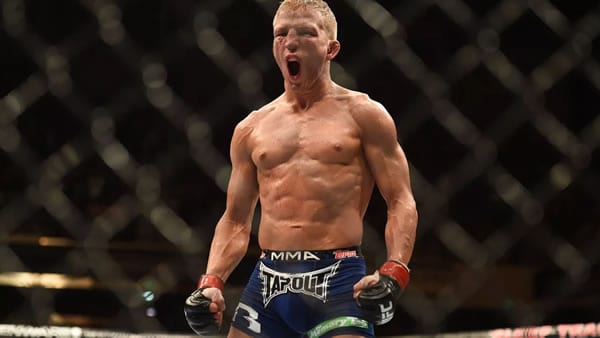 UFC on ESPN: Sandhagen vs. Dillashaw Picks
When: Saturday, May 8, 2021
Where: UFC Apex, Las Vegas, Nevada
TV: ESPN
UFC on ESPN in May features a top-of-the-line bantamweight bout between top contender Cory Sandhagen and former two-time UFC Bantamweight Champion TJ Dillashaw. The winner of this fight is all but guaranteed a shot at the title. For Sandhagen, it would be a defining win that would crystalize his contender status. For Dillashaw, returning from a two-year drug ban, it's a chance for him to re-enter the fray in a big way. Is this too much for a comeback fight for TJ? Or will the former champ remind people who the top dog is at 135 pounds? Let's break it down!
Fight Analysis
Cory Sandhagen, 14-2 (6 KOs, 3 Submissions), (-170) vs. TJ Dillashaw, 16-4 (8 KOs, 3 Submissions), (+145)
Cory Sandhagen battles TJ Dillashaw on UFC on ESPN in Las Vegas on May 8. Dillashaw has some atoning to do when a great career was brought to a sudden halt in a disastrous 32-second loss to Henry Cejudo. Not only did his attempt to win his second title and drop down to flyweight go horribly, but his reputation took a massive hit when he popped dirty for EPO in the aftermath, leading to a two-year ban. He is thrown into the lion's den in his comeback, facing the second-ranked man in the division.in Sandhagen, a winner of 9 fights in his last ten.
It might take some by surprise that Dillashaw is now already 35, seven years older than Sandhagen. Youth is usually served in this sport, and while Sandhagen doesn't have the name recognition that Dillashaw has, his only loss in the UFC was to current champion Aljamain Sterling. With wins over guys like John Lineker, Raphael Assuncao, Marlon Moraes, and Frankie Edgar, he has established some nice credentials in the division. And it has to mean something that while Dillashaw was on the sidelines, Sandhagen has been taking on the best in the division and mostly winning.
Sandhagen's recent form is surely a cause of concern for potential Dillashaw backers and a big part of why he rates as a favorite against the former two-time champ. The loss to Sterling was tough, an 88-second choke loss, but it was to the champion. He bounced back with a second-round KO over durable Marlon Moraes before scoring a 29-second KO by flying knee over ex-champ Frankie Edgar. He rates as a dangerous fighter who can end a fight suddenly, with his only weakness being exposed by a submission expert, which Dillashaw is not.
More Picks: Get Loot's UFC 262: Oliveirs vs. Chandler Picks
The ball, however, is in Dillashaw's court. In other words, how he surfaces in the cage on May 8 will determine the result of this fight. This sport waits for no one. After a failed drop to flyweight, we're looking at almost three years since Dillashaw fought in this division. And at 35, following a long and decorated career, one has to wonder if his window has passed. Still, at least from the context of the bantamweight division, there is little that can actually be held against Dillashaw.
Since ascending to the top of the bantamweight class in 2014, Dillashaw's only setback was a razor-close loss to Dominick Cruz. The highlights far outweigh the bad moments, and since becoming a top 135-pounder, no one has really had his measure in any kind of significant way. And we're talking about champions and guys who are proven—very dangerous fighters. Sandhagen is a contender. Sure, he's a young and promising one, but this a level where Dillashaw has thrived time and again. Sandhagen has some nice wins, but winning a big spotlight fight when all eyes are on him hasn't really happened yet.
The PED component throws a little bit of a wrench onto the analysis. While one could write it off to bad choices made in an ill-fated flyweight title try, it does cast a cloud over his previous work—how he suddenly emerged from the pack to become a dominant fighter. Another positive test would all but spoil his legacy, so you would imagine he's minding his Ps and Qs. But one can't help but wonder if he wasn't getting a little help the whole time. But all that business at this point would fall under the category of speculation, and all we can really do is handicap this match assuming everything is on the up-and-up.
Positive drug test and failed title try against Cejudo aside, Dillashaw is a pro's pro. One has to imagine he has been working hard to atone for the past. He may have remained sharp and has the kind of body of work that would make missing over two years less of a drawback. The issue in this fight is that he is facing a man who has been on a nice roll while Dillashaw has been sidelined. And coming off a quick KO and a layoff, this is a major task for Dillashaw.
Three years ago, this would be a no-brainer. But that once-substantial gap has been bridged—both with Sandhagen's rise through the ranks and Dillashaw's fall from grace. The 135-pound class is now packed with guys like Sandhagen, Petr Yan, Sterling, and a gaggle of others who have made bantamweight a much stronger class than what Dillashaw left behind. I think Dillashaw's stamina and experience could trouble Sandhagen, who will do the work that stands out more en route to a big win.
My Pick to Win:
I'm betting on Cory Sandhagen at -170 betting odds. Dillashaw has always flashed a good chin, but coming off a KO loss and layoff, facing a fighter as dangerous as Sandhagen would appear to present some problems. Bet your Sandhagen/Dillashaw pick FREE by taking advantage of a 100% real cash bonus offer on your first deposit at BetNow Sportsbook!
100% REAL CASH up to $300

USE BONUS CODE:
PREDICT100