UFC 238 Picks: Tony Ferguson vs. Donald Cerrone Predictions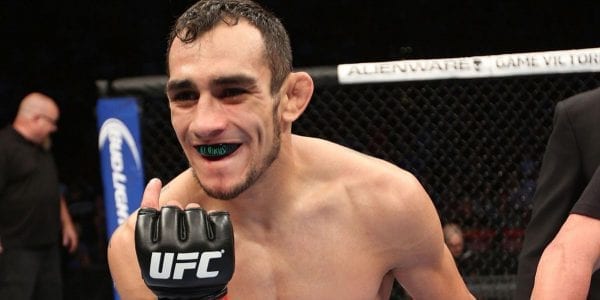 UFC 238Undercard Picks: Tony Ferguson vs. Donald Cerrone
When: Saturday, June 8, 2019
Where: United Center, Chicago, Illinois
TV: PPV
By: Loot Levinson of Predictem.com
Fight Analysis:
We have a sizzling lightweight co-feature in UFC 238, with top 155-pounders Tony Ferguson and Donald Cerrone doing battle in a high-stakes bout. There are some lucrative opportunities in the lightweight division, which would be available to the winner of this fight. With Ferguson, you have a long-unbeaten contender looking for his 12th straight win. He has been snake-bitten in terms of fighting for the title, but has a great chance to remind people how good he is. Cerrone, meanwhile, is a longtime UFC standout looking to inch closer to potential world championship glory. Who will come out ahead in this one?
Tony Ferguson, 24-3 (11 KOs, 8 Submissions), (-185) vs. Donald Cerrone, 36-11 (10 KOs, 17 Submissions), (+160)
Tony Ferguson battles Donald Cerrone in a huge lightweight fight, with a lot riding on the line in this UFC 238 co-feature. Ferguson has not tasted defeat in over 7 years. But how long can he keep that up? His last fight was in November of 2018, when he stopped Anthony Pettis after two rounds in an exciting bout. Cerrone last fought in May, beating Al Iaquinta over five rounds to win his third straight. He has been very active, with this being his 4th fight since November 2018. He took this fight on somewhat short-notice, but will have had time to prepare and he should still be in good shape, having fought so often recently.
These fighters have some things in common. At nearly six-feet with a reach of nearly 77 inches, Ferguson is a big and rangy lightweight. He uses his long limbs to good affect, keeping opponents at range with his reach, while also snaking in his long limbs for submission wins. At 6'1" Cerrone is even taller and also a massive lightweight. Each man has stopped a large majority of their opponents, both scoring numerous wins via both knockout and submission.
The data on Ferguson is more-mixed than it has been in a while. On one hand, he's still the guy who has won 11 straight fights, forging his way to the top of the 155-pound weight class. He has shown he is a cut above the best-of-the-rest, beating a slew of quality lightweights, usually by stoppage. But is the window passing him by? Most fighters with his credentials would have received a title shot long before now. A lot has come in his way, including injuries. They have scheduled him to fight Khabib four times and it never happened, the last one being dashed after a freak injury suffered by Ferguson on fight-week. It's like the matchup is jinxed.
Then we see Ferguson having some issues domestically and the testimony of his wife suggests Ferguson is starting to feel some ill-affects from a long and demanding MMA career. He has fought just once each in 2017 and 2018, stopping both Kevin Lee and Anthony Pettis. In the octagon, there isn't much bad to say about the guy. He has looked pretty good in there, even if injuries and waiting for a shot have started to limit his overall activity.
Ferguson will be one of Cerrone's more-difficult opponents. He brings a lot of firepower into the ring and over a three-round fight; he should put forth a pace that will be difficult for Cerrone to navigate. He has shown he can thrive time and again against fierce competition, showing great standup and the ability to snake in chokes out of nowhere that finish fights. Ferguson's stamina is off the charts. He can wrestle well. His Brazilian Jiu-Jitsu is strong. And if Cerrone gets him on his back, Ferguson is dangerous there, as well. In five of his last eight fights, a variety of chokes ended matters, while he has also shown he can turn a guy's lights out or win a more drawn-out battle when needed. There aren't many better finishers at 155 pounds than Ferguson. His standup is crisp. And while Cerrone is fancied as the hardcore veteran, Ferguson carries a lot of experience with him into the octagon. Whereas some fighters grind opponents down, Ferguson and Cerrone are pure assassins.
I think it's important to consider Cerrone's position in his career heading into this fight. It has been a long road to this point, with more ups, but enough downs to keep him from really getting to the mountaintop. Now back at 155 pounds, he's one again on a nice little roll and a win here really opens up any number of lucrative, legacy-defining opportunities. How many times can the aging warrior be expected to regroup? Prior to this little run, he was on a 1-4 stretch and it looked like his gravy-period had run dry. He forged another turnaround and is now on the precipice of big things. One should expect Cerrone to be approaching this knowing this is the biggest fight in his life.
The weight of this fight is worth mentioning. On one hand, Cerrone moving down recently elicits some concern. Sure, he has looked pretty good in his last two fights, but this is a jump up from who he has been fighting. And typically, when more-seasoned veterans like Cerrone suffer some setbacks and try to move down in weight as a cure-all, it goes really bad. But I'm not sure Ferguson is in a much better spot. Only a year younger than Cerrone at 35, making 155 hasn't been easy for him in a long time and he could facing another draining weight-cut in this one. I'd call it a wash from a poundage point-of-view.
Cerrone is unquestionably a fine fighter and he has real chances of winning even at this level. At the same time, his UFC career is so voluminous that one can start seeing patterns. And one of those is that he really struggles at this level. And if Ferguson is near the top of his form, it's a level where success has been elusive for Cerrone. He has a bunch of wins over good fighters, even some who you would call very good. But against the clear elite, he has struggled.
Again, this sport doesn't wait on anyone and at 35 with some accrued mileage, Ferguson might start slipping and what better fighter to bring that out than Cerrone? But that's an iffy thing to bank on when looking at this matchup. I don't see Ferguson taking this lightly. It's been a long road to the top and he's not about to blow all that now. I see Ferguson being active enough to either stop Cerrone or get a decision in this one.
My Pick to Win: I'm betting on Tony Ferguson at -185. Cerrone is dangerous and a stance against him can only be made with so much assurance. I just see Ferguson being more-bankable at this level and while Cerrone prides himself on being an ever-ready warrior, this being so close after a demanding five-round fight might cost him the slight edge he needs.