UFC 243 Picks – Fight Analysis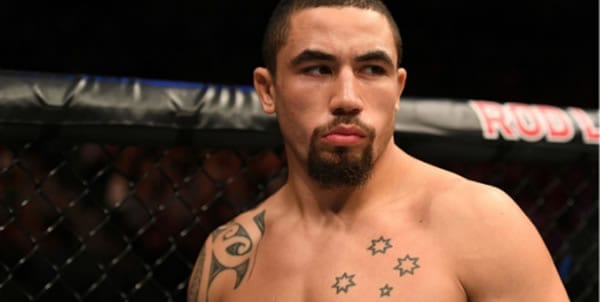 UFC 243 Picks
When: Saturday, October 5, 2019 at 10PM EDT
Where: Marvel Stadium, Melbourne, Australia
TV: PPV
UFC 243 looks to settle who is the top dog at 185 pounds, with champion Robert Whittaker taking on interim belt holder Israel Adesanya in the main event. This match is a gigantic fight in this part of the world, with both fighters based in the region. They are the best the fight-crazy Australia/New Zealand region has to offer. And as the fight-odds will attest, the identity of the winner is quite up in the air. Who can come out ahead in this one?
Fight Analysis:
Robert Whittaker, 20-4 (9 KOs, 5 Submissions), (-125) vs. Israel Adesanya, 17-0 (13 KOs), (+105)
Robert Whittaker defends his UFC Middleweight Title against interim champion Israel Adesanya in Melbourne in the UFC 243 main event on October 5. Whittaker is the real champion, but some health ailments have kept him out of action, hence Adesanya since stepping up to win the interim belt and establishing himself as a top 185-pounder. With all the health issues, Whittaker will be seeing his first octagon action since June of 2018. Can Whittaker remind people who the best at 185 is? Or has time passed him by and it's now Adesanya's time?
It's an interesting fight, between two of the best 185-pounders in the world, both of whom are based in the same part of the world. Whittaker is an Australian, but was born in and represents New Zealand. Adesanya is Nigerian-born but based in New Zealand. So this fight might mean a lot for the UFC and the middleweight division, but this is a blockbuster event down under, where the fans will pack the stadium for this historic event.
One can't blow off the chances of Adesanya, a man they call "The Last Stylebender." He is a well-put-together fighter at 185 pounds, standing a tall six-four and boasting of an immense 80-inch reach. Against Whittaker, a former welterweight and not what you would call a big 185-pounder, that size and what comes with it could pay off for the challenger. He can perhaps control range and get off strikes while Whittaker is trying to gain a better position. Adesanya's fighting-background is deep. At 30, two years older than the champion, he has won all six of his UFC fights to punctuate an MMA career that began professionally over seven years ago. He also has a 6-fight pro boxing career and had a successful 81-fight kickboxing career with only five defeats.
Bet on the winner, the distance or even the TKO Y/N -
MyBookie
!
In winning the UFC interim middleweight belt against Kelvin Gastelum in his last fight in April, Adesanya showed a lot, more than just the talent we all knew he had. Rocked and dropped early, he was able to brave that and other very rocky passages to tough it out and forge a win. That's the perfect entrance test into the deep waters of world-class MMA leading up to this task. We now know that on top of his considerable skills is an underlying toughness and an ability to overcome adversity. We saw that he has the skills, toughness, stamina, and wherewithal to thrive at a very high level. And after getting teed off on, he showed he has a chin, which he will need in this fight. He can be hit, taken down, and still come out on the sunny side of things.
Whittaker is still only 28. As an established champion and a fighter who has been through the wringer, it would almost seem like he's older than the challenger, but that's not the case. Some might wonder if the inactivity, the health issues, and all the wars he has been in will start to resonate. Those two wars over Yoel Romero that he is coming off of were taxing battles where he was barely able to win. Some feel he didn't win the second Romero fight. On the one hand, he is more-proven against the best this division has to offer. He has been fighting in the UFC for seven years, as opposed to just a half-dozen fights in the organization for Adesanya. After a successful but uneven run at 170 pounds, he moved up and has won all eight of his fights since coming to middleweight and nine straight overall.
Whittaker still brings a lot to the table. First, in forging his way to the top after moving up in weight and winning close wars against good fighters, the guy is a pure winner. His heart is as big as all outdoors, and he has the mind for this. He knows how to summon up the reserves from nowhere to manufacture victories in the cage. He is smart and absolutely brutal. Some might mention the issues that have kept him out of the octagon. Some could also bring up a renewed hunger, an eagerness to right the ship after the disappointments of late—the wasted camps, the super-late cancellations, and the restlessness that comes from being on the sidelines. This might not be the ideal spot to anticipate a diminished Whittaker.
Whittaker is a savage. His tolerance for pain is incredible, as he almost went through his last fight with health issues that would force most people into the hospital bedridden. He is incredibly strong and one of the best boxers in the division—very good with his hands. When he senses he has a guy hurt, he really closes in for the kill in stunning fashion. He is a more-savvy fighter than the challenger, and I think what he has been through has only made him steelier, a full-package as a fighter. Whittaker is very adept at covering range, which will be an issue against the very long Stylebender. But Whittaker is very good at closing the distance and Adesanya is perhaps not that great at establishing distance and keeping it.
On one hand, I can see Adesanya being a little too crisp and technical for Whittaker. He can perhaps stay away and dissuade Whittaker with well-placed strikes. Whittaker is a little awkward and probably not the overall athlete that Adesanya is, nor is he as slick. But over the course of a 25-minute fight, being the better fighter is worth something. And when it comes to fighting, we're talking about something Whittaker excels at—the simple ability of knowing how to win fights. I see him getting in there, hitting Adesanya with something big, and getting the "W."
My Pick to Win: I'm betting on Robert Whittaker at -125 odds. Adesanya might have the momentum now, but in going life-and-death with Gastellum, he showed some weaknesses that Whittaker will be better able to exploit. Pining to get back there and look good, I see a really good version of Whittaker surfacing for this fight.
More UFC 243 Fight Odds
Find the following odds at Bovada, where your credit card WILL work for deposits and where you'll receive a generous 50% sign up bonus up to $250 FREE. The also offer instant rebates on your bets, win or lose! Sign up today to start reaping the benefits!
Khalid Taha -245
Bruno Silva +185
Nadia Kassem +140
Ji Yeon Kim -170
Megan Anderson -550
Zarah Fairn Dos Santos +375
Brad Riddell -175
Jamie Mullarkey +145
Maki Patolo -340
Callan Potter +260
Jake Matthews -400
Rostem Akman +300
Yorgan De Castro +100
Justin Tafa -130
Dhiego Lima -145
Luke Jumeau +115
Tai Tuivasa -350
Sergey Spivak +265
Dan Hooker -150
Al Iaquinta +120