UFC 244: Masvidal vs. Diaz Picks – Fight Analysis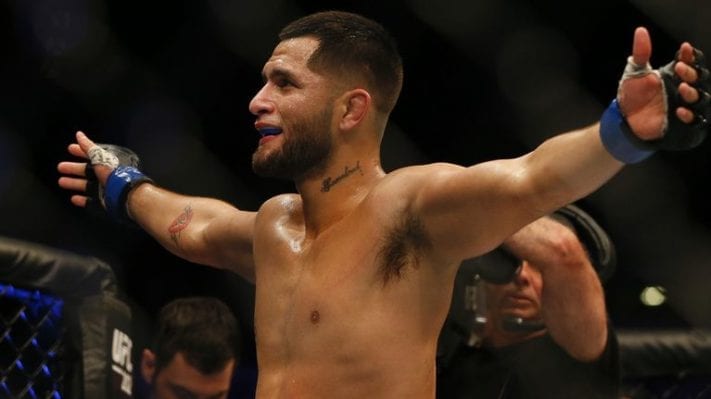 UFC 244: Masvidal vs. Diaz Picks
When: Saturday, November 2, 2019 at 10PM EDT
Where: Madison Square Garden, New York City, New York
TV: PPV
UFC 244 features a bout that might not be for a title but is still perhaps the most-eagerly awaited fight of the year by fans. Masvidal and Diaz are two guys who fans really get behind. Masvidal has developed some momentum, and after beating guys like Darren Till and Ben Askren has a lot of people talking about him. Diaz just returned from a three-year layoff, and much to everyone's surprise looked as good as he ever has in beating Anthony Pettis in August. After the fight in his interview, he called out Masvidal, who was receptive and here we are.
Fight Analysis:
Jorge Masvidal, 34-13 (15 KOs, 2 Submissions), (-175) vs. Nate Diaz, 20-11 (4 KOs, 11 Submissions), (+155)
Jorge Masvidal takes on Nate Diaz in a very important 170-pound bout in the main event of UFC 244. This fight has the looks of a potential war between two prideful and accomplished battlers, both of whom have seen their share of ups and downs. Right now, Masvidal is riding a crescendo after a series of high-profile and brutal wins suddenly transformed a career that was a bit stuck. Diaz, meanwhile, shined in his octagon return in August. This should be a good one, a five-round welterweight bout that will be memorable.
Masvidal was also coming off a layoff after suffering consecutive losses to Demian Maia and Stephen Thompson. That seems like years ago, particularly after how good he looked coming off a 16-month layoff and wiping Darren Till off the planet in March. He somehow managed to top that in his next fight, ending Ben Askren in five seconds when a flying knee to open the fight knocked Askren completely senseless. It's an image that will live on as one of the most-indelible in the history of the sport. With his bold talk, backstage brawling, and sudden explosion in form and results, a lot of people are talking about a fighter some had previously forgotten.
Masvidal wasn't always riding high. Though a respected fighter and even one who scored some good wins, Masvidal had absorbed a lot of losses. Most of them were in close fights where he just didn't do enough. He'd get on a roll and then lose a close one, never quite getting over the hump. That's in stark contrast to the fighter we see now, ending fights as conclusively as they can possibly be ended. But he's still a guy where only half of his wins are finishes. He has been around a long time, as some may remember on those old Kimbo backyard productions way back in the early YouTube days. This late-career renaissance has been truly stunning.
Diaz has a lot of the same traits as Masvidal. He has that street swagger. They're both 34 years old. They've both had layoffs, and it's hard to remember a main event where both fighters have double-digit defeats. Diaz has been through some problems with the organization, as the Diaz brothers have a long-standing bad vibe with Dana White. It was bizarre that right after Diaz reached a zenith in his career, he disappeared. He scored a huge upset over Conor McGregor in a huge win. He lost the rematch ever so narrowly but had arrived as a headliner and a huge ticket-seller. It was a weird time to take a prolonged layoff of three years, and some wondered if his window had passed, making his triumph over Pettis so satisfying.
What has captured people's attention and made Masvidal a big attraction is how brutal his recent demolitions have been. Both Darren Till and Ben Askren, two highly-regarded welterweights, were left for dead in the cage—completely and utterly unconscious. Against Diaz, he's fighting a guy who hasn't had that happen but once in his career. With all those dangerous strikers he has faced, only one time was he stopped on strikes, and that was in 2013. But Masvidal has only been stopped once on strikes himself, and that was eleven years ago. Both guys are usually very durable. In that case, will Masvidal's other skills be enough to turn things in his favor? Or will we see a guy who is competitive, without doing anything to put his imprint on the fight enough to win?
But let's face it, Diaz hasn't always delivered. A 20-11 mark is a bit unusual for a fighter of his stature. It speaks to the strength of his competition, but also to a certain lack of consistency. Three wins in his last four fights, however, with two of those wins being upset victories, show his upside. Against Conor and Pettis, he was an underdog and won with room to spare. These are all things one needs to consider when considering a fight that has certain earmarks that suggest it might go the distance.
Bet on the winner, TKO Yes or No, and fight distance at
MyBookie
Again, the similarities are striking. Both men have been the five-round distance just once. Both lost disputed decisions in those five-rounders, Diaz to McGregor and Masvidal to Benson Henderson. So the stamina of both men in a setting such as this is a bit unknown, But, we do know that both are always in good shape. We've seen each gas at times in fights and let up, but that's not bankable in this matchup. I would expect an evenly-matched and well-contested bout in the UFC 244 main event.
As far as the odds are concerned, they seem a little congratulatory to Masvidal and a bit wide, especially against a fighter with as much fan-support as Diaz. I can see the thinking. Masvidal has been at a higher level and thrived more recently. His wins are more vivid. But I don't see that happening to Diaz—not that it couldn't. After all, Masvidal went away for a little while, fell out of sight, and then resurfaced as the Terminator. So that's not out of the cards. But I see this as a toss-up kind of fight, and it makes me want to take the number. I'm picking Diaz.
My Pick to Win: I'm betting on Nate Diaz to win at +155 betting odds. Diaz is not a guy prone to getting blown out in fights. He might have more routes to victory and also wields a submission game that Masvidal lacks. This fight is huge for both men, and I see a pumped-up Diaz having just enough to pull out a close one.