UFC 249 Picks – Fight Analysis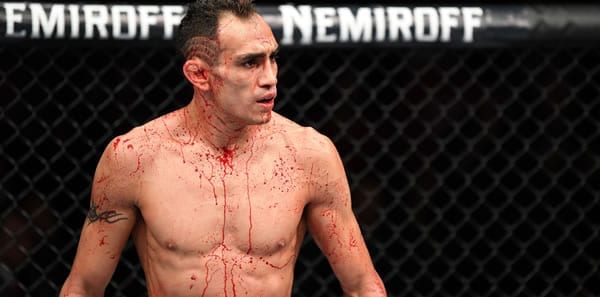 UFC 249: Ferguson vs. Gaethje Picks
When: Saturday, May 9th, 2020
Where: Vystar Veterans Memorial Arena, Jacksonville, Florida
TV: PPV
It might not be the fight we were looking for, but in today's time, we'll take what we can get. Tony Ferguson vs. Justin Gaethje is a tremendous matchup. Granted, the stakes aren't as high as they would have been in a Khabib-Ferguson fight, but it might actually be a better fight. Gaethje is a take-no-prisoners banger and should give Ferguson an interesting night's work. In 23 fights, only twice has Gaethje seen the final bell. It should be entertaining while it lasts.
Tony Ferguson, 25-3 (12 KOs, 8 Submissions), (-200) vs. Justin Gaethje, 21-2 (18 KOs, 1 Submission), (+160)
Ferguson vs. Gaethje Fight Analysis
Tony Ferguson battles Justin Gaethje for the interim UFC Lightweight Title on May 9. It promises to be a great fight, albeit amidst ultra-bizarre circumstances. For the fifth time, a Khabib-Ferguson fight has been nixed. What are the odds that the same signed-and-delivered matchup doesn't come to fruition five straight times? But this time, it wasn't someone tripping over a TV cord, as the pandemic has affected the entire world, and travel issues have grounded Khabib. Can Gaethje come in and score the upset?
BET YOUR UFC 249 PICKS USING YOUR CREDIT CARD AND GET A 50% SIGN UP BONUS AT OF THE WEB'S OLDEST AND BEST BETTING SITES: BOVADA SPORTSBOOK!
With Ferguson, you have a fighter who hasn't lost in eight years and is perhaps the most overdue of any UFC fighter in history in terms of getting a title shot. He was all set to get one and now instead has to do what he's been doing for the better part of a decade—take on another dangerous contender. In terms of what he has done in his career, Ferguson certainly deserves to be the favorite. But how long can he continue to repel challenge after challenge? Will he be crestfallen a bit mentally for not being able to get Khabib in the octagon yet again?
In addition, there's a general weirdness to this whole thing. When in strange conditions, strange things happen. We're a little over a week before fight-night, and a venue hasn't even booked. We don't have normal access to these fighters with all this going on, adding another layer of mystery to the fight. With every sport from A to Z shut down, there is a certain indefinable feel to all this. There won't be an audience, and it's definitely a different look and feel to this.
Gaethje is 31, five years younger than Ferguson. He won the World Series of Fighting lightweight title and defended it five times before a KO over Michael Johnson in his UFC debut brought him to 18-0. Stoppage losses to championship-level fighters like Eddie Alvarez and Dustin Poirier underlined how exciting he was, though his reckless style seemed to cost him in those fights. But with three stoppage wins in a row over dangerous contenders James Vick, Edson Barboza, and Donald Cerrone, Gaethje is rolling again and back on the right track. He matches up well with the favored Ferguson, as both men are 5'11," though the longer Ferguson has a 6-inch reach advantage.
Gaethje goes in there and tries to do damage. When looking for a guy to pull off a little upset, you want a fighter who is geared to really go for the gusto. The flip side to that coin is a disregard for personal safety that Gaethje has. And with what Ferguson is capable of doing from a punishment standpoint, it's a downright scary proposition for Gaethje. But as the number-four lightweight in the world, he's not just some mindless slugger who is going to be fed to a woodchipper in Ferguson. He has skills. He has power. And he is super tough. With these two, you're looking at the most violent fighters at 155 pounds.
Gaethje is mentally strong and a freakish athlete. He'd debate the notion that he's reckless, as he likes to see it as controlled mayhem. He was an All-American wrestler, though you might not know it by looking at his fights. He kicks like a horse, and we've seen how nice he has become with his hands over the years. There is no resignation in him, and he's going to give 100%.
The thing is that there is this idea that Ferguson will beat everyone, and the only one who can maybe derail him is Khabib. At root, Gaethje is just like the guys Ferguson has been beating in terms of stature—another rank-and-file contender, just the type of foe Ferguson has built his reputation on. But if you were looking for such a fighter to beat Ferguson during a pandemic, is there a better candidate than Gaethje?
When fighters are finished taking on Ferguson, they often look like the victims of major auto accidents. There is a consistency to the punishment he dishes out, and it's as inevitable as the tide. And these were against fighters who had a style more built on not taking punishment, whether it be fighters who can take the fight to the ground or who are just a little nimbler overall. How is it going to look after Ferguson goes to work on Gaethje, who is one of the easier fighters to hit in the division?
Standing up, Ferguson's output will be a lot to handle. If it goes to the ground, it will nice that Gaethje has a wealth of wrestling to help cope, but it is Ferguson who is by far the more-lethal fighter on the ground with the number of different chokes and finishing moves he can sink in. There is a weirdness to this fight, and it sort of lends itself well to the idea that anything can happen. That's always the case under normal circumstances. But, with all that is going on and all the strange conditions, it seems only to enhance that. At the same time, with all the advantages Ferguson has from an actual fighting angle, I'd want a little more than +160 to take a roll of the dice on Gaethje. I'm taking Ferguson.
My Pick to Win:
I'm betting on Tony Ferguson at -200 betting odds. For a fighter prone to taking punishment like Gaethje, the last guy you want to be facing is Ferguson. The closeness of odds might reflect a possible comedown factor for Ferguson, who again isn't getting the fight he wanted. I don't think it will be enough to bridge the gap for Gaethje. Bet UFC 249 for FREE by taking advantage of a 100% REAL CASH BONUS at one of the web's best UFC betting sites: MyBookie! You must use this special link to sign up AND use bonus/promo code PREDICT100 to get the bonus cash deposited!