UFC 252 Picks: Miocic vs. Cormier 3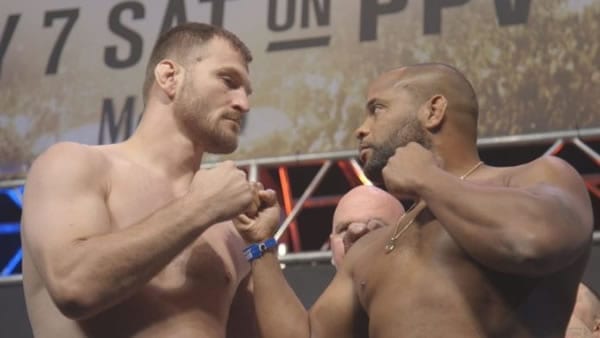 UFC 252: Miocic vs. Cormier 3 Picks
When: Saturday, August 15, 2020
Where: UFC Apex, Las Vegas, Nevada
TV: PPV
The UFC 252 main event is as high-stakes as it can get, the third fight for the UFC Heavyweight Title between two Hall of Fame fighters who have won one fight apiece. The rubber match is for all the marbles with the title on the line, but also a legacy. In the first fight, Cormier shocked with a big first-round KO to win a title in his second weight class. But in August of last year in the rematch, Miocic overcame a tough start to the fight to finish Cormier with strikes in the 4th round to become a two-time UFC Heavyweight Champion. Now, in what might be Cormier's final fight, he looks to make amends and reclaim his title belt. Let's get into it! Bet your UFC 252 picks FREE by taking advantage of a 50% real cash bonus on your first deposit of $100 to $500 at Bovada Sportsbook!
Fight Analysis:
Stipe Miocic, 19-3 (15 KOs), (-115) vs. Daniel Cormier, 22-2 (10 KOs, 5 Submissions), (-115)
UFC Heavyweight Champion Stipe Miocic defends his belt against the man he lost it to and regained it from in former two-division champ Daniel Cormier. This is the rubber match in the signature series in the history of this weight class, perhaps the most meaningful fight ever in this division. Each man has one win, with Cormier losing the rematch a year ago and now looking for redemption. There is a lot to love with both fighters, making this an exceptionally tough pick.
For all of Cormier's greatness, you have to admire Miocic's ability to adjust and persevere. Just imagine, a guy who knocked you out before in the first round is getting the better of you for three rounds, and the writing is basically on the wall. To have the inner-resource to flip that script and make the right adjustment is really awe-inspiring. Miocic started firing to the body, his left hook banging on Cormier's liver time and again. Before long, Cormier became unraveled, with Stipe mopping up for the turnaround win and a signature moment in his career, as well as in UFC heavyweight history.
The thing about Cormier is that some things aren't shaking out well for him in a third fight. He has been talking retirement for some time now, with his burgeoning broadcasting career offering him a viable exit-plan. He didn't really get the big fights he wanted after his first win over Miocic, instead of having to fight Miocic a second time and he came up short. He took a lot of punishment. On the one hand, he has shown he can beat Miocic and has a claim as one of the best MMA fighters of all time. You can't sell him short. The loss to Miocic was his first loss at heavyweight, to a man he has also beaten. So there's not much you can say. But at 41, things aren't as automatic as they once were.
The razor-close odds in this match attest to the difficulty in picking a winner. Whatever piece of insight you generate on one fighter can be countered with an equally-plausible analysis. Backers of Miocic can site Cormier's age, as it's hard to remember a fighter in his forties reversing a loss. They can also cite the success Miocic found in going to the body, a tactic that completely altered the course of their rematch. He figures to go to it again, only earlier this time.
Then again, a Cormier backer has an awful lot upon which to base his pick. Cormier has dominated most of their time in the octagon together through two fights. He got the blistering KO in the first round in fight one and was seemingly on his way to another victory in August of last year when it all came crashing down. You don't get to be an all-time great two-division champion by not making adjustments. I don't think it's unreasonable to expect a more focused, less flippant, and better-prepared version of Cormier in this fight. All signs point to a focused and committed athlete with his legacy on the line trying to exact revenge, instead of what we saw last time—a slightly more-apathetic and perhaps a slightly less prepared athlete, both mentally and physically.
More UFC 252 Picks: dos Santos vs. Rozenenstruik | Munhoz vs. Edgar
Cormier has a ton going for him as a fighter and even in this matchup. You're not going to find a better wrestler. He has shown he can lift Miocic up and dump him for dramatic takedowns. With a KO in their first meeting and how well he was doing in the rematch, you can't say he doesn't match up well with the champion on their feet. He has more than held his own. That phase of the game came apart late in the rematch for Cormier, but overall, he has gotten the better of Miocic in that regard. All the ingredients are there for a win in this rubber match.
ATTENTION SMALL BETTORS! DEPOSIT $25 AND GET AN EXTRA $50 ADDED TO YOUR ACCOUNT WHEN YOU REGISTER FOR AN ACCOUNT AT INTERTOPS SPORTSBOOK!
But the things that Miocic used to thwart Cormier a year ago are not easy things to overcome. The mental fortitude, durability, and inner resource of Miocic is still there and won't go away in this fight. And these guys stand up a lot. Cormier uses his wrestling to great effect, and Miocic is not lost in that area of fighting, so there will be spells of action spent on the ground. But the majority of their fights have seen both men on their feet. And either suddenly, being able to stop body-shots or developing an immunity to them isn't a scenario that is easy to envision. In other words, the good things that Cormier did in the rematch weren't enough to stop Miocic, but what the champion did well was good enough to stop Cormier.
Again, this is really tough. On their feet, Miocic is really sharp. He has some length and can rip combos on Cormier. With his newfound success to the body, that's just something else Cormier has to worry about now. But Cormier, with the added weight, carries a ton of mustard on his strikes. He works well to the legs with kicks and has become a talented and diverse striker, to go along with his above-reproach wrestling expertise.
Often in a close fight like this, you go with the fighter who has a wider margin for error. But again, making that call isn't easy in this pick-'em fight. Both fighters have shown both a resilience and vulnerability to what the other guy does well. When the rubber hits the road, I just think Miocic is the more energetic and better-conditioned man. Being four years younger and less-distracted with other endeavors hasn't quite hit the point where he sees diminishing returns. Anyone making a pick in this fight with an over-abundance of confidence is pulling your leg, but I'm going with Miocic in this one.
My Pick to Win: I'm betting on Stipe Miocic at -115 betting odds. After having a lot of trouble with Cormier, the momentum has finally started to turn in his favor. I think the likelihood that it continues in this fight slightly outweighs the reverse scenario. Bet Miocic for free by depositing anywhere from $100 to $300 and MyBookie Sportsbook will match your deposit dollar for dollar!