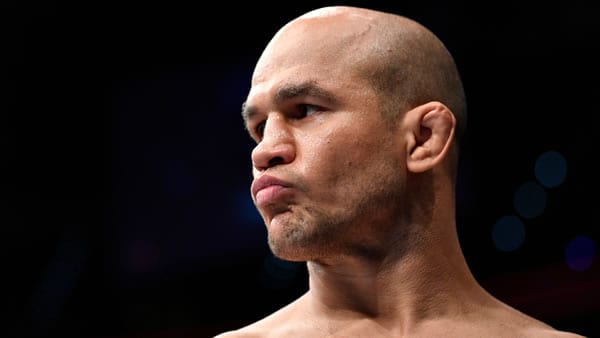 UFC 252 Main Card Picks
When: Saturday, August 15, 2020
Where: UFC Apex, Las Vegas, Nevada
TV: PPV
The UFC 252 main card is shaping up to be a potentially-memorable one. With heavyweights duking it out in the main event for UFC gold, two contenders look to make a statement, with former champ Junior dos Santos battling gutty slugger Jairzinho Rozenstruik. Also on the main card, former UFC Lightweight Champion Frankie Edgar makes his bantamweight debut against Pedro Munhoz. Will these former champs get back on the winning track or will youth prevail?
Fight Analysis:
Junior dos Santos, 21-7 (15 KOs, 1 Submission), (-105) vs. Jairzinho Rozenstruik, 10-1 (9 KOs), (-125)
Former UFC Heavyweight Champion Junior dos Santos looks to get back on the winning track in UFC 252 against once-beaten striker Jairzinho Rozenstruik. In a division where the list of contenders is growing, neither can afford a setback. Rozenstruik was gaining attention with some high-profile wins until the wheels came off in a 20-second KO loss in May to Francis Ngannou. He gets no favors here with the quick turnaround with another heavy-handed fighter in dos Santos.
With dos Santos, we have a former heavyweight champion who since last stepping in the octagon as champ, is just 6-6. He has dropped two in a row by KO, losing in his last fight in January by 2nd-round KO to Curtis Blaydes, after being stopped in the first round of his previous fight to the same man who ended Rosenstruik's unbeaten run—the feared Ngannou. Granted, there isn't anything that unusual about being a champion, losing the belt, and then not being as good as you once were. Dos Santos has been fighting the best in the division, winning some and losing some, but never losing the fact that he is still one of the best heavyweights with his hands. And in what seems like a matchup that will be on its feet, he doesn't have a horrible style matchup with Rozenstruik.
Barely three months since getting lambasted by Ngannou, has Rozenstruik, 32, been given enough time to recuperate? To come out for the biggest fight in your life and get knocked out that ugly quickly is a bitter pill to swallow mentally and physically. Then again, that's one bad result in MMA—to a guy who does that to a lot of people. He had a long kickboxing career, but perhaps hasn't been exposed to the extent that dos Santos has in being knocked out five times—all in his last 11 fights.
It's a difficult pick. On one hand, dos Santos has scaled heights that will likely be unavailable for Rozenstruik. He has an indefinable element of class as a fighter. Rozenstruik has shown himself to be a resilient fighter, last fight notwithstanding. But against Overeem, he was on the receiving end for most of the fight and has yet to show he can really dominate a good heavyweight. In a fight with almost too many factors to track, I give the edge to dos Santos.
My Pick to Win: I'm betting on Junior dos Santos at -105 betting odds. While not what he quite was, dos Santos simply remains a more-dangerous MMA fighter than Rosenstruik. Whether he still has the chin and drive to compete at this level may be questioned, but this matchup against the smaller Rozenstruik could be more up his alley. Bet dos Santos for free by depositing $25 at Intertops Sportsbook and they will credit you with an extra $50 when you use promo code ROOKIE200.
More Picks: Miocic vs. Cormier 3 Predictions
Pedro Munhoz, 18-4 (4 KOs, 9 Submissions), (-230) vs. Frankie Edgar, 23-8-1 (7 KOs, 4 Submissions), (+180)
In bantamweight action, Pedro Munhoz takes on former UFC Lightweight Champion Frankie Edgar on the UFC 252 main card. This bout was scheduled for July, but a positive coronavirus test for Munhoz forced that to be postponed. Munhoz made waves in 2019, starching former champion Cody Garbrandt, but was unable to follow it up when he lost this past June to top contender Aljamain Sterling. That win could have earned him a title shot. He now looks for another nice win against Edgar, who has dropped two straight.
The weight is a key concern here. The thought of a former lightweight champion fighting at bantamweight is interesting on the surface until you look at what got him here, which is basically losing. For one reason or another, this rarely works out well. Fighters start taking losses and then out of desperation, drop down a weight class. This is now the second time that Edgar has done that. And it comes at an age where dropping extra weight is the last thing the body wants to do. So you take all the problems a fighter has been having that prompted the weight cut and now add more weight-making difficulty into the mix, and it's no wonder why this move is met with such little success.
It has been a decade since he beat BJ Penn for the 155-pound belt. He had a nice run but has lost four subsequent title tries—one at lightweight and then three at featherweight. Still, the picture isn't so dire. He has performed well, even in some of his losses. And youngsters trying to claim his scalp have found out the hard way that this bulldog still has some bite. He is one of the better-liked fighters in the organization for a reason, as he always brings it and tries his best. But let's face it—he's at least a little over the hill, and this weight-drop fails to inspire confidence.
Munhoz has been in the UFC for six years and has mostly been a winning fighter. He had his ups and downs, but a first-round KO over Garbrandt in 2019 was his 7th win in 8 fights, and he was close to something big until Sterling decisioned him in June. To see him spark Garbrandt was a bit surprising, as it was only his third KO win since joining the organization. But he has been showing himself to a more-adept striker in recent outings, though he has nearly double the number of submissions. Throughout his UFC tenure, he has been adept at sinking in chokes.
Munhoz is no world-beater perhaps, but he is a solid contender at 135 pounds. And while some have exaggerated Edgar's decline, I'm not sure this is in his range anymore at this point. If we did see Edgar find a new gear at bantamweight poundage, it would be an aberration. The chances might be greater that we see a worse Edgar rather than a better one. I like Munhoz in this one.
My Pick to Win: I'm betting on Pedro Munhoz at -230 betting odds. The combination of the late-career weight drop for Edgar, combined with his general decline, and how good Munhoz is, makes an endorsement on Edgar very difficult to make. At -230, that isn't bad betting value on Munhoz against this big-name opponent. Bet your UFC 252 picks for FREE by taking advantage of a 100% real cash bonus on your first deposit of $100 to $300 at MyBookie! Must use bonus code PREDICT100 on the registration page to get the bonus credited!