UFC 294: Costa vs. Chimaev Prediction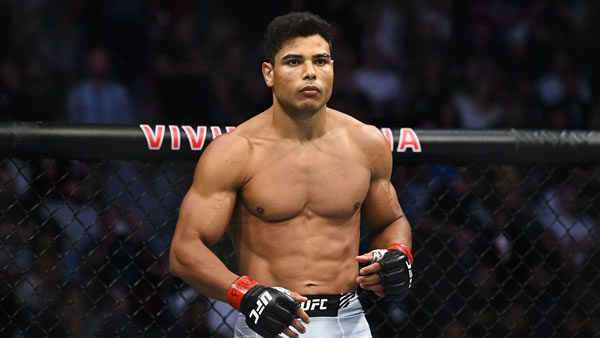 Costa vs. Chimaev Betting Prediction
When:
Saturday, October 21, 2023
Where:
Etihad Arena, Abu Dhabi, United Arab Emirates
TV:
PPV
Fight Analysis:
The UFC 294 co-main event is a bout that could stand on its own, a middleweight battle between contenders Paulo Costa and Khamzat Chimaev. The Swedish-based Chechen Chimaev has captivated UFC audiences with his rise up the rankings, stopping nearly everyone in his path and using a variety of tactics to do it. But in Costa, he's taking on a big middleweight with nice takedown defense who knows how to perform in front of the bright lights. Who can come out of this intact with a definite shot at the belt looming in the future for the winner?
Matchup Details
Paulo Costa, 14-2 (11 KOs, 1 Submissions), (+280) vs. Khamzat Chimaev, 12-0 (6 KOs, 5 Submissions), (-375)
Middleweights Paulo Costa and Khamzat Chimaev will battle it out in a middleweight showdown in UFC 294 in Abu Dhabi. Neither man enters this with a ton of steam, with both guys inactive for over a year heading into this bout. They were nonetheless victorious, with Costa beating former champion Luke Rockhold and Chimaev choking out Kevin Holland in the first round. There are a lot of moving pieces and factors in this tricky battle. Let's see if we can figure out who has the best chance to win.
Size and Challenges
Khamzat is in a difficult spot against a good fighter in Costa. While it's overdue for Chimaev to move up to 185 pounds, you have to wonder when a fighter moving up is taking on a giant representative of the new weight class. The absurdity of Chimaev fighting at welterweight is almost surpassed by Costa somehow getting to 185 pounds. At 6'2" and with a good reach, Chimaev has the dimensions for it, but in this particular showdown, he's the less-robust man by a fairly-large margin.
BOVADA SPORTSBOOK – OFFERS YOU THE ABILITY TO BET THE FIGHT IN PROGRESS!
Chimaev's Challenges
Chimaev is a fighter where a conventional appraisal falls short, as he has a lot on his plate. He apparently had a terrible dose of Covid that had him on the shelf for a year with residual effects. He looked fine against Li Jingliang in late 2021, before decisioning Gilbert Burns in 2022 in a fight where he was less-dominant than normal, albeit against a high-level opponent. A scheduled fight against Nate Diaz was scratched when Chimaev weighed 7.5 pounds over the limit in an unsightly episode. Along with the inactivity and the obscene weight-making miss, he lost some support and momentum. You wonder if there are some lingering effects from his illness, if the inactivity has cost him some inertia, and if he's ready for this jump in weight against this particular foe.
Costa's Dominance
Again, middleweight is where Chimaev belongs, but we forget that his UFC career is only a half-dozen fights old, with Burns being the only real true standout of the lot, and even he's one who hasn't been in great winning form lately. At 170, his wrestling and physicality allowed him to be a bully, where he just went out there and mauled opponents. And not that we won't see that as he moves up in weight, but Costa is a hulking middleweight and not someone you can envision Chimaev picking up and slamming on the mat. That's not going to happen. And what worked great against mid-pack welterweights might not come off as well against a giant middleweight who excels in takedown defense and won't be bullied, along with also being a dangerous striker who can instantly turn out an opponent's lights.
New Dimensions
Khamzat is being thrown into a new dimension along a few different lines. He is moving up in weight, but in this particular matchup, the jump seems enhanced with how big Costa is and how amazing it is that he can pare that frame down to 185 pounds. But considering Khamzat's skimpy resumé thus far in the UFC, he's also taking on a fighter where the margin for error is so much smaller than what he's used to seeing with who he has fought.
Betting Odds
This betting line could be a bit poisoned. Khamzat has reached a level of pre-title stardom afforded very few fighters. He's a controversial guy with a lot of charisma and a large following. He has that mesmerizing undefeated tag, and all but one of his fights ending in a finish helps further implant the fearsome image in people's minds. Then you juxtapose it to the image of Costa—a formerly unbeaten fighter who came up well short to Israel Adesanya, also falling to Marvin Vettori by decision, two results that sent his reputation off a cliff.
It's as if people have this image of Costa as a guy who looked like a terror on his way up, only to look like a fraction of that guy when put in these high-stakes contests against top-end fighters. And it's not a totally flawed view, with his last KO coming in mid-2018 and a 2-2 record in the ensuing nearly six years. But maybe that inactivity and lack of recent memories of Costa destroying people have served to allow people to sleep on him a bit.
Prediction
It's hard to deny that Chimaev is a real handful. His physicality and energy are off-the-charts, and his initial surge is often enough to discourage the efforts of his foes. But this is a giant number on Chimaev with a lot of little X-factors at play. If Costa can withstand the first five minutes, I can envision a fight that eventually becomes a stand-up battle where it's going to be hard to justify that price on Khamzat. Not that him winning would register any kind of shock, but from a value standpoint, it's hard to deny the appeal of Costa. I'm going with Paulo Costa in this one.
My Pick to Win:
I'm betting on Paulo Costa at +280 betting odds. While Chimaev is the rightful favorite, the extent of his perceived superiority in this spot seems to be at least moderately overstated. I expect a competitive fight where Costa has a decent cent chance and with a +280 dog, that qualifies as enough to take a shot.
Bet your UFC 294 predictions for FREE by scoring a 100% real cash bonus on your first deposit of $100 to $300 when you use bonus promo code PREDICTEM at BetUS Sportsbook!