UFC 294: Makhachev vs. Oliveira 2 Betting Predictions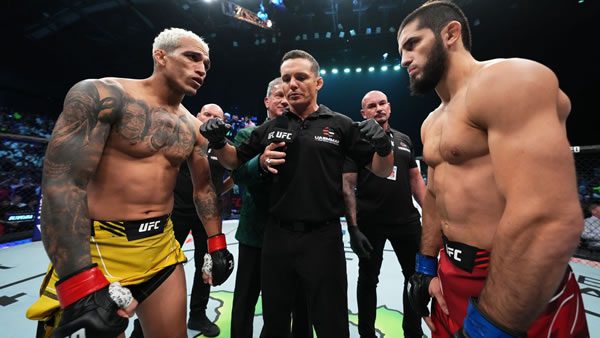 UFC 294: Makhachev vs. Oliveira 2 Picks
When: Saturday, October 21, 2023
Where: Etihad Arena, Abu Dhabi, United Arab Emirates
TV: PPV
UFC 294 is a massive PPV event coming out of Abu Dhabi, headlined by a superior main event. Islam Makhachev defends his UFC Lightweight Title against former champion Charles Oliveira. Their UFC 280 bout ended with a second-round submission win for Makhachev, who defended his title with a decision win over fellow champion Alexander Volkanovski in February. Oliveira, meanwhile, stayed busy with a first-round KO of Beneil Dariush in June.
Islam Makhachev, 24-1 (4 KOs, 11 Submissions), (-345) vs. Charles Oliveira, 34-9 (10 KOs, 21 Submissions), (+270)—Odds by Bovada – Home of UFC and boxing live betting while the fight is in progress!
UFC 294 features the main event UFC Lightweight Championship rematch between current champion Islam Makhachev and ex-titleholder Charles Oliveira. It's a bit strange that Oliveira is only two years older at 33, seemingly having been around forever and holding the UFC record for 20 finishes. But Makhachev is no newcomer, with almost a decade under his belt with the organization. Getting it back once you've lost it is not common in MMA, hence Makhachev being a strong favorite in this championship fight.
Fight Analysis
Oliveira is up against it in a number of ways. Getting back to the top isn't easy in this sport, where the regeneration factor is so steep and hardly anyone is on top for long. He also has to do it against a man who submitted him previously, so he has to buck that, too. For all of Oliveira's submissions, and 21 is a ton to have, three of his last four defeats have been by the submission route. This is an area in which Makhachev excels, having spent the last several years choking people out on his way to the top of the 155-pound division.
There is also a size component at play. Both are technically lightweights, but it's really Oliveira who is the true 155-pounder. Makhachev is basically a 185-pound guy who manages a couple times a year to see "155" read out on the scale. Not to attribute his success to that, but it really accentuates his mauling style when he's seemingly so much huskier than most of his opponents, particularly Oliveira, a former longtime featherweight. You can't really question Oliveira as a lightweight since he was the champ, but Makhachev's size is a definite factor when he's taking on lightweights who used to fight in lower-weight classes. Seldom is a size-advantage so palpable in a lower-weight title fight like this.
Even if you think Oliveira is on the downside of his career or that Makhachev is too much for him and has his number, there's nothing wrong with Oliveira in an underdog spot like this. If you're going to take a chance on a guy to reverse fortunes and score an upset, why not the fighter with the most stoppages in UFC history? His underdog appeal with his finishing ability and a ledger of wins where he just blasted out Dariush, along with finishes over 155-pound luminaries like Michael Chandler, Dustin Poirier, and Justin Gaethje, is without dispute. For all the high-profile 155-pound bouts Oliveira has been in, betting against him only worked once. Sure, it was to the man he's facing now, but he's been otherwise great in these kinds of situations.
With that said, Oliveira faces a daunting proposition. There wasn't much to the first fight to suggest he's going to better this time around. You'd have almost rather have seen him get knocked out or mounted and grounded to a TKO. But when the Jiu-Jitsu master gets submitted, the prospects of him coming back and providing a different result seem to diminish.
Normally in a rematch, a fighter can site things that Oliveira can't about things that have a good chance of going better. The fight was in the realm he prefers. He wasn't blasted out by a superior striker or out-wrestled, but he lost at his own game. So, when the question of "what will be different" is asked, what is there for Oliveira to say? When reviewing title fight history, it's hard to recall a champion losing at his own game and being stopped like that and then coming back to reverse the result. Therefore, losing to a younger and bigger submission-artist is a result that just looms over Oliveira in a way that doesn't elicit much optimism on a pro-Oliveira stance in this rematch.
Oliveira is a fighter you can't discount with his track record or the inner resource he showed in transforming from a win-some/lose-some featherweight to a dominant lightweight who went on a five-year unbeaten streak with a handful of finishes against future Hall of Fame fighters. To overcome what he has makes this look easy in comparison, as being a champion with all those great wins was not an outcome anyone but him could envision. Therefore, it's understandable to give a fighter like that some benefits you wouldn't normally afford other fighters.
If it were against almost anyone else, I'd take Oliveira at this price almost just out of principle. And with only one loss since 2017, a position on Oliveira is understandable even in this matchup. I just think that the combination of skills and size on Makhachev create a situation that Oliveira might not be able to overcome. I expect a great effort by Oliveira, but a similar result. I'm taking Makhachev in this one.
My Pick to Win: I'm betting on Islam Makhachev at -345 betting odds. In a sport where results are dictated by styles, Makhachev might be all wrong for the former champion, as he is a bigger and stronger fighter who excels at the same game. Bet your UFC 294 predictions for FREE by scoring a massive 100% real cash bonus up to $300 when you use bonus code PREDICTEM at BetUS Sportsbook!