UFC 295: Jones vs. Miocic Betting Preview – Expert Analysis and Odds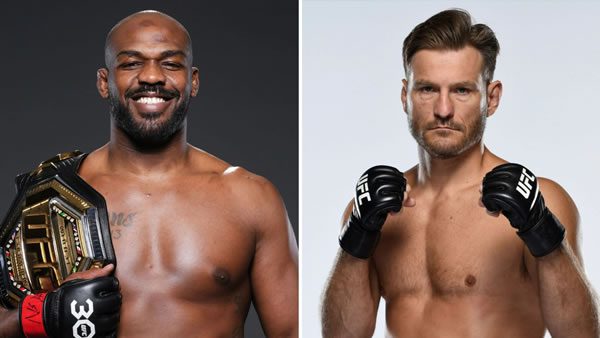 Event Details
When: Saturday, November 11, 2023
Where: Madison Square Garden, New York City, New York
TV: PPV
Fight Analysis
UFC 295 from MSG is a card headlined by a major main event, with a man many feel is the UFC's all-time top great in heavyweight champion Jon Jones taking on one of the legends from that weight class—former champion Stipe Miocic. Jones will be making the first defense of his title that he won in March with an easier-than-expected submission win over Ciryl Gane in the first round. Miocic, meanwhile, will be returning after a prolonged absence, his last fight being when he lost the title to Francis Ngannou when he took a bad KO in the second round of their title match. Let's break this one down!
Fighter Profiles
Jon Jones, 27-1 (10 KOs, 7 Submissions), (-400) vs. Stipe Miocic, 20-4 (15 KOs), (+300) – You can bet the fight live-in-progress at Bovada Sportsbook!
UFC Heavyweight Champion Jon Jones defends his title against former champion Stipe Miocic in the UFC 295 main event from Madison Square Garden. With how long the 36-year old Jones has been around, it's a little strange that his opponent is actually five years older. Physically, they match up well, despite Jones spending almost his entire career at light heavyweight. Both stand 6'4" and Jones even has a 4-inch reach advantage, though Miocic is certainly the more naturally robust man.
Age and Fitness Factors
I think the issues of age, along with wear and tear, figure into this equation somewhat prominently. Despite over a dozen years spent in the world championship circles of MMA, Jones is still well-preserved and a pretty young 36. He had some tough fights, but never really took beatings. And while some of his outside stuff and the inactivity has cost him in certain ways, this being only the third fight he has been in this entire decade has allowed him to stay relatively fresh.
On the other hand, you have a 41-year-old Miocic who has not seen action since March of '21, when he was bombed out of the octagon by Ngannou. I don't think it's unfair to say that he's sort of straddling the line here a bit as it pertains to pushing the envelope with his fight career. Despite having fewer overall fights, he has been in wars, knocked out three times, and appears to be at least marginally compromised. Of the fighters you'd worry might end up punchy, Miocic is probably on that list.
Assessing Miocic's Prospects
It's a matter of balancing out Miocic's merit as a fighter with what can realistically be expected out of him now. Accomplishments-wise, he is above reproach, boasting of a roster of wins that no heavyweight can really claim, but that tough road from 2014-21 came at a cost and you won't find many more emphatic title-capturing wins than what Ngannou did to Stipe in 2021. That doesn't mean, however, that there is no hope.
Jones' Transition to Heavyweight
While it's hard to question Jones and doubting him has never paid off at the betting windows, he is still a bit of an unproven commodity at heavyweight. He beat a relative newcomer to the sport in Gane to win the belt. He didn't beat the real champion, who was the departed Ngannou. Therefore, in taking on Miocic, this is the first time he's competing against a longtime proven stalwart of the division, albeit an aging and inactive one. There are still some things Jones could be seeing for the first time in the octagon, with the punching power, toughness, and physical strength Miocic brings to the table, or at least did when he was on top.
Examining Miocic's Inactivity
While Miocic's inactivity just has a way of naturally downgrading his prospects to win this fight, it could also be viewed with a different lens. After a demanding workload of fights that included three bouts with Daniel Cormier, two with Ngannou, along with a bunch of other dangerous matchups, maybe taking off over two years can serve the ex-champ well, let him recoup, and clear his head. But while we sometimes neglect to account for erosion in MMA as we do in boxing, it is a real thing and to say Miocic is unlikely to be as good as he once was seems hardly unfair.
Fight Analysis and Prediction
Miocic is a master of what he does well, but what he excels at isn't terribly complicated or anything in which Jones can't account for. Miocic, despite a background as an NCAA D-1 wrestler, is really a boxer in the octagon. He has a deadly one-two, good body shots, and can counter with excellence. And while he is better in these areas than any other big man to ever do it, there's a predictability to it that a fighter like Jones should be able to handle. If Jones can hang in there during stand-up sequences, the other aspects to Jones' game like his wrestling, submissions, and more varied striking could come more plainly into view.
I suppose if there was one skill or advantage you'd want to have with an underdog, being able to shut someone's lights off with punches would be it. Miocic can do that to anybody, and getting him at this number in just about any context is tantalizing in itself. I just think that once you remove that element, everything else used to judge fighters and fights falls into Jones' column, whether it be defense, diversity of offense, or simply being the better-preserved athlete. I'd personally like to see Miocic retire, something that would be a certainty if what I think is going to happen here does in fact happen. I'm going with Jon "Bones" Jones in this one.
My Pick to Win
I'm betting on Jon Jones at -400 betting odds. On top of it just being hard to get a win against Jones, Miocic is old and vulnerable. While being one of if not the most-accomplished heavyweight of all time has to count for something, I think asking a clearly post-peak Miocic to pull this off is asking for a little too much.
Bet your Jones/Miocic picks for FREE by scoring a 100% real cash deposit on your first deposit of $100 to $300 when you use bonus promo code PREDICTEM at BetUS Sportsbook!