UFC Fight Island 7 Fight Analysis & Picks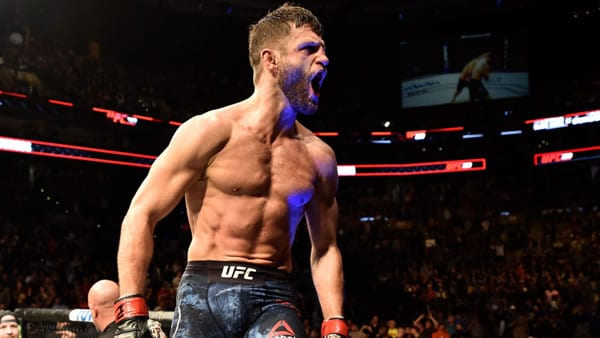 UFC Fight Island 7 Picks
When: Saturday, January 16, 2021
Where: Yas Island, Abu Dhabi, United Arab Emirates
TV: TBA
Fight Analysis:
UFC Fight Island 7 in Abu Dhabi features a featherweight main event that could have long-lasting ramifications. We have former UFC Featherweight Champ Max Holloway, looking to reclaim his championship form against worthwhile contender Calvin Kattar. The winner moves on to big things, and the loser goes more toward the back of an ever-growing pack of 145-pounders looking to make their mark. Let's break this main event down!
Max Holloway, 21-6 (10 KOs, 2 Submissions), (-175) vs. Calvin Kattar, 22-4 (11 KOs, 2 Submissions), (+150)
Former 145-pound champ Max Holloway defends his belt against rising contender Calvin Kattar in the UFC Fight Island main event on January 16. After a pair of losses to current featherweight king Alexander Volkanovski, Holloway is looking to bounce back. To do so, he will have to beat a fighter in Kattar who lacks Holloway's popularity but is actually quite a skillful combatant. Will it be a moving in of the young and moving out with the old?
The weird thing is that Kattar is actually three years older at 32. It's hard to find a more-weathered 29-year old than Holloway. After a decade in the UFC, most of it spent fighting a who's-who of featherweight standouts, he is at a crossroads. There are a few elements of concern with Holloway's post-title prospects. First of all, a lot of people thought he won the rematch with Volkanovski, which would make him still the best or at least one of the best featherweights in the world. So it's not like he's finished, at least not based on anything we've seen in the octagon.
I think a few things are troubling about Holloway's outlook from this point. One is a lot of mileage on his odometer. Maybe it's starting to show a little bit. Another element is his weight, being that Holloway has been at 145 his whole career, a weight that gets harder to make when you're pushing 30. It's just hard to not get concerned at a fighter who is sucking down in weight who has a lot of mileage. They can start becoming a little brittle. And again, this is not to suggest that Holloway is shot or that he doesn't have some big fights left in him. It's just food for thought.
A standout in this division for a long time, Holloway has seen the landscape around him change. It has become tougher. Whereas there were only a few genuine threats when Holloway began his championship-run, the division is now packed with major talent, guys like Kattar who might not be well-known but represent a higher level of competitor. If Holloway gets to the top of the 145-pound class again, it will be against a better roster of opposition.
Again, it's a little difficult to rate Holloway in his current incarnation. He has lost three of four fights. The division around him is getting better. Can he still make 145 and be near peak form? Some of this might seem damning. But did you think he lost that last Volkanovski fight? A lot of people feel he should still be champion. So, there's some conflicting data here, to say the least, as it pertains to Holloway.
Kattar has been around a while, having turned pro in 2007. From 2010 to 2018, he was undefeated, fighting on the regional level and then moving into the UFC. In a 13-year pro MMA career, he has been stopped just once—a submission loss back in 2008. So we can see that he is durable and capable. Since joining the UFC, he is 6-2, his last fight a decision win over very tough Dan Ige in July. With that fight happening in this same venue, Kattar is at least adjusted to this setting.
Kattar has a lot going for him skill-wise. His boxing might be the best in the division. Very capable and natural with his hands, Kattar looks like he could have been a boxer. He is pretty cagey in the octagon, a result of a lot of experience fighting a lot of different opponents. He has taken punishment well, and never being KO'd after all these years is impressive. Then again, Holloway has only been stopped once by submission, and he's been taking the best 145-pounders in the world, unlike Kattar.
I think this boils down to what each man has left. One could say that Kattar will never reach the heights that Holloway has, and maybe he won't. But in terms of who has their best fighting ahead of them, the nod might actually go to Kattar. Granted, Holloway has not demonstrated on any tangible level that he's anything but a top-flight 145-pounder. Every 145-pound fight Holloway has fought since 2016 was a UFC world title bout. Kattar, meanwhile, has been a pro for 13 years and hasn't gotten all that close to that level. That counts for something.
But in a sport that is still young and in a state of rapid evolution, it gives more credence to the notion of new overcoming old. The turnover at the top attests to the ever-changing nature of the sport. In the UFC, a guy puts together 3-4 defenses, and he's Joe Louis. And Holloway may be the younger man chronologically, but after the better part of a decade near the top, three losses in four fights, and diminishing returns on some levels, this would be the time where we see that general downward descent that awaits all champion fighters, no matter how awesome they are or may have been. Unfortunately for Holloway, I think we're there. I'll take Kattar.
My Pick to Win: I'm betting on Calvin Kattar at +150 betting odds. Granted, it's a big step up in class for Kattar. But with his clean boxing, freshness, and energy, I see his actual chances of winning surpassing the posted odds. Note: We noted above that credit cards WILL work for depositing at Bovada. They also offer a 50% sign-up bonus up to $250, rebates on ALL action; win, lose or draw and they offer FAST payouts (especially Bitcoin). See our Bovada Sportsbook Review for more reasons to play there!