UFC Fight Night: Cannonier vs. Gastelum Picks & Analysis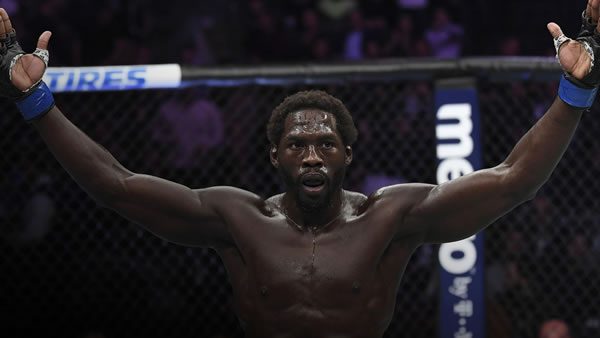 UFC Fight Night: Cannonier vs. Gastelum Predictions
When: Saturday, August 21, 2021
Where: UFC Apex. Las Vegas, Nevada
TV: ESPN
Fight Analysis:
UFC Fight Night on August 21 in Las Vegas will feature a battle amongst middleweight contenders where the stakes are high. The winner can look forward to future big fights and a possible title shot. But with the status of both men's careers, a loss in this spot could prove to be costly. Jared Cannonier looks to rebound from his loss to ex-champ Robert Whittaker and continue his winning ways. Meanwhile, the formerly top-ranked Gastelum is also looking to bounce back from a loss to Whittaker and regain his spot among the top 185-pounders in the world. Who can come out ahead in this one? Let's break it down!
Jared Cannonier, 13-5, (9 KOs, 2 Submissions), (Bovada Line -220) vs. Kelvin Gastelum, (16-7, 8 KOs, 4 Submissions), (Bovada Line +175)
Jared Cannonier takes on Kelvin Gastelum in the main event on UFC Fight Night on August 21 from Las Vegas. The main event features a pair of contenders where one needs a positive development. Cannonier was coming off a nice run of wins, having beaten David Branch, Anderson Silva, and Jack Hermansson. But a unanimous decision loss to Whittaker In October of last year has him on the outside looking in. The situation may be even more more-urgent for Gastelum. His April loss to Whittaker was his fourth loss in five fights, quite a fall for a man who fought for the title a few years ago. Can he get back to that spot, or will Cannonier breathe life back into his own title hopes?
Looking at both guy's careers, it's a bit surprising to some perhaps that Cannonier is actually eight years older than Gastelum at 37. It's actually the far younger Gastelum who is more well-known to MMA and UFC fans. Since winning The Ultimate Fighter, Gastelum has fought some of the best in the business, scoring wins over Uriah Hall, Nate Marquardt, Johnny Hendricks, Tim Kennedy, Michael Bisping, and Jacare Souza, among others. His credentials run deep.
However, Gastelum has seen his effectiveness wane. Since 2018, his only win has come against Ian Heinisch, while he has sponged losses to Israel Adesanya, Darren Till, Jack Hermansson, and Whittaker. Listening to him talk after his last fight, where he expressed surprise that Whittaker was so good, tells part of the story. With past issues with conditioning, making weight, and amid a losing streak, it's a bit bemusing that he'd underestimate a former champion whose powers are fairly well-known. A fighter whose discipline has been questioned before, he had better make the adjustments, get his mind to a fever pitch, and get back on the winning track. The leash is getting short on Gastelum's career at this point.
Cannonier's ascent to this position is even more unconventional. Turning pro late well into his twenties, Cannonier's career was in first-gear for some time. He slowly meandered to a 7-0 mark but struggled early in his UFC tenure, going 3-4 in his first seven fights. He was really thrown to the lions early, as the UFC newcomer was swapping punches with guys like Glover Teixeira, Jan Blachowitz, and Dominick Reyes. But maybe being thrown into the deep end helped him come around because, before long, Cannonier was racking up wins, scoring three straight stoppages against Branch, Silva, and Hermansson. Against Whittaker, Cannonier claims a broken arm from a kick hampered his effectiveness, though he did last the distance.
More Picks: UFC 266 Main Event Odds & Predictions >>>
Cannonier was slated for another super-dangerous fight on this night, originally scheduled to take on Paolo Costa. He's really going for it in his career, taking fights against all-comers where a win could boost his career. Despite the loss to Whittaker in his last fight, his career is on a more upward trajectory than Gastelum. There's more wind in his sails. There are fewer things to question with Cannonier.
Potential backers of Gastelum could derive some comfort in thinking there's nothing Cannonier does that Gastelum hasn't seen before. Having fought the top 185-pounders for the last number of years has made it, so he's unlikely to be surprised. In the smaller UFC Apex octagon, Gastelum could engage Cannonier in a battle of hands, a boxing match of sorts. Cannonier, a former heavyweight, wields very definitive power punching. He hits like a light heavyweight, though Gastelum is somewhat more fluid. Cannonier mixes it up, has good reach, and can counter well. He is very tricky with his hands, and opponents don't really know what's coming.
Against a slicker Gastelum, look for Cannonier to employ leg-kicks to slow his opponent down. It's something he has done with some success and has even ended fights this way. He will have a reach advantage on Gastelum, but Kelvin is used to that. As evidenced by Gastelum's battle against champ Israel Adesanya, he can hang in there with the best strikers. He's very slick and technical, even in the role of pursuer, where he looks to pin opponents against the cage before opening up with his menacing strikes. Closing ground and overcoming reach is something Gastelum has managed before.
Gastelum is very crisp with his hands. The 1-2 is something he has down-pat. But he also possesses the other punches in the repertoire. And if he drops a guy, he can segue into the ground game. He has a more viable submission game than his opponent. And while Cannonier has improved his takedown defense over the years in the UFC while taking on all these killers, he has still attempted only a paltry three takedowns in his UFC tenure. He will be doing his work from stand-up. I see Cannonier keeping Gastelum at bay with his half-foot reach advantage and leg kicks, controlling the range and pace of the fight en route to a difficult decision win.
My Prediction to Win:
I like Jared Cannonier at -220. The Bovada line is exploitable, with Cannonier on more of a roll and Gastelum having hit the skids. Gastelum is a fine fighter, but Cannonier matches up well and should be able to come through a winner.