Mario Barrios vs. Keith Thurman Odds & Fight Predictions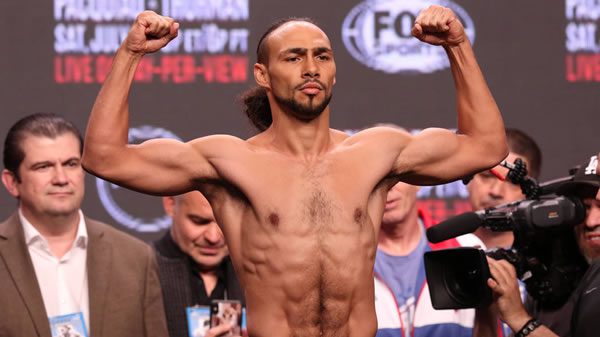 Mario Barrios (26-1, 17 KOs) vs. Keith Thurman (29-1, 22 KOs)
When: Saturday, February 5, 2022
Where: Michelob Ultra Arena, Las Vegas, Nevada
TV: Fox
Weight Class: Welterweight
Betting Odds: Mario Barrios +125, Keith Thurman -165 (Bovada – These guys can get credit cards to work for depositing, offer LIVE in fight betting and will give you a 50% bonus up to $250 to boot!)
Fight Analysis:
Mario Barrios takes on former welterweight champion Keith Thurman on February 5 in Las Vegas. This is the epitome of a crossroads fight with two former champions coming off a loss, which was the first career defeat for each fighter. For the 26-year old Barrios, this is his first fight at welterweight after moving up from 140 pounds. This is an awfully-rough entrance exam, taking on the highly-credentialed Thurman, a 33-year old looking to reclaim his top spot in the money-rich waters of 147 pounds. Lets break it down!
While Barrios was stopped in his 140-pound title bout against Gervonta Davis in his last fight, perhaps his loss was more forgivable. Sure, it was at 140 pounds against a fighter moving up in weight, drawing into question how well Barrios can withstand a strong offensive welterweight offense like what Thurman has. But hes 26 and still has a lot left. The loss was six months ago, and Barrios is right back at it. Thurman, meanwhile, last lost to a fighter in Manny Pacquiao, who has since retired. That was in July of 2019, and even then, we were seeing diminishing returns from Thurman, And while there is no shame in losing to a Hall of Famer, being the last thing Manny did good isnt the best look, perhaps.
At one point, Thurman was a top dog in the deep welterweight division. Injuries and a long layoff appeared to rob him of some of his pep, and the 2019 version of Thurman paled to the version who was scoring wins over 147-pound stalwarts like Shawn Porter and Danny Garcia from 2016-17. What we have now is a 33-year old ex-champ whose best fighting is in his rearview mirror. And while Barrios has been stacking fights on his growing resume, Thurman has mostly been in mothballs. By the time this fight goes off, Thurman will climb into the ring, having fought just twice in the last five years, with just one win.
All that might be damning enough, but lets not forget each mans starting points before doing the full assessment. Thurman was near the top of the welterweight division, showing he could thrive at the upper reaches of the division. Even with some slippage, Im not so sure he has slipped to a level that is beneath Barrios. With the term "world champion" thrown around with some liberty these days, it doesnt always mean the same thing.
In other words, with Barrios world title being of the WBA variety, its veracity is questioned. He has beaten some good fighters at 140 pounds, make no mistake, But in reality, he was just a contender. He did well against Davis before getting stopped, but he hasnt done anything to indicate he would be in good stead in this heightened context. The best thing he ever did so far very well may have been his competitive moments with Davis in a fight where he was stopped.
Therefore, a fanciful view of Barrios in this fight must be accompanied with the corresponding notion that Thurman is finished as anything resembling a top fighter. Of course, a pro-Barrios view reflects his talent. He is a promising young fighter, but not one youd rate as a solid proposition against a top 10 or 15 welterweight in most cases. To pick him, youd have to figure that not only has Thurman fallen off, but that he wont really be a relevant welterweight again. That might not be completely unfounded.
A few things, however, force one to give pause. Even if you dont like Thurmans overall chances to make another run, some things should make one reluctant to shovel dirt on him just yet. At 33, hes not really old. He always had an immense physicality, a very robust and solid welterweight who could really inflict himself upon opponents with sheer presence and workmanship. Even if he has waned as a physical force, he still represents a level of menace that Barrios has seldom seen.
Barrios already moved up in class when he faced Davis, but hes in or near that class again while also moving up in weight. At his height, he can handle it, and he will have a few inches in height and reach on Thurman. But he has that sort of wispy build, being a somewhat large target, with his body being available along with a head that sticks up a little into the air. One could see Thurman finding his way to Barrios.
While he is moving up in weight, I was impressed with Barrios offense against Davis. Maybe he can use his reach, height, movement, and youth to outmaneuver the older Thurman, spearing him with shots and not letting Thurman get off. With Thurman, I dont think the issue is so much chronological age as much as it is injuries and inactivity. And against a young fighter of Barrios caliber, Im afraid these liabilities will come more to light.
The image of Thurman outmuscling Barrios isnt too hard to conjure in ones mind. Its just that coming off a layoff, which followed yet another long layoff; Im thinking Thurman has maybe grown just stale enough to make him dicey in the role of favorite against a good young fighter like Barrios. I see Barrios gutting his way to a hard-earned win in this one. Ill take Barrios.
My Prediction to Win the Fight:
Im betting on Mario Barrios at +125 betting odds. When a fight is hard to call, opting for the younger, more active fighter who is getting better value is often the right move. Bet your boxing picks for FREE by taking advantage of a 100% real cash bonus on your first deposit of $100 to $300 at MyBookiie Sportsbook! (Must enter bonus code PREDICT100 on registration page to get the special bonus credited).