Povetkin vs. Whyte Picks – Heavyweight Fight 7/4/20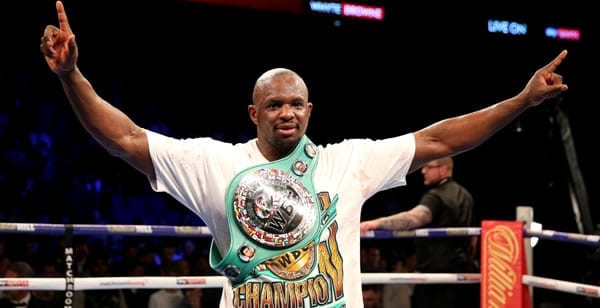 sAlexander Povetkin (35-2-1, 24 KOs) vs. Dillian Whyte (27-1, 18 KOs)
When: Saturday, July 4, 2020
Where: Manchester Arena, Manchester, England
TV: DAZN
Weight Class: Heavyweights
Betting Odds:
Alexander Povetkin (+300)
Dillian Whyte (-400)
Bet your Povetkin/Whyte pick for FREE by taking advantage of a 100% REAL CASH bonus on your first deposit of $100 to $300 at MyBookie! You must sign up through this special link and use promo code PREDICT100 in order to get the bonus credited to your betting account.
Top heavyweight contender Dillian Whyte takes on former champion Alexander Povetkin at Manchester Arena on July 4. The stakes are high, with the winner likely getting in position for a big-money shot at one of the big dogs. For England's Whyte, that could be extra big with two of the top dogs, both also being Brits. But first, he needs to assuage the challenge of 40-year old former champion Povetkin, a fighter who is looking for one last shot. And in a long career, only the absolute best have been able to beat Povetkin. Can Whyte do it?
Both fighters have been active. Since 2018, Whyte has won five fights, beating notable heavyweights Lucas Browne, Joseph Parker, Derek Chisora, Oscar Rivas, and Mariusz Wach. He is also well-known for fighting current champion Anthony Joshua in 2015, losing by 7th round KO. But in staggering Joshua badly, he showed he fits in nicely with the best in the business. At 31, he is nine years younger than Povetkin.
Povetkin has been around for a long time. He won the gold medal in the Olympics way back in 2004. Only twice has he tasted defeat—losing to Wladimir Klitschko in 2013, before being stopped by Joshua just like Whyte—in the seventh round. In two fights since he beat Hughie Fury and then fought a draw with younger contender Michael Hunter in his last fight in December. Along the way, Povetkin has beaten countless contenders, ex-champs, and the like. But the big one has always been elusive.
I don't think this is a slam-dunk for Whyte. He is a bit of a head-case, fighting with a wide range of different form and entering the ring in various stages of overall fitness. At his best, he's a handful—a clever and hard-punching battler who is cool under fire has the stomach for battle and can take it when his opponent dishes it out. Other times, his stamina is iffy, and he fights down to the level of his opposition. Sometimes, he carries too much weight into the ring. Against a consummate and reliable fighter like Povetkin, this could cost him.
Get bets down on the winner, distance, TKO and more at
5Dimes Sportsbook
! Home of the lowest priced betting odds on the planet!
Whyte is caught in limbo. Usually, a fighter with his credentials would have gotten a shot at the title. After all, he gave countryman Joshua a good fight, has won every one of his other contests and has a growing list of wins over ranked contenders. And here he is—continuing to take on dangerous fighters with the pot of gold at the end of the rainbow never really materializing. It's a dangerous game to play. Granted, it's smart for him to not just put himself on ice while waiting for the best heavyweights to settle whatever business in on their tables. And a win over Povetkin would elevate his status. Still, with his status as a top contender cemented, one wonders why Whyte and his backers are being so ambitious with the opponent-choice.
Or maybe Whyte and promoter Eddie Hearn know what they're doing. Povetkin is far from a fresh daisy. For the better part of 15 years, he has been battling top fighters, once registering four defenses as WBA champ. He could never beat the best, but he was the best of the rest of the pack. At 40, how close to that status is he now? Perhaps people underrate Povetkin. He has this exceptionally dull vibe about him, with his proletariat style and constant poker-face. People forget what he did well, instead of remembering how short he came up the two times he got a shot to beat the best.
Povetkin still does a lot of things well. A former Olympic gold medal winner, his fundamentals are as solid as it gets. He has been very durable in his career, stopped just once in a pro career that is over 15 years old. He can throw combinations, and when he hones in, he can wreak a lot of havoc. It isn't flashy. It is often not particularly exciting, either. But since he turned pro all those years ago, only the absolute best have managed to get the best of him, and that counts for something.
Therefore, the major questions for the purposes of picking a winner in this fight come down to how close to his prime is Povetkin and how good is Whyte? The first question is difficult to answer. He's not the same. He struggled to get a draw against Hunter in his last fight, and while Hunter is a good fighter, he's also a former cruiserweight, and Povetkin from 5-6 years ago would have likely been too much for him. Still, at 40, he is still capable of purporting himself well in a high-paced fight. He gets a presumably-superior opponent here, though Whyte's less-mobile style might be more to the Russian's liking. Whyte has his share of issues relating to stamina and output, which could suit Povetkin, who doesn't throw quite as many punches as he once did.
Often times, when a fighter gets to a certain age, it's not the output that suffers, but rather how a fighter accepts damage. Hurt a few times against a less-than-fearsome puncher in Hunter and falling in 7 rounds to Joshua in 2018, Povetkin perhaps isn't quite the same durable fighter of years past. Whyte having a few inches in height and reach should help him, as well. While not a mover, he can still control range, which he hasn't been able to do recently facing such large opponents. I see Whyte getting the win in this one.
My Prediction to Win the Fight:
I'm betting on Dillian Whyte to win at -400 betting odds. With Whyte being the definite A-side of this equation, Povetkin might have to either KO or dominate him to get credit for the win in Whyte's home country. Povetkin very well could have beaten Whyte in his prime, but age and a long and punishing career have started taking their toll enough to the point where a well-conditioned Whyte should be able to take this fight. Maximize all the bonus dollars you can get your mitts on by also signing up for a 50% real cash bonus up to $250 FREE at Bovada Sportsbook!