Big Ten Picks: Wisconsin vs. Rutgers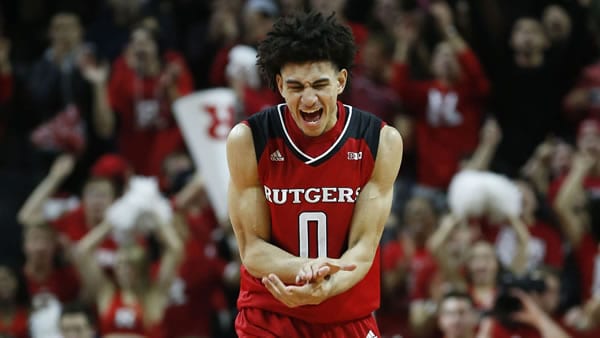 Wisconsin Badgers (10-3 SU, 5-7-1 ATS) vs. Rutgers Scarlet Knights (7-4 SU, 5-5-1 ATS)
When: Friday, January 15, 9 p.m.
Where: Rutgers Athletic Center, Piscataway, N.J.
TV: FS1
Point Spread: WIS -3/RUTG +3 (Get the best lines >>> You can bet on games at -105 instead of -110!!!)
Total: 135
Last Time Out:
Wisconsin lost 77-54 to Michigan; Rutgers fell 79-68 to Ohio State.
About the Matchup:
One team's coming off a route, while the other is trying to regain the positive momentum it had at the start of the season. Rutgers has taken a step back as of late after a great start to the year, as the Scarlet Knights have now dropped three in a row and haven't yet won a game in 2021.
But in Wisconsin, they've got an opponent they know how to handle because even before Rutgers became a respectable Big Ten squad, the Scarlet Knights knew how to knock off the Badgers in New Jersey. Rutgers has always played well against Wisconsin at home, and now it needs a win in the worst way if it's going to avoid falling too far out of the race in the Big Ten. Can they get the victory they need against an opponent that really wants to save face?
Scouting the Badgers:
When a team relies on possession as much as Wisconsin does, it's absolutely critical that it makes the most of that possession, and that's exactly what the Badgers failed to get done against Michigan. Wisconsin only managed to shoot 31 percent from the floor against the Wolverines while simultaneously allowing Michigan to shoot 56 percent from behind the arc.
That's simply not Wisconsin basketball, and the Badgers know it. Wisconsin needs to hold its opponents' scores down with tough defense and not allow them to get whatever shots they want. Dmitrik Trice can shoot his way out of a lot of situations, but when a team simply buries the Badgers in offense the way Michigan did, there's little that Trice can do about it.
More Picks: Loot's Bucs vs. Saints Against the Spread Pick >>>
Scouting the Scarlet Knights:
The problem for Rutgers over the past three games has been rather obvious: Ron Harper Jr. and Geo Baker are not shooting the ball well at all. Rutgers is not a team that relies on depth, and thus the Scarlet Knights must count on their starters to actually produce the points they need in order to succeed. But that hasn't happened in either of the past two games, as Harper and Baker shot 7-for-20 against Michigan State and were 7-for-22 against Ohio State, both of which went in the loss column.
The only one of the past three losses where Harper and Baker shot above 50 percent was Iowa, and considering that the Hawkeyes play next to no defense at all if you can't shoot against them, you're really in trouble. Wisconsin is the exact opposite of this, as the Badgers pride themselves on tenacious defense and will be anxious to give a better showing than their performance against Michigan.
X-Factor:
The RAC. If ever there were a jinx gym, this is the one for Wisconsin, which has never beaten Rutgers in Piscataway. They haven't been playing each other for long, but Wisconsin is 0-3 all-time at the RAC, with one of those defeats coming in 2015, a year that saw the Badgers reach the national championship game while the Scarlet Knights were going 2-16 in the Big Ten.
Put simply, this is the one place in the Big Ten where Wisconsin does not feel comfortable, and Rutgers is an opponent that isn't afraid to play the Badgers' game and use it against them. In three visits to the RAC, Wisconsin has never topped 65 points, and two of the three meetings between the teams have combined to see less than 130 points.
Wisconsin will Cover If:
The Badgers can gain the early edge. Wisconsin isn't going to blow too many teams out, but Rutgers is reeling, and crushing the Scarlet Knights' confidence early will give the Badgers an edge that could carry them through the game. Sprinting is totally foreign to Wisconsin, but the Badgers might want to consider stepping up the tempo for the first few minutes of this game in order to take Rutgers out early. If the Scarlet Knights get a chance to remember how good they can be, this will be trouble for Wisconsin.
Rutgers will Cover If:
The Scarlet Knights get better shooting out of at least one of their guards. Beating Wisconsin requires patience and good decision-making, and Rutgers hasn't really shown that in its past three games. The Knights know how to play this way and have done it well before, but it only works if they can hit their shots and can avoid falling behind. If they get in a hole as they have in previous games, it won't end well.
Dan's Pick to Cover the Spread
As hard as it is to trust Rutgers right now, the bottom line is that I really don't trust Wisconsin in the RAC until the Badgers show me that they can win there. When a team fails in the same building multiple times regardless of the opposition's quality, that says there's something about that building that just throws a team off.
Rutgers has the potential to be a lot better than it's been in January and really needs this win. This game will likely be ugly, and I'll be backing the Scarlet Knights. Stop wasting money! Stop betting on games at -110! You could be laying only -105 at BAS Sportsbook! We challenge you to get your calculator out and figure out how many bets you make each month and then calculate your risked amount at -110 vs. -105. You'd be saving a ton of cash that could be used to make MORE BETS! Click here to start betting cheaper TODAY!
STOP LOSING TODAY! START WINNING WITH DOC'S TEAM OF PROFESSIONALS! GET A FREE NO STRINGS ATTACHED $60 FOR THIS WEEKEND'S GAMES!