[et_pb_dcsbcm_divi_breadcrumbs_module hide_homebreadcrumb="off" homebreadcrumbtext="Home" separator="sep-raquo" hide_currentbreadcrumb="off" homebreadcrumborientation="left" _builder_version="3.8″ fontsbreadcrumbs_font="Lato||||||||" fontsbreadcrumbs_text_color="#000000″ fontsbreadcrumbs_font_size="15px" fontsbreadcrumbs_line_height="16px" fontsseperator_font="||||||||" fontsbreadcrumblinks_font="||||||||" fontsbreadcrumblinks_text_color="#2567cf" custom_margin="25px|||" custom_margin_phone="30px|||" custom_margin_last_edited="off|desktop" custom_css_main_element="font-family: Helvetica Regular;" disabled="on" global_module="3641″ saved_tabs="all"][/et_pb_dcsbcm_divi_breadcrumbs_module]
Duke Blue Devils vs. Texas Tech Basketball Pick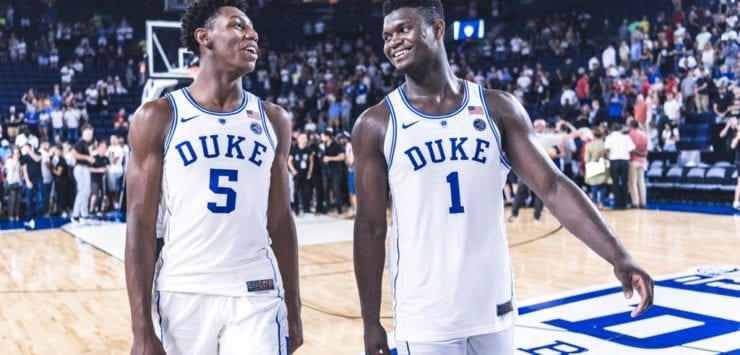 Duke Blue Devils (10-1 SU, 7-4 ATS) vs. Texas Tech Red Raiders (10-0 SU, 5-5 ATS)
When: Thursday, December 20, 2018 – 7 PM ET
Where: Madison Square Garden, New York
TV: ESPN2
By: Dan Jamison, College Basketball Handicapper, Predictem.com
Point Spread: DUKE -8.5/TTU +8.5
Total: O/U 147
Last Time Out: Duke beat Princeton 101-50; Texas Tech beat Abilene Christian 82-48.
Analyzing the Blue Devils:
There's not much left to say about College Basketball's juggernaut Blue Devils that hasn't been said already. Duke's freshman trio are as dominant as it gets in college basketball, and the Blue Devils' opponents know it. That doesn't mean they've been able to slow them down at all this season, as the Blue Devils average 93.6 points per game and are second only to Gonzaga — the one team they've lost to — in offensive efficiency. Duke plays fairly fast without making mistakes, which makes them such a dangerous squad at both ends of the floor. In short, a team has to be almost flawless to beat this squad.
Analyzing the Red Raiders:
Save for sophomore guard Jarrett Culver, the Red Raiders don't have any real scoring stars. But what Texas Tech doesn't have on offense, it more than makes up for on defense. No team has played better defense than Chris Beard's team, which allows just 51.2 points per game. Granted, the Red Raiders haven't exactly done it against a murderer's row of competition so far, but they do have an 18-point win over a good Nebraska team, where they held the Cornhuskers to just 52 points.
X-Factor:
The free throw line. The one weakness that both of these teams share is that they don't shoot it particularly well from the charity stripe. Duke shoots 66.8 percent to Texas Tech's 68.5 percent, so neither team wants to see this game turn into a free throw contest. The squad that can concentrate and knock down free throws will have a huge advantage in this game.
Duke Will Cover if:
The Blue Devils can get the game up to their pace. Texas Tech isn't Michigan or Virginia in terms of their pace, but the Red Raiders do like to slow the game down somewhat compared to the Blue Devils. Texas Tech usually gets around 65 possessions a game; Duke prefers closer to 75. Those extra possessions can make a world of difference, especially against a defense like Texas Tech's.
Texas Tech Will Cover if:
The Red Raiders can frustrate the Blue Devils' freshman stars. In a game like this, Texas Tech can't count on beating Duke with its talent, because it's not as talented a team as its opponent. Instead, Texas Tech has to try to beat Duke with its minds, and that means getting the Blue Devils away from their preferred shooting spots and making them work for shots. A young team can often get frustrated when they don't get the shots they want, and Texas Tech is exactly the type of team that can take away Duke's open looks at the basket and force the Blue Devils to get creative.
Saturday NFL Pick: Redskins vs. Titans
Dan's Pick to Cover the Spread:
Don't be scared off by the large spread in this game. The Blue Devils are the better team and should be able to do enough to cover. Duke is simply more battle-tested than Texas Tech is by virtue of playing a tougher schedule. That matters, because when teams are evenly matched, the lessons you've learned from other close games often play a role. But Texas Tech hasn't been touched this year, leaving the Red Raiders with little experience in tight situations. By contrast, Duke has played Auburn and Gonzaga and had to fight through a tough battle with both of them, giving them valuable experience should this come down to the wire.
Plus, there's the location of the game to consider. Texas Tech doesn't have a lot of fans outside of the Lone Star State, and even in the state of Texas, it's only west Texas that really considers the Red Raiders their own. On the other hand, Duke is the favored son of New York. Other than hometown St. John's, no team receives a warmer embrace than New York than the Blue Devils do. Duke is going to have the crowd on its side from the word go, and that's not easy to overcome.
If Duke were an average defensive team, I'd say take the Red Raiders and don't look back. But the Blue Devils are far from average. They're ranked in the top 5 nationally when they don't have the ball, and just like Texas Tech, they can also make for a rough outing for their opponents. Texas Tech hasn't proven itself against anyone to this point, so I can't justify taking them in this game. I'll lay the 8.5 points with Duke and gamble that the Garden crowd will again lift them to a big victory on college basketball's biggest stage.