Illinois Fighting Illini vs. Baylor Bears Pick 12/2/20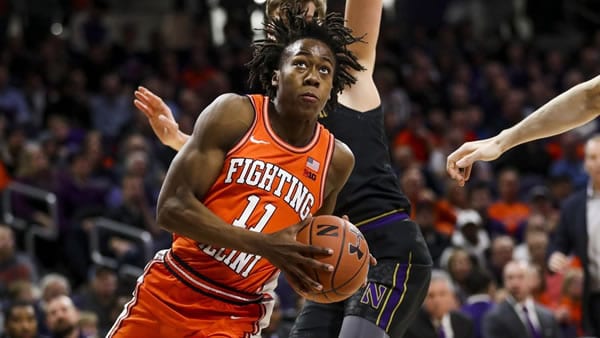 Illinois Fighting Illini (3-0 SU, 2-1 ATS) vs. Baylor Bears (2-0 SU, 2-0 ATS)
When: Wednesday, December 2, 10 p.m.
Where: Bankers Life Fieldhouse, Indianapolis
TV: ESPN
Point Spread: ILL +5.5/BAY -5.5. Make your bets at -105 odds instead of the spendy -110 you're laying! Find this huge money saving offer at BAS Sportsbook!
Total: O/U 144.5
Last Time Out:
Illinois edged Ohio 77-75; Baylor crushed Washington 86-52
About the Matchup:
Early season matchups don't get much better than this one, as we've got two genuine Final Four teams matching up in the city that will (hopefully) host the tournament in March. Baylor and Illinois have both been putting up points like nobody's business, with both schools averaging more than 98 points per game after a few warm-up games. But neither team has seen a defense like the other's yet, which begs the question as to how each will react when they come up against someone who is actually capable of slowing them down.
So far, the only team that's stopped either one of these teams is Illinois itself, as the Illini nearly threw away a perfect start with 16 turnovers against Ohio. Against a Baylor team that's been known for its defense just as much as its offense, can the Illini answer the challenge in the biggest game that Illinois has played since 2013, the last time the Illini qualified for the NCAA tournament?
Scouting the Fighting Illini:
There isn't a lot of mystery to what Illinois wants to do: keep the ball in the hands of Ayo Dosunmu and Kofi Cockburn as much as possible. The Illini's high-octane offense is so powerful because they can trust Dosunmu to make sure everything flows the way it should, and most of the time, that means either creating his own shot or finding someone else for a quality look. In three games, Dosunmu hasn't been held under 22 points, and he probably could have scored more against Chicago State if Brad Underwood hadn't cleared the bench early with the Illini up by 60.
Cockburn is just as important simply because there aren't many players in college who can stand up to seven feet, 290 pounds. He's managed three double-doubles in three games, and there's no doubt that Illinois will rely on him to keep Baylor from dominating in the interior. The Bears got 34 points in the paint against Washington out of 86, and Cockburn is likely to make sure that Baylor doesn't come close to that total in this matchup. The key will be whether he can keep dominating on the glass, as Baylor outrebounded Washington 50-19 in that rout. If Cockburn can cut into that margin, Illinois will be on track.
Scouting the Bears:
When you can hold Quade Green to a mere two points and five shots in the entire contest, you've done something right on defense. Baylor put on a clinic against Washington with a fantastic defensive effort, and the Bears will have to be just as sharp to slow down an Illinois team that loves to run and hasn't really met anyone who can slow the pace.
But Baylor has no problem playing a slower tempo and will likely try to do that to throw Illinois off its game in this contest. The Bears are a rarity because they start two seniors and three juniors, and with their four-guard lineup, they'll be focused more on getting good shots and trying to neutralize Cockburn by making sure they hit their shots.
If the Bears can hit their shots as well as they did against the Huskies, they'll be in good shape. The Bears drilled 13 of 29 attempts from behind the arc, and against an Illinois team that knows how to shoot, Baylor might really need to hit those shots from deep. For the game, Baylor's likely got to be around 50 percent from the floor to keep Illinois from getting its nose in front.
More Picks: Get Dan's UConn vs. USC Against the Spread Pick
X-Factor:
Adversity. Illinois has already found out what can happen when it doesn't play up to its standards, as Ohio nearly pulled off a stunner in the third game of its season. Baylor hasn't been through anything like that yet after two easy victories, and it remains to be seen how the Bears will react if a team hits them in the mouth, which Illinois is capable of doing.
Most coaches will tell you that they don't want to go undefeated because it's always easier to teach your players after a loss, and they'd rather get that out of the way as early as possible. Brad Underwood is fortunate because a two-point win over Ohio was likely sufficient to get his team's attention without knocking the Illini out of their ranking. The Baylor coaches — it's still unclear if Scott Drew will be on the bench or not — face the much tougher assignment because they have to get Baylor ready to play 40 minutes when both of its first two games were over by the second media timeout of the second half.
Illinois will Cover if:
Cockburn is able to control the paint and keep Baylor to one shot per trip. The Bears probably aren't getting 15 rebounds from a 6'5" guard again, as they did from Mark Vital against Washington, and it's Cockburn's responsibility to keep the Bears from extending their possessions and keeping the ball out of the Illini's hands. Illinois isn't going to win this game if it gives Baylor second and third chances, and that means that the Illini have to win the rebounding battle.
Baylor will Cover if:
The Bears can hit shots early and often. Baylor is facing a squad that has been outstanding on offense but looked a little bit suspect on defense against Ohio. The Illini also might play faster than they should if Baylor starts hitting shots early, and if Illinois turns the ball over as it did against Ohio, it'll play right into the Bears' hands. Baylor has been here before, and Illinois hasn't, and the Bears have to put their experience to good use in order to overwhelm Illinois' talent.
Dan's Pick to Cover the Spread:
Baylor seems to have too many weapons and too much experience for Illinois in this one. The Bears start four guards, not because of a lack of depth, but because Mark Vital, MaCio Teague, Davion Mitchell, and Jared Butler are just that good. There's a reason that freshman L.J. Cryer was the No. 12 recruit nationally and comes off the bench, and it's not because he's overrated.
Illinois has some outstanding weapons, but it doesn't have the experience to match up with this Baylor squad. The Bears have been here before, and I'll back them to come away with the cover. Bet your college hoops for FREE this week by scoring a 100% REAL CASH bonus on your first deposit of $500 to $1000 at BetNow Sportsbook! They'll give you the bonus on any deposit you make over 100 bucks, but why not maximize this huge offer? They take credit cards too! Free loot is GOOD loot! Click here to get rolling!