Iowa Hawkeyes vs. Illinois Fighting Illini Pick 1/29/21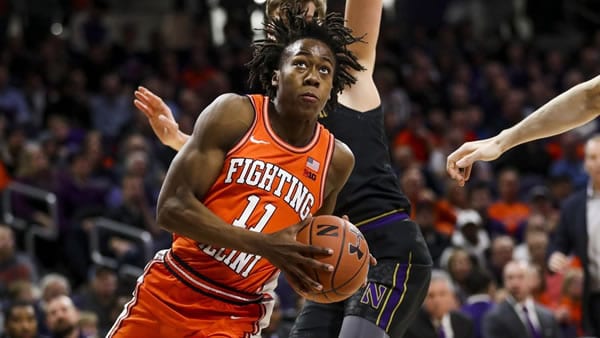 Iowa Hawkeyes (12-3 SU, 10-5 ATS) vs. Illinois Fighting Illini (10-5 SU, 8-6-1 ATS)
When: Friday, January 29, 9 p.m.
Where: State Farm Center, Champaign, Ill.
TV: FS1
Point Spread: IOWA +2/ILL -2 (BAS - Bet on games at -105 instead of -110! This provides you HUGE savings! Be smart! Bet cheaper and at a better book!)
Total: 161.5
Last Time Out:
Iowa lost 81-69 to Indiana; Illinois handled Penn State 79-65.
About the Matchup:
Two teams that were supposed to be the kings of the Big Ten instead find themselves looking up at Michigan and likely playing for second place along with Wisconsin. Both teams come in hav-ing shown some recent struggles on their home court, as Iowa managed to lose by double digits to Indiana, while Illinois got picked off at home by both Ohio State and Maryland.
This matchup will be a showdown between two of the most dominant big men in the country, as Iowa's Luka Garza duels with Kofi Cockburn of Illinois. Both giants are likely to get a lot of touches and a lot of points, which means that this game could come down to guard play. Re-gardless of how this game unfolds, it'd be no surprise if it's another tight affair. The teams' past two meetings in Champaign have been classics, with Illinois edging Iowa by two last season and Iowa winning in overtime in the matchup before that. Could we see another great battle here?
Scouting the Hawkeyes:
When Iowa isn't hitting its shots, the Hawkeyes really don't have anything resembling a Plan B. Based on the rebounding numbers, Iowa's performance against Indiana should have been good enough to win, as the Hawkeyes dominated Indiana on the glass by a 46-32 margin. But Iowa made two critical errors: the Hawkeyes didn't hit their shots, and they sent the Hoosiers to the free-throw line far too often.
Indiana attempted 35 free throws, enough that it didn't matter that the Hoosiers only hit 60 percent of its foul shots. To make matters worse, Luka Garza's shooting was middling at best, and Jordan Bohannon's was nonexistent, as the guard shot 0-for-9 from the floor and ended up scoring nothing for the game. The final straw was the fact that Garza couldn't contain Indiana's Trayce Jackson-Davis, who went off for 23 points. If Cockburn does anything similar against Garza, Bohannon and Joe Wieskamp will have to step up the scoring to make sure the Hawkeyes win this battle. Wieskamp played well against Indiana, but the Hawkeyes absolutely cannot af-ford another goose egg from Bohannon if they hope to compete.
Scouting the Fighting Illini:
Will the real Illinois please stand up? Failing that, will Ayo Dosunmu stop taking so many shots? Dosunmu is the Illini's leading scorer, but he shoots far too often for how many shots he actually makes. Around 28 percent of Illinois' shots come from Dosunmu, and he doesn't shoot any-where near well enough to warrant that much of the offense. Dosunmu leads the Illini with 21.7 points per game, but he has to take a lot of shots to get to that kind of scoring. In a home loss to a bad Maryland team, Dosunmu shot 9-for-23 from the field, and the Illini shot just 41 percent for the contest.
What Illinois really needs to do is work the ball to Cockburn as often as possible, as Garza likely won't be able to stop him and the rest of the Iowa starters from dominating in the paint if he's able to stay out of foul trouble. The Illini's best hope to stay with the Hawkeyes and claim a win is to turn the tables on Iowa and exploit the Hawkeyes' total lack of defensive skills. If Dosunmu does too much again, Illinois is in trouble.
X-Factor:
Rust. This season has been a nightmare for coaches and gamblers alike, as you have no idea whether a team will be rusted or ready when they take the floor. In this situation, both teams had a game canceled, as Iowa was set to host Nebraska while Illinois would have played Michigan State.
Instead, these teams have sat around for a week waiting to get back on the floor, and when teams have been in this situation, it takes time to get them up to game speed. These teams are offense-heavy and can score a lot of points in a hurry, and whichever team shakes off the rust fastest is likely to take control of the game.
Iowa will Cover If:
The Hawkeyes take care of open shots and start hitting them. Iowa needs its guard play to be at its best in this game, and that means that Bohannon and Wieskamp have to supplement Garza's efforts inside. If the shooting is on, Iowa should more than hold its own in this battle. But if the Hawkeyes have another situation where they start missing as badly as they did against Indiana, Illinois will take full advantage.
Illinois will Cover If:
The Illini make Cockburn the center of the game plan and keep him on the court. When Illinois met Baylor, the Bears forced Cockburn to the bench with foul trouble and were able to take complete control of the contest from there. Dosunmu will get his points, if for no other reason than that he shoots so often, but Illinois can take control of the game if it lets Cockburn go to work inside. With how poorly Iowa plays defense, Cockburn could have a field day if he gets the opportunity.
Dan's Pick to Cover the Spread
After the Hawkeyes' loss to Indiana, Indianapolis Star columnist Gregg Doyel called the Hoosiers win a fluke. Although he was right about it being a fluke from the Indiana perspective, I'm not sure he was right about it from Iowa's point of view. Iowa just hasn't been right in January, and the reason the Hawkeyes have survived is that they're playing lesser teams. Iowa has played Maryland and Northwestern twice, and those wins will impress nobody.
Illinois has played a harder schedule, and the Illini backcourt has a slight edge compared with Iowa's guards. That should make the difference in this one. Give me the Illini in what could be another great battle. Question: Did you know that you can jump into a game and bet after it's started? Check out the BEST live betting platform on the planet at Bovada Sportsbook! Credit cards work there and they'll give you a 50% real cash bonus on your first deposit of $100 to $500! They pay fast as hell and have been around for twenty years! What more could you ask for! Click here to start live betting today!