Iowa Hawkeyes vs. Michigan Wolverines Pick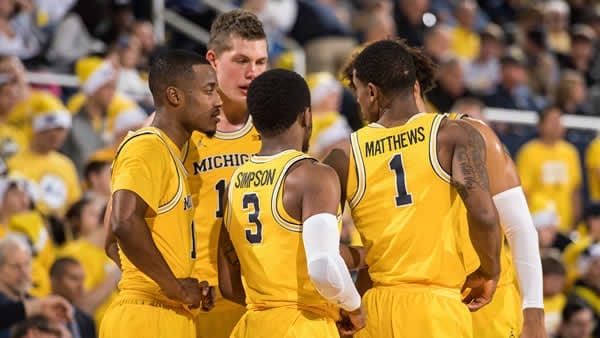 Iowa Hawkeyes (22-10 SU, 13-19 ATS) vs. Michigan Wolverines (26-5 SU, 17-14 ATS)
When: Friday, March 15, 2019 – 9:30 PM ET
Where: United Center, Chicago
TV: Big Ten Network
By: Dan Jamison, College Basketball Handicapper, Predictem.com
Spread: Michigan -8 (Intertops)
Total: 142
Last Time Out: Iowa beat Illinois 83-62; Michigan lost 75-63 to Michigan State
Scouting the Hawkeyes:
Did the Hawkeyes actually rise from the dead on Thursday, or was that more because of Illinois falling apart and bringing its season to a close? Whatever the reason was, the Hawkeyes asserted themselves in the second half and blew apart the Illini, giving them a third shot at Michigan. Prior to winning their Big Ten opener, Iowa found itself sitting firmly on the bubble because of several bad losses, including defeats against Rutgers and Nebraska. In short, the Hawkeyes have been playing pretty poorly, and Thursday's game actually snapped an eight-game losing streak ATS for Iowa.
Scouting the Wolverines:
Is Michigan the same team that it was at the start of the season, or did the Wolverines get exposed against Michigan State? That's the question the Wolverines have to answer here. Michigan saw its hopes at first place in the Big Ten fall apart when Michigan State completed the season sweep, but even though Michigan couldn't beat its in-state rival, it's a defeat that proved little. The Spartans are a great team in their own right, and it's understandable for Michigan to have problems with them. But losing for a second time to someone like Iowa would be a much worse situation: it would suggest that there's a serious problem that could make the Wolverines vulnerable to an early upset.
Mississippi State Bulldogs vs. Tennessee Volunteers Pick
X-Factor:
Lack of pressure. Here's the good news for Iowa: there are no real land mines left in the Big Ten tournament except for Nebraska, and the only way the Hawkeyes would see the Cornhuskers would be if the rivals met in the championship game. For that to happen, Iowa would need to have collected wins over Michigan and either Purdue or Minnesota, both of which would be quality victories and profile enhancers.
Who else wants $60 of FREE member picks & predictions?
So what does that mean for this game? Simple: it means Iowa can play without the worry of expectations or frittering away its spot in the NCAA tournament. That often means that a team of Iowa's caliber is able to play loose and win a game that it might not otherwise have found a way to win. Already, the Big Ten tournament has seen that happen on the other side of the bracket with Nebraska, which has nothing to lose and has played like it in beating Rutgers and Maryland. Iowa hasn't pulled an upset yet, but the Hawkeyes should come into this game relaxed, which could help them compete against Michigan.
Iowa will Cover if:
The Hawkeyes can replicate what happened in the teams' first meeting, which was the last time that they really played well this season. In that game, Iowa dominated Michigan on the glass and limited the Wolverines to just 24.2 percent shooting from the 3-point arc, which allowed them to hold Michigan to just 59 points in an easy victory. Since that game, however, Iowa has not been the same team, and has instead morphed into a team that plays to the level of its opponent —usually to its detriment.
Michigan will Cover if:
The Wolverines can play their game and not Iowa's. Michigan prefers to win by making the most out of every possession and playing tough defense, but in the game in Iowa City, the Wolverines didn't do either. Iowa loves to run, and that's not going to work for what Michigan wants to do. Michigan is the better team, and it needs to act like it by playing its style.
Dan's Pick to Cover the Spread:
I'm still not sold on Iowa at this point. Yes, Thursday was as good as the Hawkeyes have looked in a month, but that said, it was only Illinois. It's not as if Iowa beat a team that's going to the tournament; they beat a team that's done for the season and will have no postseason at all.
As such, I can't buy their chances against Michigan. The Wolverines are better, more disciplined and just an overall stronger team than their Iowa counterparts. I think Michigan's swoon had more to do with Michigan State hitting its stride than Michigan falling apart, and I still expect the Wolverines to come out and play the way they're capable of performing. If they do that, it's going to be a straightforward evening for the Wolverines. I'm taking Michigan and laying the points in anticipation of that exact scenario.
50% Cash up to $250